2014 Jeep Wrangler v. 2014 Toyota FJ Cruiser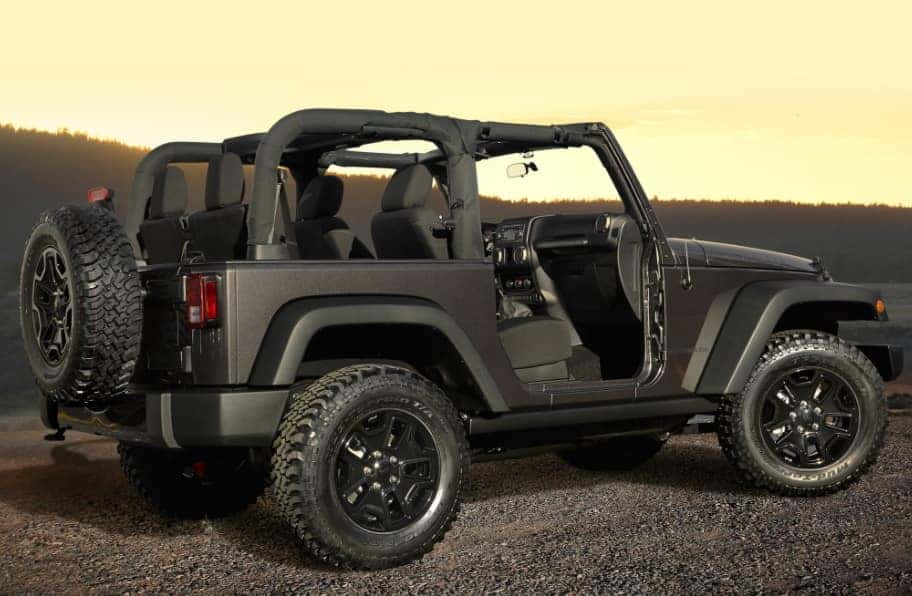 Who remembers the Toyota FJ Cruiser? The Toyota FJ Cruiser was an off-road capable vehicle that Toyota retired in 2014. The FJ Cruiser was a competitor of the Jeep Wrangler, although it could never keep up. If you are looking for a 2014 used off-road vehicle and two of your options include the Wrangler and FJ Cruiser, read on. Chances are, the Jeep Wrangler will be what you want.
Engine and Trim Options
Both off-road SUVs are available with a V6 engine, but  when it comes to vehicle options and features, the Wrangler out does the FJ Cruiser. The FJ Cruiser is equipped with a 4.0-liter  V6 engine and the Wrangler with a 3.6-liter V6 engine. The FJ Cruiser produces 260 horsepower and it has an average fuel economy of 17 mpg in the city and 20 mpg on the highway. The Jeep Wrangler produces 285 horsepower and has an average fuel economy of 17 mpg in the city and 21 mpg on the highway. So, not only is the Wrangler more fuel efficient, but it is also more powerful.
When it comes to trim options, the Wrangler has four options and the FJ Cruiser has three options. However, the Wrangler's four trims are also available in two body styles, the Wrangler and Wrangler Unlimited. The Wrangler is a two-door soft top and the Wrangler Unlimited is a four-door hardtop. Trim options for the FJ Cruiser include base, 4WD MT, and 4WD AT.  The 2014 Jeep Wrangler trims include the Sport, Sport RHD, Sahara, and Rubicon.
Style and Off-road Features
The style of the vehicles are similar, but different. Both of the vehicles come with large wheels and tires, and aggressive look and body style, similar interior styling, and of course, off-road exterior features. Exterior features like skid plates, two front tow-hooks and one rear tow-hook, a steel body frame, black front and rear bumpers, and a body-colored grille all come standard even with the base model Wrangler. The FJ Cruiser comes standard with features including steel wheels, BF Goodrich trail tires, and a tall body.
Inside the Wrangler Unlimited Sport are cloth seats, a rear split and folding bench seat, cargo ties, seating for up to five, and metal-look interior accents. On the inside of the FJ Cruiser are cloth seats for up to five are standard as well, as are features like dash features that match the exterior color and metallic accents.
A Jeep Wrangler seems like the obvious choice for off-road enthusiasts. Whether you want new or used, we have plenty to choose from at Kendall Dodge Chrysler Jeep Ram Check out all of our Jeep Wrangler inventory online here.
Photo source: Motor Trend