2015 Dodge Charger SRT Hellcat vs. 2015 Cadillac CTS-V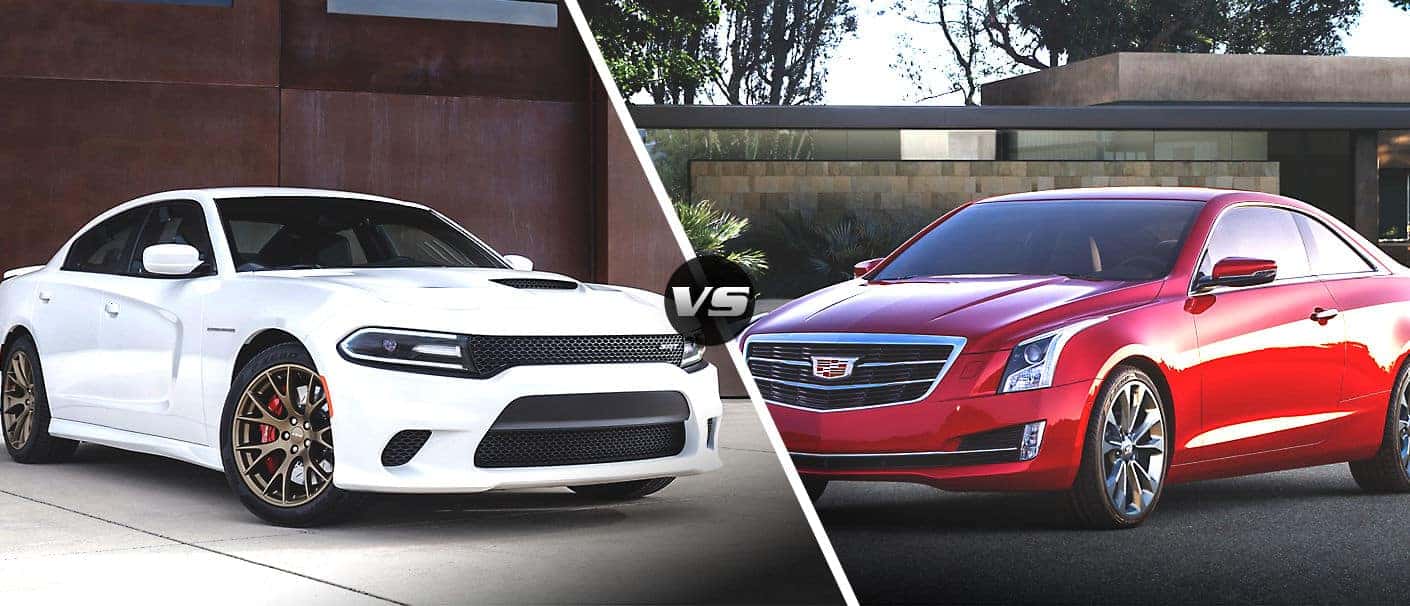 If you've never used the word "ferocious" to describe a sedan before, that's about to change. Dodge's 2015 release of the brand new Charger SRT Hellcat is an unprecedented occasion in the automotive industry, and something car buyers at Dodge dealers in Miami can't stop by stare at here at Kendall Dodge Chrysler Jeep Ram.
It's the fastest production sedan in history, wiping the floor with other 4-doors like Cadillac's 2015 CTS-V. Its unrestrained power is mind-blowing, taking a typically blasé vehicle type to unexplored dimensions.
Because Every Second Counts
Faster off the line than the CTS-V, the Charger Hellcat takes it from 0-60 in 3.7 seconds and wraps up a quarter miles in under 11 seconds.
And prepare to get strapped in because it also boasts a max speed of 204 miles per hour. It doesn't even come close to being rivaled by the CTS-V which only manages to squeeze the needle up to 179.
But there's no reason for the Cadillac to feel ashamed; it's not alone. The Charger Hellcat is truly the fastest 4-door ever.
With pleasing fans as their number one motive, Dodge has really outdone themselves this time.
A Look Under the Hood
The Charger SRT Hellcat and the CTS-V are both equipped with 6.2-liter supercharged V8s, but only one of them is engineered to deliver maximum power.
That's right…the Charger Hellcat has been fitted with everything it needs to enjoy the same 707 horsepower as the Challenger Hellcat. With 650 lb-ft of torque, this beast is a force to be reckoned with.
While the CTS-V's 556 horsepower might look impressive when lined up against its other typical foes, like BMW, it doesn't even come close to competing with the Charger Hellcat.
And that's not to mention Dodge's more sophisticated transmission offering. The Hellcat's automatic sets it apart.
Originally, going automatic raised some protest from speed enthusiasts. But now, diehard racers are recognizing that the exceptional automatic transmissions of today are the best choice for the track.
The Charger Hellcat's 8-speed automatic makes such a difference for drivers, flawlessly performing 160-millisecond shifts. Compared to Cadillac's 6-speed automatic, Dodge makes significantly better use of its torque band to give drivers a leading edge.
How About Power and Handling?
The Charger Hellcat spent lots of extra time in the wind tunnel so engineers could lock down the most aerodynamic design possible.
Due to its longer body, the sedan has an even lower drag coefficient than its cousin, the Challenger Hellcat. Meanwhile, the CTS-Vs is still waiting on an overhaul from Cadillac to improve its aerodynamics.
The Charger Hellcat also sees better traction when it hits the pavement with 20-inch forged aluminum wheels that are an inch larger than the CTS-V's.
You can enhance the Charger's performance even further by using the 8.4-inch Uconnect touchscreen to change your drive mode. Select from three different settings depending on how much adventure you're up for.
Street Mode: Full Traction and Stability Control
Sport: Reduced Traction and Stability Control
Track: Minimal Traction and Stability Control
When you do go to the track, the Charger Hellcat is sure to stay cool, calm, and collected. Dodge put it through rigorous testing to ensure that it could bring its best game even in 100-degree heat.
There's no need to worry about how well this sedan will be able to bring it on. It was born to conquer.
Getting the Best Deal
When it comes down to power for price, choosing between the Charger SRT Hellcat and CTS-V is a no-brainer. With so may ponies under the hood and an MSRP that's $7K less than the CTS-V's, the Charger SRT Hellcat is an absolute steal if you're looking for the best performance.
Sure you can spend more, but you won't find any other sedan like this one, no matter where you go.