2015 RAM 2500 vs. 2015 GMC Sierra 2500HD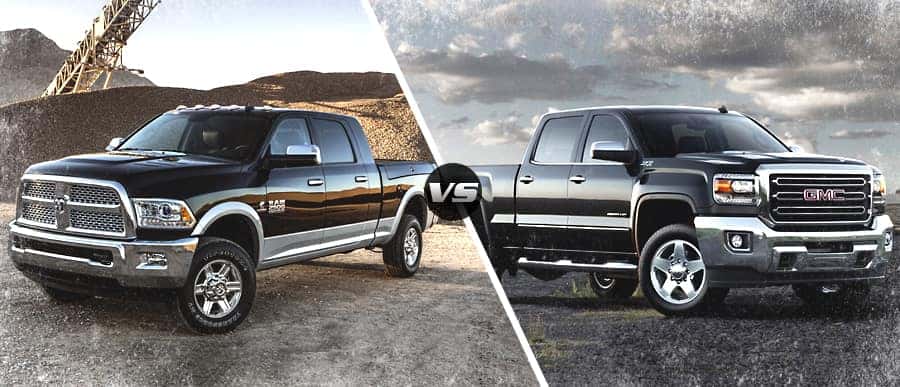 In a head to head comparison of the 2015 Ram 2500 and the 2015 GMC  Sierra 2500HD, the Ram pickup is the leader with a better interior layout, superior handling, and more intense power.
And if you were wondering which one is better equipped to tow your really heavy loads—again, it's Ram. Check out this comparison and learn more about why you should be looking for a Dodge RAM for Sale in Miami.
Spacious Surroundings
Not only do you want to be comfortable when you're driving, but you also want your passengers to relax and enjoy the ride.
Ram knows that, so they designed an extended cab that offers the most high-caliber environment possible. And it provides substantially more head and leg room for passengers than the Sierra 2500HD.
So ramp up your carpool, take the whole family to the beach this weekend, or grab some friends and go hiking because everyone will want a ride.
Maneuverability
Reviewers have noted that it's sometimes difficult to get GMC's Sierra 2500HD in and out of parking spaces and other places with tight quarters.
But the Ram 2500's smaller turning radius allows for more precise maneuverability, making it a better all-around option for running errands in town as well as handling big jobs elsewhere.
Capability
And speaking of big jobs, this is where Ram's pickup really steals the spotlight. Its 5.7-liter HEMI V8 supplies you with 383 horsepower compared to the Sierra 2500HD's 360.
It's also a higher torque engine with 400 lb-ft, giving your wheels power when you need it most. That's also more than the GMC which only offers 380 lb-ft.
And lastly…towing capacity. Ram comes out on top her too. Rated for 17,970, it can handle loads that are just too much for the Sierra.
When it comes down to getting the strength and action you need in a truck, this year's Ram 2500 is the clear choice.