2016 Dodge Caravan: The Saga Continues
The Dodge Caravan has been outfitting America's family since the early 1980's, when Marty McFly was discovering time travel and Luke married Laura. Naturally, so many changes have taken place in the thirty-plus years it's been, but during the previous two decades, the Caravan shined through the roadways, waited patiently in long lines of school bus traffic and sat in the parking lot of every little league and hockey arena across the country. Unlike the 2016 Dodge Caravan, the Caravans of yesteryear have a different story to tell.
The past decade was a bit tough for the Dodge Caravan. The rise of SUV's meant a decline in sales for minivans. It also didn't help that the perception of the minivan was made for uncool moms who wore "mom jeans" and had "mom hair" and kept a steady rotation of Michael Bolton and Kenny G playing at all times.
It became the car that my generation was raised in, and while I know we all thought we would rather die of embarrassment than ever be seen stepping out of one, especially in front of a mall or movie theatre, looking back on it, every ride in the Caravan was a good time and here's why: they're comfortable and they're huge! You could throw a party in there, invite all your friends and still have room for more people. And that's pretty much what it was, your parent's answer to fitting your entire family and friends in one vehicle. Sleepovers? Rounding up the troops in the Caravan became a test of which parent could do it fastest. Family trips? Sure! And bring Grammy this time because there's room! (as long as I don't have to sit next to Kenny. he still gets sick on long car rides….) The Dodge Caravan, love it or hate it (although we all know you secretly love it) was a part of our childhood that can never be erased.
That's the powerful thing about our memories, they stay with us. And while we all swore that we would never, ever, drive a minivan, as we've become adults and parents, I've seen a lot of people my age, friends, and family renege on their promises and I can't blame them. These are their stories.
Anne and the 2012 Caravan That Saved the Day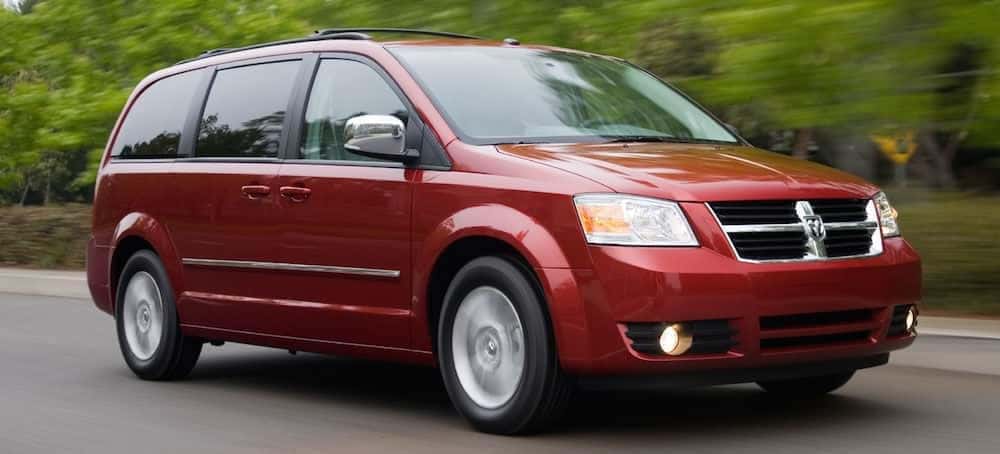 Anne is a wonderful woman who has always been quiet by nature, conservative in style but wonderfully caring and kind. Her car style was pretty conservative, as well, owning fiscally responsible and fuel-efficient vehicles. The commute to her job and grad school demanded a lot of driving so these aspects were important to her. After marrying and having her first daughter, she was over the moon happy. It was only a short couple years later when she found out she was pregnant with twins. Yikes.
We all pitched in to help out when we could, but her lifestyle was one that required learning how to make everyday activities easier. The 2012 Dodge Caravan was her first help…alright, her mother was her first help, but the Dodge Caravan helped dramatically, as well.
The first and number one thing she loved about it: power sliding doors. Of course! Sliding doors – so minivan, but so helpful when you're carrying even just one child, let alone two. The power sliding doors also allow her easier access to enter and exit the van. As you may or may not know, very few things are accomplished in one trip when you have children. Getting the Crew trim, which was appropriate given her lifestyle, she enjoyed perks like the overhead storage console which was supposed to be used for sunglasses, papers and such but is now where Mommy keeps her secret stash of Twizzlers. However, the Super Console in the front adds extra storage to keep water bottles, books, bags, crayons, anything you can think of that needs a place to "be".
Anne even appreciates the little things (which aren't so little when you're as busy as she is) like the power lumbar support that comes in the 8-way power driver's seat. The rear swivel reading lights keep her oldest occupied during the long drives at night when peace and quiet are most coveted.
Christina and her Supreme Dominance of the 2016 Caravan
Christina….Christina is one of these moms that you look at, and even though she doesn't appear scary, you just know immediately from her 5-foot stocky stature that she is a woman you do not want to mess with. She is a stunning little specimen that has created 5 little ones who run around, gets dirty, enjoy life, and pour out of her 2016 Caravan like they are meeting fresh air for the first time. Yet, she whistles once and instinctively, they stop and listen. It's with certain awe and jealousy that other moms look at her and observe as she asserts her authority and love at the exact same time.
I've been in her 2016 Caravan with her and her brood just once as we drove into the city. She does everything with the air that she is in total control because I believe, along with her children, that is indeed is. Of course, Dodge has equipped this 2016 model with a lot of thoughtful considerations like an observation mirror that allows her to keep a watchful eye on her children, especially the middle one. Most haven't even caught on yet that this mirror exists. They're still under the impression she has eyes on the back of her head. Who knows? Maybe she does.
For those hot summer days when the A/C can't cool the car down as instantaneously as her oldest would like it, there are cooling sunshades that block out the harmful UV rays and keep your child from roasting. Her kids love the LED lighting and reading lamps that illuminate the cabin and can be positioned for accuracy. Of course, this lighting puts them into the middle of imagination and suddenly Christina's Caravan becomes the Death Star. I don't mind. I, too, grew up on Star Wars.
For the 100 games and practices, she goes to a week, the third-row seats flip over so that they become rear facing and when the back door is open they become perfect stadium seating for the littlest ones to watch the action.
Thoughtful and considerate storage, like Stow 'N Go Seating and Storage, allow the seats, all seats, not to just fold down, but fold flat, revealing more than 143 cubic feet.
After loaning me her 2016 Caravan to help my daughter move into her dorm room, I'll never look at a minivan the same way again. Sure, I drove it to my daughter's college and all her friends saw her exit the minivan, but no one snickered or jeered. I think the stereotype is gone. Now, what they see is a pretty cool Mom helping her daughter, and that's alright with me.