2016 Dodge Durango: The Perfect Family Vehicle

The Grand Caravan has always been considered the renowned automaker's family vehicle. However, the 2016 Dodge Durango is looking like the more macho alternative to the GC but is still just as effective at hauling the kids. Apart from a triple threat of best-in-class torque, towing, and V8 fuel economy with its Hemi engine equipped, the Durango is also sporting some great family-oriented aspects, such as plenty of safety features. The Durango also has the distinction of the most technologically advanced SUV in its class (for under $30,500). It's a seven-seater SUV, so it comes in at the same passenger capacity as the Grand Caravan, but it can also tow much more.
It's the perfect blend of work, play, and safety — which means it has something for everyone in the family.
Work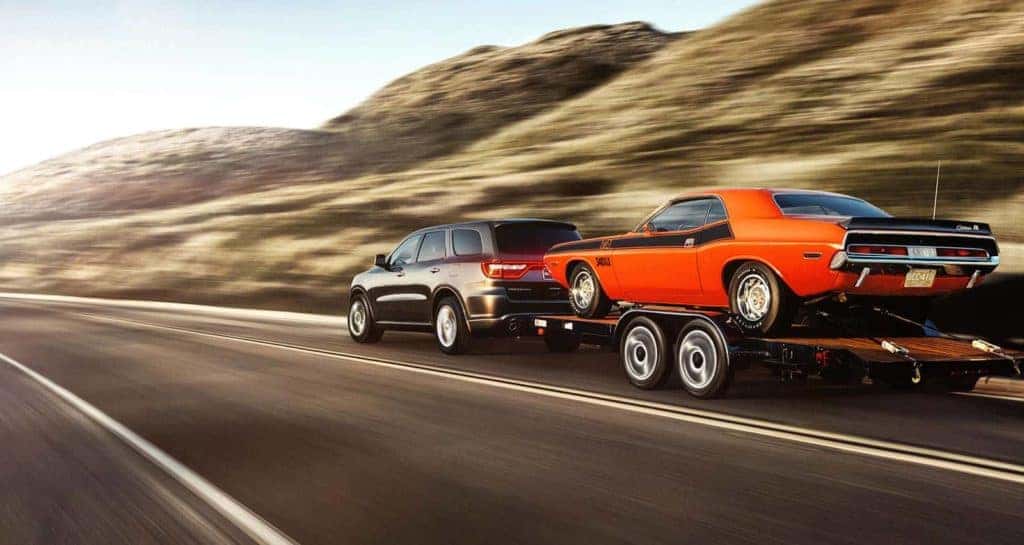 For work, you'll find nothing better than this seven-seat Charger's 5.7-liter Hemi V8 engine. This monster dishes out 360 horsepower and 390 lb-ft of torque, without sacrificing fuel economy. That's because the V8 engine is equipped with Variable Valve Timing (VVT) and Fuel Saving Technology to help optimize the engine's performance, and more precisely regulate the amount of fuel that is sent to the engine. As a result, it's able to get up to 14 mpg city and 22 mpg highway. On top of that, the V8-equipped Durango can also tow up to 7,400 pounds.
Which means not only are you able to carry seven passengers, but you can carry an extra trailer with some camping equipment, work equipment, or whatever gear won't fit in the cab for your road trip. Throw AWD on the Durango, and you have a vehicle that is able to safely and effectively brave hazardous roads, or the workplace. So go ahead and tow that trailer around, because the best-in-class V8 fuel economy will ensure that you have plenty of gas in the tank for it.
3.6-liter
Speaking of road trips, if that is your interest in this vehicle, then the 3.6-liter Pentastar V6 engine might be more of what you are looking for. This engine delivers 295 horsepower and 260 lb-ft of torque and gets up to 19 mpg city and 27 mpg highway when equipped with a RWD model. Even though it's not as strong as the V8 engine, it can still tow up to 6,200 pounds — which is plenty for any boats or smaller equipment trailers.
Whether you want it for traveling on the road or braving the worst winter storms with the family— the Durango's got an engine for either situation.
Play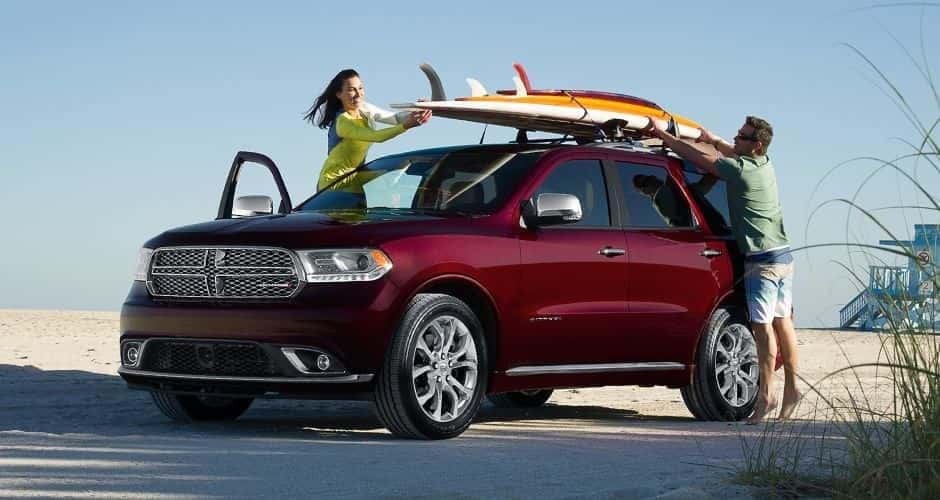 Whereas the design and engine are all business, inside the cab is all about fun for the family.
In the Front
For the passengers at the helm, U-connect 8.4 Nav is loaded with plenty of options for front-seat fun. SiriusXM Traffic and Travel Link can provide you with information on showtimes for movies in your area, and even keep you up to date on your favorite sports team. Uconnect Access Via Mobile lets you stay connected to your favorite music, news and information with plenty of popular downloadable apps such as Aha, HARMAN, iHeartRadio, Pandora, and Slacker. All you need is a Bluetooth compatible phone, and Wi-Fi.
How can you get Wi-Fi on the road, you ask? Simple! There is a hotspot found right inside the Durango, that will provide you with a connection up to 150 feet away from your vehicle. Don't want to use Wi-Fi? Then plug in using the USB or HDMI port, and keep your device charged by plugging it into the 115-volt power outlet. To top it all off, you can even get a subscription to SiriusXM Satellite Radio, which provides access to over 200 channels.
All this music can be played through the available BeatsAudio Premium Sound system, which consists of nine speakers, a subwoofer, and 12-channel, 506-watt amplifier. It's perfect for dropping the bass, blasting wailing guitar solos, or anything in between.
In the Rear
Passengers in the rear — especially kids — might not be interested in the latest album from the band you've been listening to since the '80s. To remedy this, Dodge made sure to drop in a class-exclusive dual-screen blu-ray and DVD entertainment system. This system has HDMI ports for each 9-inch screen that flips-up behind the front headrests. That way, backseat passengers can hook up their favorite game console, media device, or even watch a movie to pass the time. The system even comes with two wireless headphones, that way they can get completely absorbed in the ride.
So go ahead, take on that long road trip! Because the Durango has plenty of technology to keep you, and everyone else, entertained.
Safety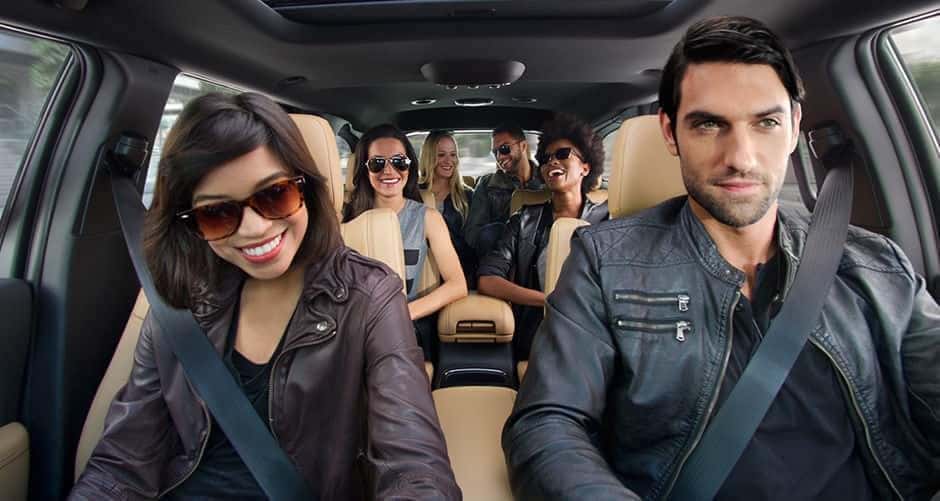 Dodge understands that safety is the number one priority. That's why engineers outfitted the Durango with exceptional safety and security features, so you can feel confident behind the wheel.
It all starts with the design, where seven standard airbags are found inside the cabin, which surrounds each passenger, and with active front head restraints to provide extra protection of the head and neck in a collision. Before the impact even makes it to the passengers though, it needs to get through the front and rear crumple zones, which are specially designed to absorb and deflect impact energy. Even if the impact is able to persist through that, then the rock-hard high-strength steel frame is there for backup.
On the more advanced side of things, the Dodge Durango is sporting some awesome safety features, such as Adaptive Cruise Control with Stop. ACC Stop is a driver-assist system that uses a radar sensor in order to detect any vehicles in front of the Durango. When cruise control is initiated and the system detects the car in front is slower than the speed you are going, it will automatically adjust the cruising speed to help maintain a safe distance. If the situation becomes an emergency, ACC Stop can even slow the vehicle down to a controlled and complete stop — potentially avoiding a collision.
Forward Collision Alert works in a similar manner and is there for when cruise control isn't active. This system uses radar to detect if you are approaching a vehicle in front of you too rapidly. If it detects a vehicle, it will provide you with a visual and audible warning, so you can slow down. If no action is taken and a collision is imminent, the system will automatically apply the appropriate brake force to prevent an accident.
It's safety features like this — and many more — that make taking a distracting and wild group of kids to soccer practice a little less stressful.
Perfect for the Whole Family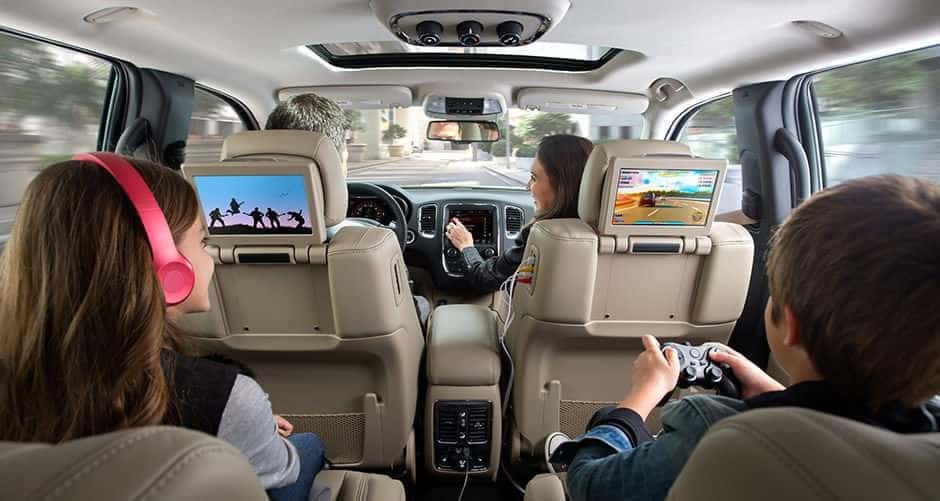 Powerful performance, efficient road trip capability, plenty of space and entertainment, and advanced safety features. It's clear the 2016 Dodge Durango has something for everyone in the family and has so much more capability than your run-of-the-mill van. It can seat up to the same amount of people, and still have enough power left over to tow a trailer behind it for any extra equipment or supplies.
So if a van isn't your style, take a peek at the Durango — because it can do everything the van can and more.