2016 Dodge Durango
You want the 2016 Dodge Durango. You may have researched other similar models and found some interesting choices, but nothing beats the Durango in the full-size SUV class. It's got more power, more sophistication, better technology, extreme comfort, and more than enough cargo space for the whole family.
Don't just take our word for it, though. Take the information below and compare to the vehicles you've been researching. We're confident you'll also find the 2016 Durango more than meets your wants and needs!
Skip the Minivan: Get a Durango

There's nothing inherently wrong with the minivan; it's capable, it's big, and it's safe. The problem is that it's 2016. Cars have come a long way in just the past decade or so. Everything from style to performance to fuel economy have all improved to offer drivers of most types of cars an exciting vehicle.
By nature, however, the minivan was not one of them. It's just not built to be stylish or have great performance and capabilities. And even its fuel economy trails behind most similarly-sized SUVs.
There is a vehicle that offers everything a minivan does (and much more), though: the 2016 Dodge Durango. Here are a few reasons it's the next perfect car for you and your family: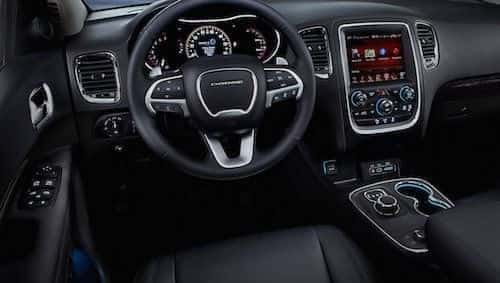 Luxury the Whole Family Will Enjoy
The Durango is one of the best looking SUVs you can buy in 2016; there's no one that can deny that. Adding an exterior style package, such as the Rallye Appearance and Blacktop, adds even more distinct style to the Durango's already-stunning looks.
Many vehicles look great on the outside, but then fail to impress on the inside. Let's be very clear about this: the 2016 Durango is not one of those vehicles. The look of quality and luxury does not go anywhere. If anything, the interior will make you fall in love with the Durango even more than the exterior.
This begins with the seats. There are ten different seating options available for the Durango, allowing buyers to pick seats that match their comfort needs and styling desires. Here at Kendall Dodge Chrysler Jeep Ram, two of our favorites are the R/T Capri leather trim in black and the Citadel Nappa leather trim in tan. If you're more daring with your style, you might want to try for the R/T Nappa leather trim in Radar Red.
When you enter the driver's side, you'll also notice the lack of a traditional shifter. Not only does this free up room, but it gave Dodge another opportunity to add more sophistication to the interior. To replace this, the Durango now features a rotary E-shift knob; it makes hoing from drive to park easier than ever before.
Once you're seated comfortably in the driver's seat, you're greeted by a ton of technology. The most innovative feature you'll find has to be the 7-inch digital gauge cluster behind the steering wheel. It allows you to customize data so you see the information that's most important to you. This can include vehicle status, navigation, warning indicators, and even fuel economy data.
If you're a technology lover, your eyes will immediately jump to the huge 8.4-inch Uconnect dashboard system that's available on the 2016 Durango. This system is not only one of the largest available on any SUV in its class, but it's also one of the most advanced.
Advanced Safety: Everything You Need

When looking for a larger vehicle, safety is likely at the very top of your list of questions. That includes more than just a few airbags nowadays, and the 2016 Durango is packed with extra features to ensure you and your passengers are always safe and secure.
It starts with Adaptive Cruise Control. This feature uses a radar sensor that detects traffic ahead and can adjust your vehicle's cruising speed based on the speed of traffic ahead. Should traffic up ahead start slowing down, this feature could save you from an accident. You'll still need to brake, but the extra support allows you to safely stop quicker than you would without it.
In many driving situations, however, your reaction time isn't enough to prevent an accident. This is where the Forward Collision Warning System jumps into action. This system uses radar sensors that warn you when you're approaching a vehicle too quickly. It includes a feature called Crash Mitigation that will even automatically apply the brakes should you not respond in time.
Another situation many drivers find themselves in, especially on the highway, is dealing with blind spots. That's why Dodge has added Blind Spot Monitoring as an optional feature on the Durango. This feature uses sensors that warn you when it senses a vehicle or hazard entering your blind spot. This can allow you to more safely maneuver in heavy traffic, avoid potential accidents.
Lastly, one of the Durango's most interesting safety features is its Rain Brake Support system. This uses pressure to remove water from the brake pads when it senses the windshield wipers are active in a continuous setting. This allows even better performance from the Durango's already-advanced four-wheel independent braking system.
Powerful and Capable Performance

So far you've seen how luxury and safe the Durango is, but where does it truly separate itself from your standard minivan?
For starters, it comes standard with a 3.6-liter Pentastar V6 engine. That alone puts it ahead of all base-model minivans on the market today. But the 2016 Durango also has another trick up its sleeve: it's also available with a 5.7-liter HEMI V8. Yeah, that's the same type of engine you'll find in Dodge's high-powered muscle cars and capable RAM trucks.
The base Pentastar V6 engine is good for 290 hp and 260 lb-ft. of torque. That's plenty for great acceleration and more than enough power for towing. Thanks to a Variable Valve Timing system, this engine is able to properly balance power and efficiency better than ever before. With VVT in place, the V6 Durango with RWD can achieve 25 mpg highway; the AWD model comes in just under that at 24 mpg highway.
The optional HEMI V8 Durango boosts that power up to 360 hp and 390 lb-ft. of torque, giving you more ever better acceleration and capabilities. You do a take a slight hit in fuel economy, as it goes down to 23 highway mpg. Overall, it offers more power and comparable fuel economy than any other vehicle in its class.
With that HEMI V8, Durango owners get the best of a muscle car, the best of a pickup, and better safety than even a minivan can offer. If you want the absolute best of everything with no compromises, this is the vehicle for you.
Get Your New Durango at Kendall Dodge Chrysler Jeep Ram
By now, you know you've picked the right vehicle with the Durango; all you need to worry about now is where you buy it. There's simply no better dealership than Kendall Dodge Chrysler Jeep Ram for the best prices and selection on the new 2016 Dodge Durango in Miami.
If you're just looking to get into this amazing vehicle at a low price, we have a great selection of base models. But if you're looking for extra power and luxury features, we stock plenty of higher-level trim models as well.
To get started today,
contact us
and we'll schedule a test drive or vehicle walkthrough appointment to help streamline your buying process.