2016 Jeep Cherokee – Miami, FL


At first thought, you might remember Jeep as a rough and tough brand for offroad-ready SUVs. After all, vehicles like the Cherokee were never known for their looks or luxury features; they were known for being capable utility vehicles.
Looking at the 2016 Jeep Cherokee, you can tell those days are long gone.
The new Jeep Cherokee not only looks great one the outside, but has a refined interior that can compete with even the most expensive and luxurious SUVs available. In addition, Jeep has introduced new technology to improve fuel economy, making the 2016 Cherokee one of the most fuel-efficient mid-size SUVs available.
Ready to learn more about what makes a Jeep Cherokee in Miami the absolute best choice for buyers that want the absolute best SUV available? Let's go!
A Classy SUV and a Capable Offroad Vehicle

If there's one thing we know you want in an SUV, it's class. Not only do you want a vehicle that looks amazing on the outside, you want to have the highest quality features on the inside as well. And while the Jeep Cherokee is not pretending to be a luxury vehicle, it's possible to confuse it with one when you take a look at the options available.
One of the features you'll fall in love with is the digital instrument cluster, which is customizable to meet your needs your personal preferences. You can change where your speedometer and tachometer are, view trip statistics, navigation directions, fuel economy figures, oil temperature, and more.
The available Uconnect 8.4 system is one of the most advanced dash systems in the industry, with a massive screen for easy of use, a beautiful interface, and all of the features you want and need. With navigation added, you can enjoy 3D maps that add realistic city models, landmarks, and terrain. Finding yourself lost never looked so good!
Comfort is also one of the 2016 Jeep Cherokee's specialties. There are plenty of available features, such as Nappa leather seats, heated front seats, a dual-pane sunroof, and even an Alpine sound system. But smaller features, like the illuminated cup holders and auxiliary media hub really add to the Cherokee's comfort factor. Custom ordering allows you to pick and choose what you want, but Kendall Dodge Chrysler Jeep Ram has plenty of new Cherokee models in stock that feature the perfect combination of options for all sorts of buyers.
Now comfort is amazing, and most SUVs do a pretty good job of providing that to buyers. Where most SUVs fail, however, is in the capabilities category. Most SUVs were known for their capabilities–whether that meant offroad, towing, or seating and storage space–but a lot has changed. Nowadays SUVs are primarily built on car platforms, meant to offer the comfort of a sedan with the seating and storage of a larger vehicle.
The 2016 Cherokee does a great job of giving buyers plenty of comfort features, but sticking to Jeep's tradition of making the most capable SUVs. It offers different 4×4 systems that provide buyers with uniquely different experiences, from superior all-weather performance to rock crawling capabilities.
When equipped with SelecTerrain, the 2016 Cherokee's traction control system can be changed to match the terrain you'll be traveling. This includes an auto setting for everyday driving and sport for a more raw driving experience, as well as modes for snow, sand/mud, and rock. With the Trailhawk trim level, Jeep even includes a mode that locks the rear wheels for increased traction. This makes it possible to tackle tougher and tougher terrain while offroading.
So whether you want to tackle inclement weather or take your Cherokee to trails on the weekend, you can build or find the perfect model to fit your needs.
The Most Efficient Jeep Ever Released

With low gas prices here at the beginning of 2016, having a fuel efficient vehicle just means you'll save even more at the pump. That makes it even more important to check out a new 2016 Jeep Cherokee in Miami, as the new model is able to achieve up to 31 highway mpg when paired with the 2.4-liter Tigershark engine.
The added efficiency is thanks mostly to the vehicle's 9-speed transmission, which allows for quicker transition between gears. Because of this, the automatic gear changes are much less noticeable, providing driver's with a smoother and more comfortable driving experience.
In addition to the new transmission, Jeep has integrated a new fuel-saving technology called Engine Stop-Start (ESS). This feature essentially allows the engine to quickly cut off when it senses the Cherokee has come to a stop and quickly come back to life when you begin to take your foot off of the brake.
Thanks to both the 9-speed transmission and Engine Stop-Start technology, Jeep has provided a better ride quality and managed to increase fuel efficiency in the process. All while maintaining the power and capabilities you expect from a Jeep.
Large Number of Advanced Safety Features
When looking to buy a car, especially with a family to think about, safety is a crucial component. And the 2016 Jeep Cherokee has that more than covered, starting with a 4-star overall rating that includes a 5-star side crash rating.
Of course, crash testing only shows a vehicle's safety after an accident has occurred. What about features that help drivers avoid accidents in the first place? The new Cherokee has plenty of those!
One of our favorites for families is the Lane Departure Warning system, which warns you when you're about to enter another lane of traffic. It even uses a visual that's shown in the center of your digital gauge cluster that identifies the lane lines on the road. Combined with Blind Spot Monitoring, you can rest easy knowing your Cherokee is there to support you during long road trips or commutes into the city.
If that wasn't enough, Jeep even includes a feature called Forward Collision Warning with Crash Mitigation. This system uses radar to warn you when your Cherokee is approaching another vehicle too quickly. First it will warn you to brake, but will eventually assist you if you don't brake in time in order to avoid an accident or mitigate the damage.
Buying the 2016 Jeep Cherokee at Kendall Dodge Chrysler Jeep Ram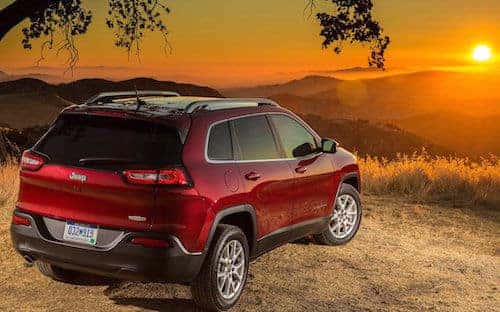 By now, you've probably fallen madly in love with the 2016 Jeep Cherokee. We don't blame you; it's an amazing vehicle. And you won't find any group as passionate about Jeeps then the staff at Kendall Dodge Chrysler Jeep Ram
Not only do we know our Cherokee models inside and out, but we've got the largest selection of Jeep Cherokee in Miami. This includes more than just a lot of base models and a few high-end trims. Our inventory is evenly distributed, allowing you to find the model that fits your wants, needs, and price range. If you want a 2016 Cherokee we don't have in stock, we're also able to help you customize and order new vehicles straight from Jeep.
So if you're ready to join the Jeep family and start your new journey in an amazing new SUV, contact us today to begin the process!