2016 Jeep Wrangler – Miami, FL
You want to stand out from the crowd and do things differently. But you can't do that with your average car, truck, and SUV. You need a vehicle that, by nature, separates itself from the pack; one that has a brand people recognize because of its history and unique design.
You need a 2016 Jeep Wrangler in Miami.
There's simply no going wrong with the Wrangler. It's an affordable SUV that can be customized to meet any need. It's the evolution of over 75 years of excellent engineering, previously used by the military.
Still need convincing that this is the one for you? Here's an in-depth look at why you can't go wrong with a 2016 Wrangler from Miami Lakes Automall.
What the 2016 Wrangler Offers

Buying a Wrangler is a no-brainer for some, but many of you may be wondering what the Wrangler has to offer, especially in Miami. You might think the Wrangler is meant just for off-roading, or that it doesn't offer the comfort of most new SUVs. In all reality, though, the only difference between the Wrangler and most SUVs is that it looks rugged.
Timeless Style
There are very few vehicles that require no introduction for the average person to recognize. With vehicle redesigns typically occurring every 3-5 years, most cars look radically different from generation to generation.
One vehicle that has been able to maintain a timeless design that is beloved by its owners is the Jeep Wrangler. Over the years, its style has been refined; however, it still carries the same basic design it did in 1986 today in 2016. That's more than a quarter of a century without a radical redesign.
There's simply no other vehicle that has been able to maintain a classic, desirable looks for as long as the Jeep Wrangler.
Modern Interior Comforts
You can have the best looking car, but if the interior is uncomfortable are you really going to want to drive it regularly?
The Wrangler may look rugged on the outside; however, with available heated leather seats, touchscreen navigation, and a premium Alpine sound system you'll be right at home on a long highway drive or rough offroad adventure.
Jeep Culture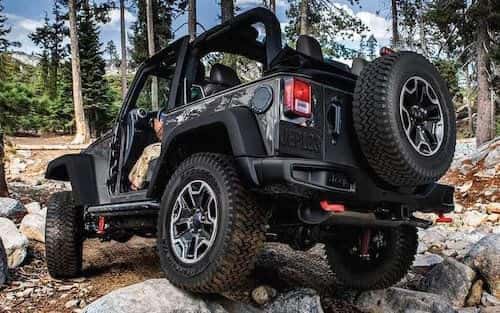 If you've never owned a Jeep, you're in for a potentially life-changing experience. Jeep owners have a special connection with their vehicles that simply doesn't exist, even amongst hardcore sports car enthusiasts.
Wrangler owners not only embrace their vehicles better than others, they've also created a friendly, welcoming community around them. From this community came a special way that Wrangler owners show respect toward each other while on the road: the Jeep Wave.
If you pass another Wrangler, you simply race your fingers off the steering wheel to acknowledge them. This tradition is rumored to date back to World War II, as military Jeeps often passed each other on their way back and forth between the front lines.
Whatever the origin, today's Wrangler owners are doing an amazing job of keeping Jeep culture alive by sticking together and improving the Jeep community each and every day. Even if you're not a hardcore enthusiasts, you'll feel welcome and apart of something amazing if you purchase a 2016 Wrangler in Miami.
Rugged Off-Road Capabilities
Whether you're a beginner or advanced off-roader, you won't find anything more capable off the production floor than the 2016 Jeep Wrangler. Not only does history prove its impressive capabilities, but there's simply no competition left; the Wrangler drove them all off of a cliff.
The Wrangler's off-road capabilities start with its advanced 4×4 system options: Command-Trac and Rock-Trac. Command-Trac is the standard system, which offers great performance for basic off-road needs and winter performance. Upgrading to Rock-Trac gives you the extra capabilities needed to tackle any type of terrain, though. With 4:1 low-gear ratio, you can pull off complex off-road maneuvers, such as rock crawling, as Rock-Trac allows for better torque at low speeds.
Two of the Wrangler's most important features are the Tru-Lok locking differentials and the Sway Bar Disconnect System.
The Tru-Lok system helps provide traction in situations that would cause normal vehicles' wheels to slip. This is a huge part of what makes the 2016 Wrangler one of the most capable off-road vehicles.
The standard Sway Bar Disconnect System allows drivers to disengage the sway bar when driving at low speeds in 4LO mode. This allows the Wrangler's suspension to adjust to the environment and take you further and further off-road.
Which Model Trim is for You?

From affordable to the most advanced off-road vehicle available, the 2016 Wrangler offers four unique trim levels to satisfy all types of buyers. Let's take a look at what's offered to discover which one is right for you.
Starting at just under $24,000, the Sport trim is the standard, base-level trim on the 2016 Wrangler. It doesn't offer much in terms of optional extras or style upgrades, but it does get you behind the wheel of the Wrangler for a really low asking price. So if your budget is tight but you'd prefer to sacrifice comfort for capabilities, the Sport trim is an excellent choice.
Upgrading to the Sport S trim provides a lot more modern features and styling, including the addition of a leather-wrapped steering wheel, leather-wrapped shift knob, and a more stylish set of 17-inch wheels. You'll also get power windows, locks, keyless entry, and heated mirrors. These are the conveniences you'd expect on a standard SUV, but to keep the price of the base trim to a minimum, they seem like an upgrade on the Sport S.
From here, the Sahara trim is where the Wrangler really starts to add some extra flare. At first glance, you'll be able to tell the Sahara apart thanks to the 18-inch polished satin carbon wheels that really stand out from the Sport and Sport S wheels. It goes one step above the Sport S to add more convenience and style, including an optional remote start system and body-color, painted front fenders.
Last and certainly not least is the Rubicon trim level–the top-of-the-line Wrangler model that really proves what this vehicle is capable of. If you only want the best, then the Rubicon is the trim for you. With exclusive features, like rock rails, an Electronic Front Sway Bar Disconnect, premium suspension with gas shocks, and the Rock-Trac 4WD system, there's no question its capabilities once you exit paved roads.
Come See the Wrangler Experts at Kendall Jeep
No matter which trim you choose or what you're budget is, the Wrangler experts at Kendall Jeep will do our best to help you find the model you want. Our inventory is stocked with models in all different colors, packages, and appearances. From the base model all the way to factory-customized models, you'll be glad you made the trip to our dealership.
We love Wranglers and their owners, but we also know you're looking for a deal. That's why our prices include some of the most competitive in the Miami area. Come see us first and we'll work with you to make you feel comfortable with both your Wrangler selection and the financing.
Give us a call at ​786-373-4298 or contact us online to schedule an inventory walkthrough or test drive today!