2017 Jeep Easter Safari Concepts are AWESOME — As Always!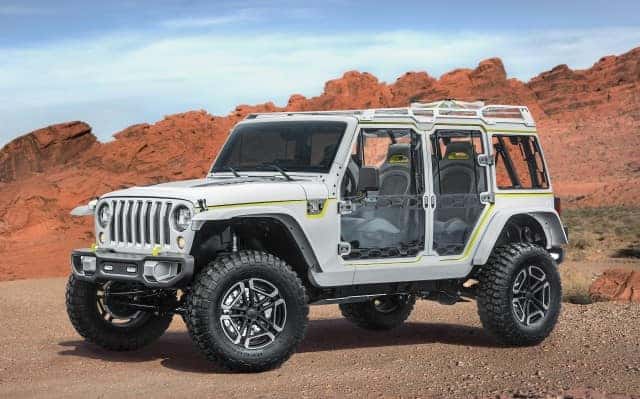 The 51st Annual Easter Jeep Safari begins Saturday, April 8 and we can't wait to hear and see all about it! Held in the beautiful rocky landscape of Moab, Utah, Easter Jeep Safari is one of the biggest yearly Jeep events in the nation. The event spans eight days and people come from across the U.S. and the world to take part in swap meets, trail rides, see the latest concept Jeep models and take part in all of the other activities.
Over the past years, Jeep has unveiled some wild and crazy concepts at the Easter Jeep Safari. Some of those concepts have come to life while others are still just imaginative concepts. In spirit of the upcoming Easter Jeep Safari event, Jeep has officially leaked seven concepts that will be shown off at this year's event, check them out.
Jeep Switchback
The Jeep Switchback concept vehicle is ready for all adventures, no matter how big. The Switchback has special equipment that makes it ready to off-road in extreme terrains. The Switchback has a front and rear Dana 44 axle, a four-inch lift, 17-inch wheels and 37-inch BFGoodrich Mud-Terrain KM2 tires. It also has some protective gear like steel front and rear bumpers, a Rubicon winch with a winch guard, and an LED light bar for better vision at night.
In addition, the Switchback has a cold air intake, high-top flare fenders, and Jeep's 3.6-liter Pentastar V6 engine paired with a five-speed automatic transmission.
Jeep Quicksand
All Jeep Wranglers are off-road vehicles are off-road capable of course, but the Quicksand is a Wrangler created for fast and efficient off-roading in the sand. The Quicksand is powered by the powerful Mopar 392 Crate HEMI  engine with eight-stack injection and a six-speed manual transmission.
The Quicksand has a never-seen-before staggered tire set-up complete with 32-inch BFGoodrich Mud-Terrain KM2 tires in the front and 37-inch BFGoodrich Mud-Terrain tires in the rear. All four wheels have coilover shocks and 18-inch "kidney bean" alloy rims.
Jeep Trailpass
The Jeep Trailpass concept was inspired by the all-new 2018 Jeep Compass Trailhawk. The Trailpass has even more off-road features like a 1.5-inch lift kit, 18-inch wheels and Continental TerrainContact tires. Like some of the other Compass models, the Jeep Trailpass is powered by a 2.4-liter Tigershark engine paired to a 9-speed automatic transmission.
Jeep Grand One
In the words of Jeep, the Grand One has a "modernized spin on a classic 1993 ZJ." The Grand One is a concept that was created to celebrate the 25th anniversary of the Grand Cherokee, which was born in 1993. It's features include high-clearance fenders, 18-inch lace style wheels, an extended wheelbase, 33-inch BFGoodrich mud terrain tires and a two-inch suspension lift. The engine is a highly powerful 5.2-liter V8 engine paired with a four-speed automatic transmission.  To really hit a homerun and make the Grand One truly feel like the '90s, it has an old school car phone and Nintendo gameboy.
Jeep Luminator
As you can probably gather from the name, the Jeep Luminator is all about brightening up the night with lights. Jointly developed with the Automotive Lighting division of Magneti Marelli, this Wrangler-based concept features all sorts of light modifications including an LED light bar, a rear high-mounted stop light, and a trail lamp with four different colors which change based on speed. The extra light isn't just for show, but it is intended to help drivers avoid animals while exploring through the wilderness at night. The Luminator also has a solar panel to charge an inverter and a drone landing pad on the roof of the vehicle.
Jeep CJ66
You may have seen the CJ66 before as it was shown at 2016 SEMA in Las Vegas in November 2016. The CJ66 is a narrow-bodied Wrangler built with the Wrangler TJ frame and that also has elements from the Jeep CJ and Jeep JK. The CJ66 produces 383 horsepower as it is equipped a Mopar cold air intake, cat back exhaust and a  5.7L HEMI V8 engine.
Jeep Safari (Shown Above)
The Jeep Safari concept is all about exploration and it was designed to give all passengers a safe and great view of everything around the vehicle. With a Wrangler-body, the vehicle has "windoors," which are basically doors with hinge openings and rear seats that can swivel so rear-seat passengers can get a 360-degree view. In addition, the Safari has an aluminum cargo rack, a Dana 44 axle, 35-inch BFGoodrich mud-terrain tires, and a five speed automatic transmission for off-road capability in any terrain.
Follow us on Twitter and Facebook to see photos from this year's Easter Jeep Safari. While all of the vehicles mentioned above are just concepts, we have a ton of Jeep models available at Kendall Dodge Chrysler Jeep Ram, you can view them here.
Photo source: Motor Authority