2018 Jeep Wrangler JL Takes the Stage at LA Auto Show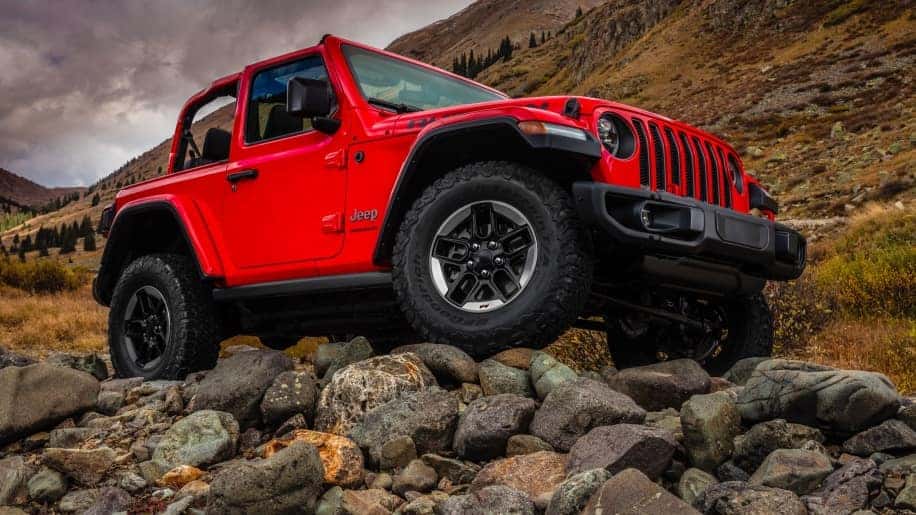 At this year's Los Angeles Auto Show, the 2018 Jeep® Wrangler JL finally debuted. Although there's been plenty of spy shots and even a leaked 2018 Jeep Wrangler manual, we didn't really know what the next-generation Wrangler JL would be like, until now.
Powertrains
3.6-liter V6 Engine
This year, Jeep has upped the ante with new engine options and a reduction in the vehicle's weight, that improves handling, fuel economy, and power. Returning to the Wrangler is the Pentastar 3.6-liter V6 engine, which is capable of generating 285 horsepower and 260 lb-ft of torque. Tweaked a bit with an engine start-stop (ESS) system, the engine turns itself off when idling and that can conserve fuel economy. The 3.6L engine can be paired to a six-speed manual transmission or the optional new eight-speed automatic transmission. When equipped with a manual transmission and V6 engine, the fuel economy of the Wrangler JL stands at 17 mpg in the city and 23 mpg on the highway. When equipped with an automatic transmission and V6 engine, the Wrangler JL averages 18/23 mpg city/highway.
Turbocharged 2.0-liter Engine
New for the 2018 Wrangler JL is a turbocharged 2.0-liter four-cylinder engine. The 2.0L engine produces best-in-class 270 horsepower and 295 lb.-ft. of torque and it has a better fuel economy. Paired to an eight-speed automatic transmission standard, the engine also has a new eTorque system, the initial foray for Jeep to get in on the alternative fuel vehicle bandwagon. Hybrid functions such as auto stop/start, power assist, extended fuel shut-off, transmission shift management, intelligent battery charging, and regenerative braking have all been added to the 2018 Jeep Wrangler with the turbocharged engine.
3.0-liter EcoDiesel
If looking for the most torque available with the next-generation Jeep Wrangler, consumers will have to wait a bit. In 2019, the new Wrangler JL will be available with the 3.0-liter EcoDiesel V6 engine, capable of 262 horsepower and 442 lb-ft of torque. That said, it's the best option for maximum towing capacity and off-road action.
Design and Capability
The weight of the 2018 Jeep Wrangler JL has been reduced by about 200 pounds by constructing the vehicle's hood, doors, and windshield frame with aluminum. Inside the Wrangler JL is a classy retro look, but it still has plenty of modern features. In terms of the exterior, it looks pretty much the same unless riding on a Rubicon trim, made with extra vents in the door panels to relieve underhood pressure. Speaking of, the Rubicon trim on both, the 2018 Jeep Wrangler and Wrangler Unlimited, is the go-to trim for going off-road.
The Wrangler Rubicon comes with its own exclusive equipment to make it the perfect vehicle for rock crawling. Such equipment includes a Rock-Trac 4×4 system, Dana 44 front and rear axles, 17-inch wheels with 33-inch tires, standard Tru-Lok locking differentials, heavy gauge rock rails, electronic sway bar disconnect, functional vents behind the front wheel wells to help relieve underhood pressure, and available steel bumpers with winch mount points and removable end caps. All around, the 2018 Wrangler JL has some improved specs with a ground clearance of 10.9 inches, able cross a body of water as deep as 30-inches, has a max towing capacity of around 3,500 lbs and a standard 2.72:1 crawl ratio (84.2:1 and 77.2:1 for Rubicon models).
Inside, consumers will enjoy the comforts of available features like automatic climate control, heated seats, and a heated steering wheel. The old ignition for the Jeep Wrangler has been replaced with push-button start to bring it a little forward to the modern age of vehicles. Although Uconnect 5.0 with a 5-inch touchscreen is still the standard in the 2018 Jeep Wrangler JL, the next-generation of Uconnect 4 that features Apple CarPlay and Android Auto capability on a 7.0-inch touchscreen is available for select trims. Some new safety features have also been added, such as Blind-spot Monitoring and Rear Cross Path detection and ParkView rear backup camera with dynamic gridlines.
MY Jeep
One thing Jeep is known for is its customization. The building blocks for grown ups, anyone who owns a Jeep Wrangler knows there are many ways to make it their own. Aside from being a two-door model (Wrangler) or a four-door model (Wrangler Unlimited), the Jeep Wrangler JL keeps well-known features like round headlamps, square taillamps, a fold-down windshield, and removable doors. This year, there are also three top options consumers may select depending on their preference.
The most common top seen in photos is the Jeep hard top, made up of three removable pieces, and powerful enough to support roof racks. A new convertible top has been added, also able to be removed, for those that want a stronger roof but the capability of getting that open air. Third, a powered soft-top has been installed to act as a sunroof, able to open up and shift in or out of place with a single button.
Over 200 more accessories and customizations will be made available with the release of the 2018 Jeep Wrangler JL. Jeep showed off some of these at SEMA in Vegas, but to name a few, one can look forward to 2-inch round steel tube doors, a front "Stubby" bumper, a 2-inch lift kit, LED off-road lights, and a Jeep Performance Parts snorkel for water crossing. Exciting stuff.
Ready to get your hands on the next generation of the Jeep Wrangler? Release dates are unclear, but we can still talk about it on social media.
Photo Source/Copyright: AutoBlog.com