2019 Jeep Cherokee Was Revealed at NAIAS — It Looks Great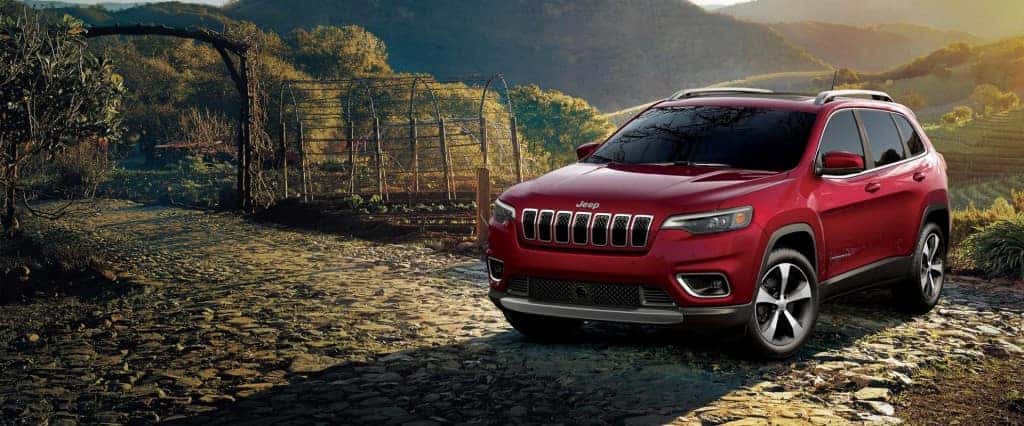 With a third engine option and a refreshed front fascia, there's a lot to talk about with the redesigned 2019 Jeep Cherokee. A compact SUV that is no stranger to making waves, the new Jeep Cherokee has a new available 2.0-liter turbocharged inline four cylinder engine with modern start/stop. Promoting better fuel economy for a Jeep Cherokee family that currently doesn't provide outstanding MPG (25 MPG combined on the 2018 version).
The 2019 Jeep Cherokee will come standard with a 2.4-liter Tigershark engine with 180 horsepower and 170 lb-ft of torque. The next tier available is a 3.2-liter Pentastar V6 engine, which provides 271 horsepower and 239 lb-ft of torque as well. And the latest edition to the Cherokee family is the all-new 2.0L engine option, which increases fuel economy and cranks out 270 horsepower and 295 lb-ft of torque. A noticeable change for a brand that hopes to gain more of a following with this gas saving engine.
Though the nine-speed automatic carries over from the previous year, there's new software that helps overall driveability for the new engine option. The overall weight of the vehicle is lowered by 200 pounds to improve performance and driving efficiency, as a new polymer tailgate is among the changes that help shave off some weight. Lighter weight provides for a faster pick-up and better fuel economy as well.
The new 2019 Jeep Cherokee has been remodeled to provide more cargo space, increasing available storage space to around 4 cubic feet. This allows ample space for items like golf clubs to go in your Cherokee easily as opposed to being stored at an awkward angle.
Cosmetic changes from the Jeep and the grille go back to this generation's first frontal facelift back in 2013. The traditional headlamps changed from the flat Jeep front-end round headlamps to a nice curvy front and the new 2019 Cherokee model has added a larger grille with LED headlamps and daytime running lights with a new hood and different fender design, while keeping the Cherokee's unique look.
Other features added to the 2019 Cherokee trims include Overland trim receiving new chrome steel tow hooks. The back end of the 2019 Jeep Cherokee is also different. With a cool design that's slightly different than the previous edition, curving at the ends.
Another new feature includes the hands-free power liftgate and a new interior center console resigned for the 2019 edition. Subtle features that often go unnoticed, but we've caught them all and can't wait to share them with you when you join us for a future test-drive!
Visit Kendall Dodge Chrysler Jeep Ram for all the latest Jeep vehicles and servicing. We're home to some of the finest professionals that ensure you will love your new vehicle. We'll be receiving the new 2019 Jeep Cherokee later this year, so be sure to stay tuned.