2019 Ram 1500 DT Debuts in January 2018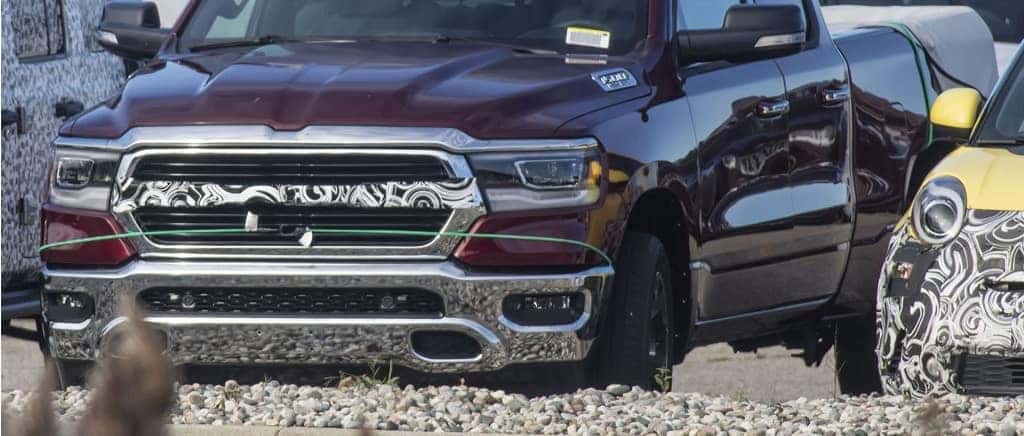 The new upcoming 2019 Ram 1500 will be making its grand debut in early 2018. Truck enthusiasts and fans of the Ram pickup truck brand won't have to wait very long, because we'll all get a good look at the next generation Ram 1500, the Ram 1500 DT, in January at the North American International Auto Show, also called the Detroit Auto Show. Ram hasn't released too many official details, but the new Ram 1500 DT is rumored to have 13 best in class claims. Here are a couple highlights about what we have heard about the new Ram 1500.
A New Look
Although most of the 2019 Ram 1500 DT has only been captured via spy shots, it looks like the next generation design has a new look on the front fascia. Say goodbye to the signature crosshair grille that several Dodge vehicles have; now it looks like the Ram 1500 DT will have its own grille design. According to spy photos and speculation articles, the new grille on the Ram 1500 DT will be a split grille that has sharp slanted lines emphasizing the bulged hood and it will incorporate the LED headlights.  There's also a bit of chrome trimming, but that may just be a high-tier style feature.
Technology features in the Ram 1500 are also getting some updates. Aside from installing the next-generation Uconnect infotainment system, Uconnect 4 (4C), the infotainment display is said to be getting a new look. Unlike the usual 5 or 8.4-inch screen, or the new 7-inch display, the 2019 Ram 1500 DT is believed to be available with a huge vertical center stack touchscreen to display the infotainment system. Able to mimic the look of a smartphone, the Uconnect 4 will definitely look like a large smartphone on this screen.
An oldie but a goodie caught on camera is the RamBox Cargo Management system. A favorite of truck drivers everywhere, the RamBox makes storing equipment, tools, and even ice-cold drinks easier than ever. It goes without saying this is one available feature that isn't going anywhere.
Unlike other vehicles, Ram has made paparazzi work for these photos. Everything else is being kept under wraps until January 2018 when the 2019 Ram 1500 DT makes its official debut during the Detroit Auto Show. Interested in getting a Ram truck for yourself? Check out the Ram 1500 and other Ram truck models in our inventory.
Photo Source/Copyright: aventurachryslerjeepdodgeram.com