2021 Chrysler Pacifica Earns New Award From Good Housekeeping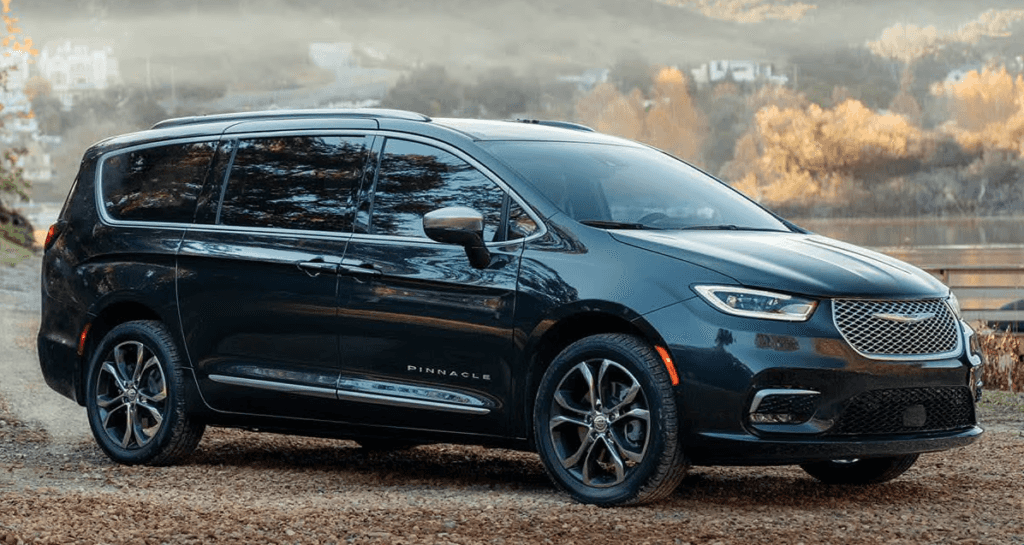 Photo credit: Chrysler
Fiat Chrysler Automobiles (FCA) has known its Chrysler Pacifica and Chrysler Pacifica Hybrid were special for quite some time. Even before its minivan products began winning all the acclaim and awards in the minivan segment, the Chrysler brand pivoted to reshape its brand to welcome families like never before. Since 2017, when the Pacifica debuted, the awards started to pour in. The latest win came this month when Good Housekeeping, in partnership with Car and Driver, announced the 2021 Chrysler Pacifica as its 2020 Best New Family Car award winner in the minivan category. Let's explain why it won this latest award.
2021 Chrysler Pacifica Is Revealed
One of the last Auto Show events that took place in February before the outbreak of Coronavirus, the 2020 Chicago Auto Show, was where the 2021 Chrysler Pacifica debuted. It's been four straight years as the most awarded minivan thanks to innovation and high-quality materials. The May 2020 issue of Good Housekeeping magazine will feature the Pacifica and highlight why it's still such a sought after vehicle. In its partnership with Car and Driver, Good Housekeeping went through a bevy of vehicles to walk away with its 15 best-in-class vehicles. With the 2020 Best New Family Car award, this is the third year in a row for this distinction. Keep in mind, the Pacifica is the only minivan to offer both a standard gas powertrain and a hybrid-engine option on the market. The Pacifica won Good Housekeeping's Best New Minivan of 2019 and the Pacifica Hybrid took home the Best New Hybrid award in 2018.
To keep the awards coming, the 2021 Chrysler Pacifica has brought along a host of new perks. A new grille, headlamps and fog lamps were added. The look is sharpened with a new tail lamp as well. The Pacifica now offers a new all-wheel-drive (AWD) system. This means the 2021 Pacifica is the only minivan to offer both Stow 'n Go seating and All-Wheel-Drive. The available system will give drivers additional traction in a wide range of driving and road conditions. For drivers that are on pavement, wet roads, snow-covered roads and even non-paved surfaces, all-wheel-drive supplies steady control at any speed without the requirement of driver activation. As many as 14 new standard safety features were added, including brand new LED lights and the added Pedestrian Automatic Emergency Braking. 
Pacifica Adds New Top-Tier Trim and Features
Along with new features, Chrysler has added a premium trim called the Pacifica Pinnacle™. This trim offers the top-tier interior in its class, with one of Pacifica's two new available integrated consoles made to seamlessly flow into the instrument panel. Caramel Nappa leather seats are added with quilted seat side bolsters and perforated seat inserts and seat backs fitted to all three rows. A new set of two fully movable lumbar comfort pillows for the second-row captain's chairs match the quilted style and Caramel color of the leather seating and give an additional touch of comfort for owners. Also, a new available 10.1-inch touchscreen and the new Uconnect 5 system will be offered for the first time in a North American FCA vehicle. The processor inside is now as much as five times faster than the previous one.
Owners Will Love This New Available Feature
One great feature that was added is the new FamCAM™ interior camera. Drivers can now have access to viewing in HD, what is going on behind them with segment-exclusive features, including a clear view of rear-facing passengers, a split-view display to show multiple views and a "zoom-to-seat" optional view. The Pacifica Hybrid still offers an incredible mpg for owners, getting more than 80 miles per gallon equivalent (MPGe) in electric-only mode with an all-electric range of more than 30 miles. Combined the 2021 Pacifica Hybrid nets a total range of more than 500 miles. The starting price has not been announced yet, but is expected to be ready for the fall of 2020. Want to ride a new 2020 Chrysler Pacifica today? 
Buy With Help From Kendall Dodge Chrysler Jeep Ram
We're all about helping our customers enjoy their shopping experience. We have a friendly and passionate sales team that will make your buying, leasing or selling needs easy for any of our new vehicle inventory. We're happy to be your dealership home. Considering a used vehicle? We have a whole bunch for others to choose from.
Don't forget we have a dedicated service team that can help with an online service appointment to get started on all maintenance work and repairs. At Kendall Dodge Chrysler Jeep Ram, we know what it takes to provide a worthwhile experience. Allow us the pleasure to help you today!