2021 Ram 1500 Pickup Proves More Is Better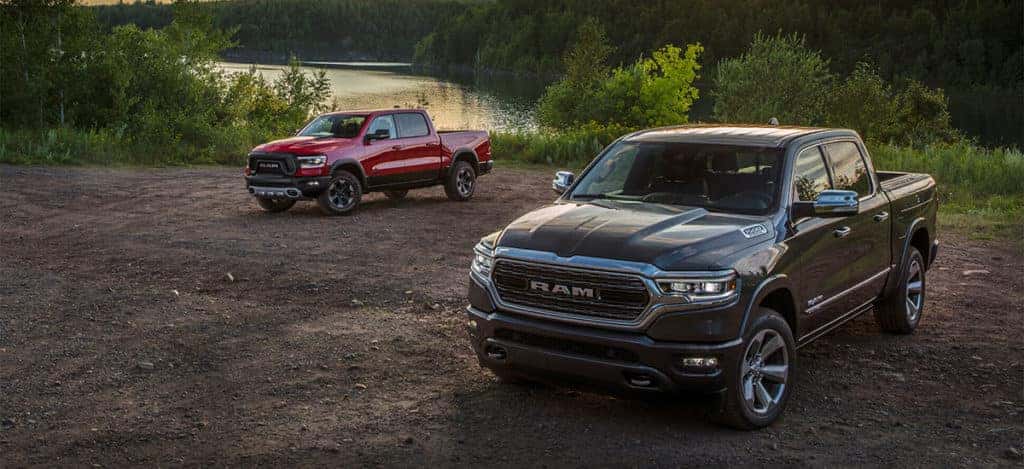 Photo credit: FCA
Ram has taken the approach that only more is more, rather than the trick most automakers try to make customers believe that less is more. Ram firmly believes that more technology, greater comfort, and additional features add to a better product. The current fifth-generation Ram 1500 debuted in 2018 and has become the most popular Ram pickup ever produced. Success for the Ram 1500 was granted due to the premium materials, rave reviews, and loads of awards. The upcoming 2021 Ram 1500 has found a way to improve, despite not receiving a massive refresh, there are some new perks for owners to find. Mainly found with some impressive technical tweaks for the 2021 model year.
Rumored Additions To New Ram Half-Ton
A report from Mopar Insiders, along with spy photos of the 2021 Ram 150, showcasing one of the most anticipated Ram 1500 trims, the new Ram Rebel TRX. Spy photos have shown new cameras located on the side view mirrors as well as a third LED brake light added. Owners can opt to drive the Ram 1500 with the capabilities of towing, with 360-degree surround camera views as well as a camera gazing below into the cargo bed. This is the first time it has been used with the half-ton Ram pickup. More rumors have the 2021 Ram 1500 adding a trailer steering knob that will be able to steer the truck to align and back up the trailer into a parking spot with ease. 
What Else To Look Forward To With the 2021 Ram 1500 
The future of the Ram 1500 will focus on offering more technology for customers. Just one look at the evolution of the Ram 1500 will show its growth to accommodate more for buyers. For owners looking to tow on the regular, we recommend opting for the 5.7-Liter HEMI that can tow up to 12,750 pounds. We expect Fiat Chrysler to add the brand new Uconnect 5 infotainment system for the new 2021 Ram 1500. This system will include wireless Apple CarPlay and AndroidAuto capabilities, plus a much faster processor. Remember, more is always more and like Ram, we're ready to show off more for our customers this holiday weekend. Stop by Kendall Dodge Chrysler Jeep Ram today to test-drive Ram now!
Drive Home the Newest Ram Pickups At Kendall Dodge Chrysler Jeep Ram
There's no better place than Kendall Dodge Jeep Chrysler Ram to find a brand new Ram pickup with Ram truck inventory to choose from. We have the newest Ram 1500 in the 2020 Ram 1500, ready to go. Our professional and courteous staff is here to help our customers with any buying, leasing, or trade-in offers you have. We're also able to assist with selling vehicles as well. 
Ask for our help if there are ongoing issues on your current ride. For those looking to make their vehicle drive like new, we can assist any customer with an online service appointment to our service department. We look forward to seeing you today at Kendall Dodge Chrysler Jeep Ram!