3 Reasons to Buy the New Jeep Renegade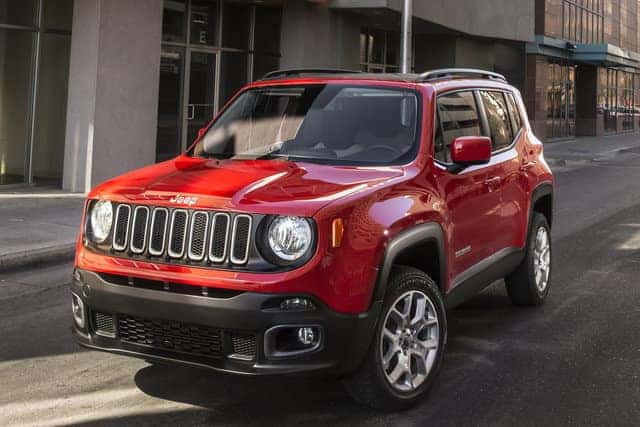 Jeep has enjoyed a record-breaking year for sales as more and more people have discovered the quality and dependability that the brand has to offer. This year is shaping up to be even better thanks to the introduction of the new Jeep Renegade, the first subcompact crossover for the brand.
If you are in the market for a new vehicle this year, you need to head down to your local Jeep dealership and test drive a 2015 Jeep Renegade as soon as it's available. Here are just three reasons why you should buy a Jeep Renegade this year:
Compact Size
The Renegade will be both smaller and cheaper than the popular Cherokee. With the smaller size, it also has a smaller engine and improved fuel efficiency. The Renegade will have a 160-horse power, 1.4-liter engine with a six-speed manual transmission. A nine-speed automatic transmission is also available with a 184-horse power, 2.4-liter engine. Both engines are four cylinder. Both engines are expected to get more than 30 miles per gallon in fuel efficiency.
Flexible Performance
Buyers can choose between front-wheel drive or all-wheel drive for the Renegade. Buyers can further choose between two systems for all-wheel drive: The Active Drive or the Active Drive Low. The Active Drive can be used to power any drive wheel with 100 percent of the engine torque. The Active Drive Low provides a 20:1 ratio for first gear, which provides greater control for ascending hills, as well as greater traction when driving in snow, mud, sand and other poor conditions.
Gorgeous Design
The Renegade has a beautiful design with many new features. The Renegade has a tall body and 6.7 inches of ground clearance (more with the Trailhawk). It also has 118.6 cubic feet of space inside, allowing for a comfortable ride and plenty of space for hauling cargo. Front and rear seats can fold flat, and the sunroof panels are removable.
The exterior has a military feel. It has trapezoidal wheel arches and an "X" design on the tail lights. Inside, there are air pod vents on the dash that look like aviator goggles. Analog gauges have a paint-splatter design that has an adventurous, rugged feel. A small center display shows off trip information and provides entertainment options. Safety features include blind-spot and rear cameras and lane departure warnings.
The Jeep Renegade doesn't go on sale until December, but it promises to made a big splash when it hits dealerships. Now is the time to start talking to your local Jeep dealership about this vehicle and any opportunities for early ordering or reservations. You can also explore the Jeep dealership to learn about comparable vehicles and take a test drive.