909 Horsepower Challenger All But Confirmed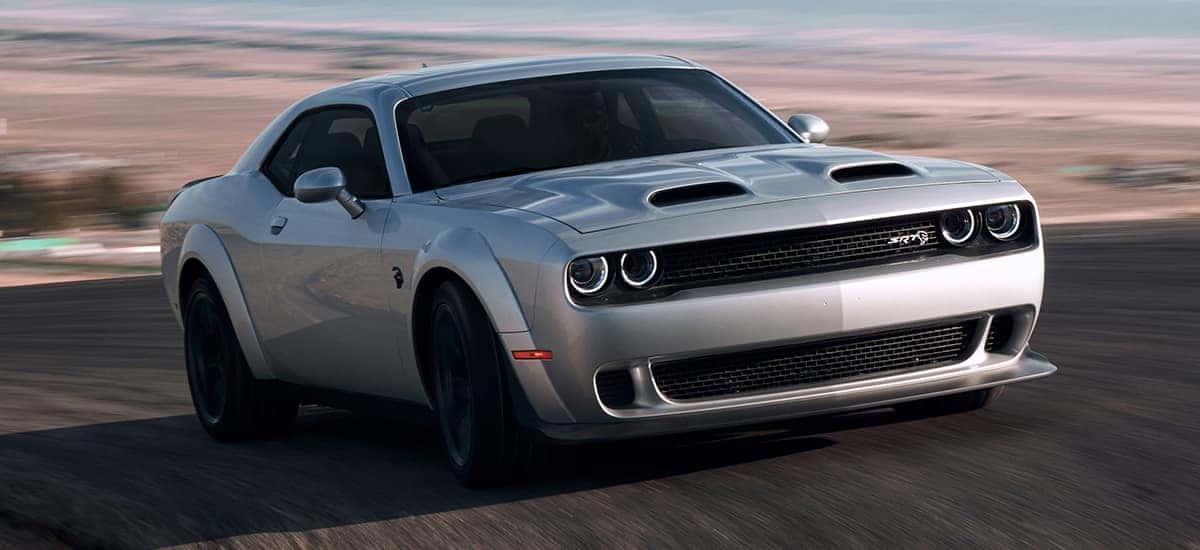 We thought we were in store for a remarkable Dodge muscle car with wild horsepower abilities, and we were right. Dodge is about to formally announce their plans to offer customers the most horsepower they've ever been able to drive off with from a stock, production muscle car. The days of the 2018 Dodge Challenger SRT Dodge Demon and the follow-up with the 2019-2022  Dodge Challenger SRT Hellcat Redeye were remarkable options, but we know the future of the brand involves promoting the electric vehicle mark with Dodge EV capabilities. So with all the perks that will come with these modern and currently new built vehicles, why would Dodge venture to offer one last monstrous Dodge muscle car with the 909 horsepower? Well, to offer their loyal customers one last chance to enjoy the perks of V8 HEMI power thanks to its E85 gasoline required perks set to be offered for the 2023 Dodge Challenger. 
Breaking Down the E85 Fuel
This use of E85 fuel is known as "flex fuel" as its a mixture of both ethanol and gasoline, alas with a higher concentration of ethanol than the typical gasoline offered with regular fuel. The Dodge muscle car lineup requires this kind of juice to move as its thermal efficiency and fuel consumption require a more powerful burst. There's exactly 69 more horsepower offered than its SRT Demon relative made nearly five years ago.    
When we imagine the future of Dodge vehicles, we await to see how powerful they become. We don't have to wait any longer; this is the primetime best for those who have held out. The threshold for street-legal vehicles offering this level of horsepower and torque was raised by Dodge and won't get any higher from gasoline-powered muscle cars. This is due to combustion engines being removed for more fuel efficient rides. The way the gas pedal presses down and the feeling of driving a gasoline powered Dodge muscle car is going to change for the first time soon as Dodge gears up for its EV future. Now is the time to buy Dodge, and we're proud to help make those Dodge dreams a reality at Kendall Dodge Chrysler Jeep Ram!
More Exciting News Comes In August 2022
The excitement is definitely there for the Dodge fan base and world wide community, as Dodge announced their intent to debut three new EVs during the Dodge Roadkill Nights event taking place in early August 2022. We look forward to ensuring a remarkable customer experience that will remain on the forefront of the mind when thinking about any vehicle we provide. Allow us to make this summer a special one when coming into Kendall Dodge Chrysler Jeep Ram for any automotive needs from buying, leasing, and selling a vehicle to having maintenance work to keep any ride running smooth. We've covered this before, but learn even more after a visit to Kendall Dodge Chrysler Jeep Ram.
Race Over To Kendall For Huge Summer Deals Going On
Want to save big time and drive a new Dodge Challenger? We're here to assist our customers in many ways, including going out for a test-drive with one of our vehicles from our wide new vehicle inventory. Whether you're in Doral, Kendall, North Miami, Homestead, we're happy to help our South Florida and local Miami customers. We're professional and here to assist our customers with all buying, leasing, or trade-in offers.
We have a whole bunch for others to choose from. We can also help our customers out with any auto financing support they might need as well. Don't forget we have a trained service team that can help with an online appointment to get started on all maintenance work and repairs. We look forward to being your center for all things automotive, even during these unprecedented times! We'll see you soon!