94 Viper in Perfect Condition Up For Sale on Ebay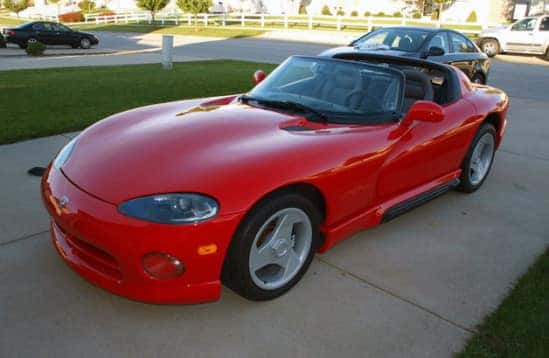 As a Dodge dealer, one of the things that we love to see, is classic vehicles that are kept in pristine condition. It isn't always easy to find vehicles, especially older models, that have been kept up to showroom standards. More times than not, older vehicles have been modified by their owners, and sometimes older model vehicles end up in accidents that ultimately alter the original state that the car was in. Every now and again, a special vehicle comes along that hasn't been modified, or been involved in any wrecks. These finds are rare, so when we see one that catches our eye, we feel the need to share it with you!
The Dodge Viper is an iconic car, and finding one in pristine "showroom condition" is not an easy task. One such Viper just so happened to pop up for sale on Ebay at the end of November, and we couldn't believe the excellent state it was in. The odometer had a mere 504 miles on its reading, and according to the seller, the car showed "no defects at all." The 1994 Dodge Viper was listed lower than other comparable vehicles from the same model year or earlier, with a list price of just $37,500.
The 1994 model boasts the original open-top design, with three-spoke wheels, and side pipes. From the seller's description and the pictures, this Dodge Viper appears to look just as it did when it first rolled off the assembly line nearly twenty years ago. The windows and the top have also never been installed, which means this rare gem is in even better condition than previously thought. Looking at this vintage 1994 Viper, next to the 2014 SRT Viper, there are too many differences and comparisons to list – but one thing is for sure, whoever ends up with either of those cars in their garage, is one lucky driver.