A Brief Numbers Lesson With the 2016 Dodge Durango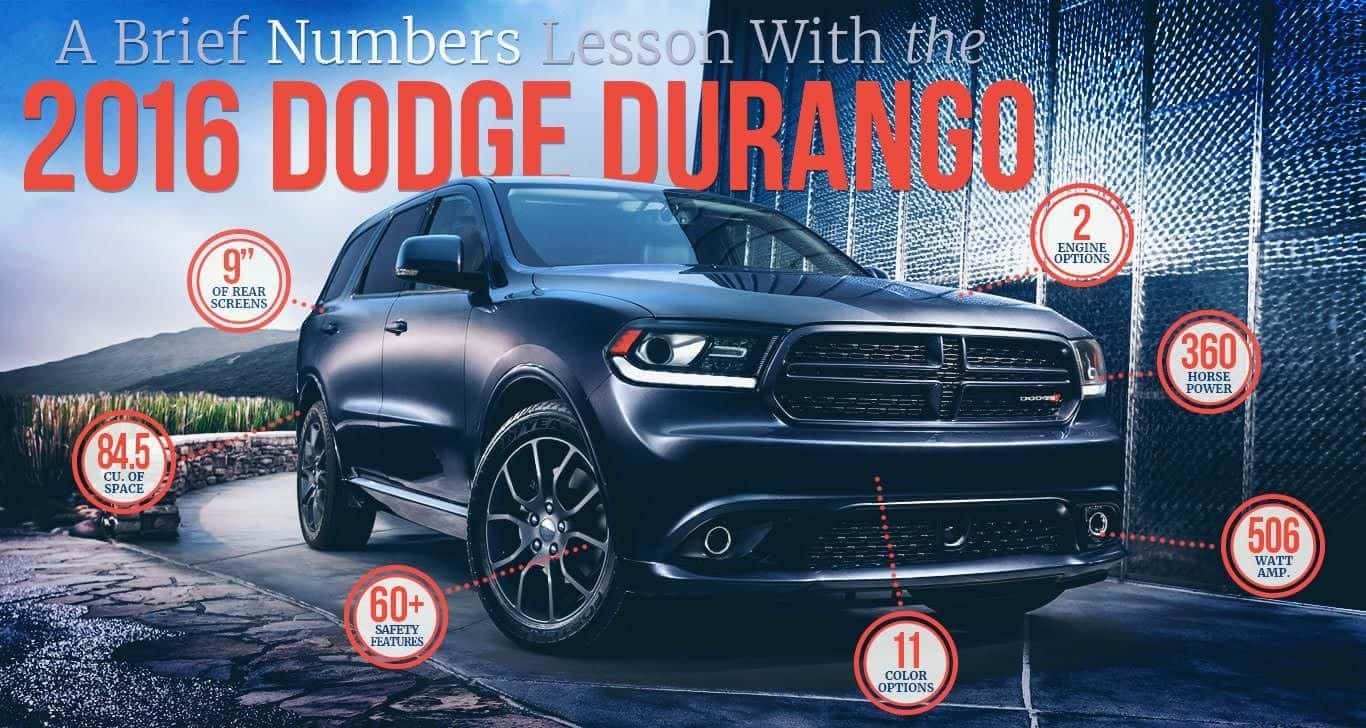 Things are easier to visualize when we quantify them. That's probably why several numbers stand out in particular when you begin investigating the 2016 Dodge Durango. For instance, the number '360' is engrained in my head, as is the number '506' (you'll learn why later).
If you're seeking a new SUV, we'd hope that you can at least count to one hundred. Alas, we're still going to go through a brief number's lesson, using the impressive, multifaceted 2016 Dodge Durango as our example…
1: Minutes it takes to inquire on a Dodge Durango
This blog post isn't particularly long, so it should be an absolute breeze learning about the 2016 Dodge Durango's top attributes.
There are several other Durango-centric actions that also only take a minute: checking out Dodge's website and accompanying resources, talking to a Durango owner, or driving by a Dodge dealership and checking out a Durango for yourself.
2: Engine Options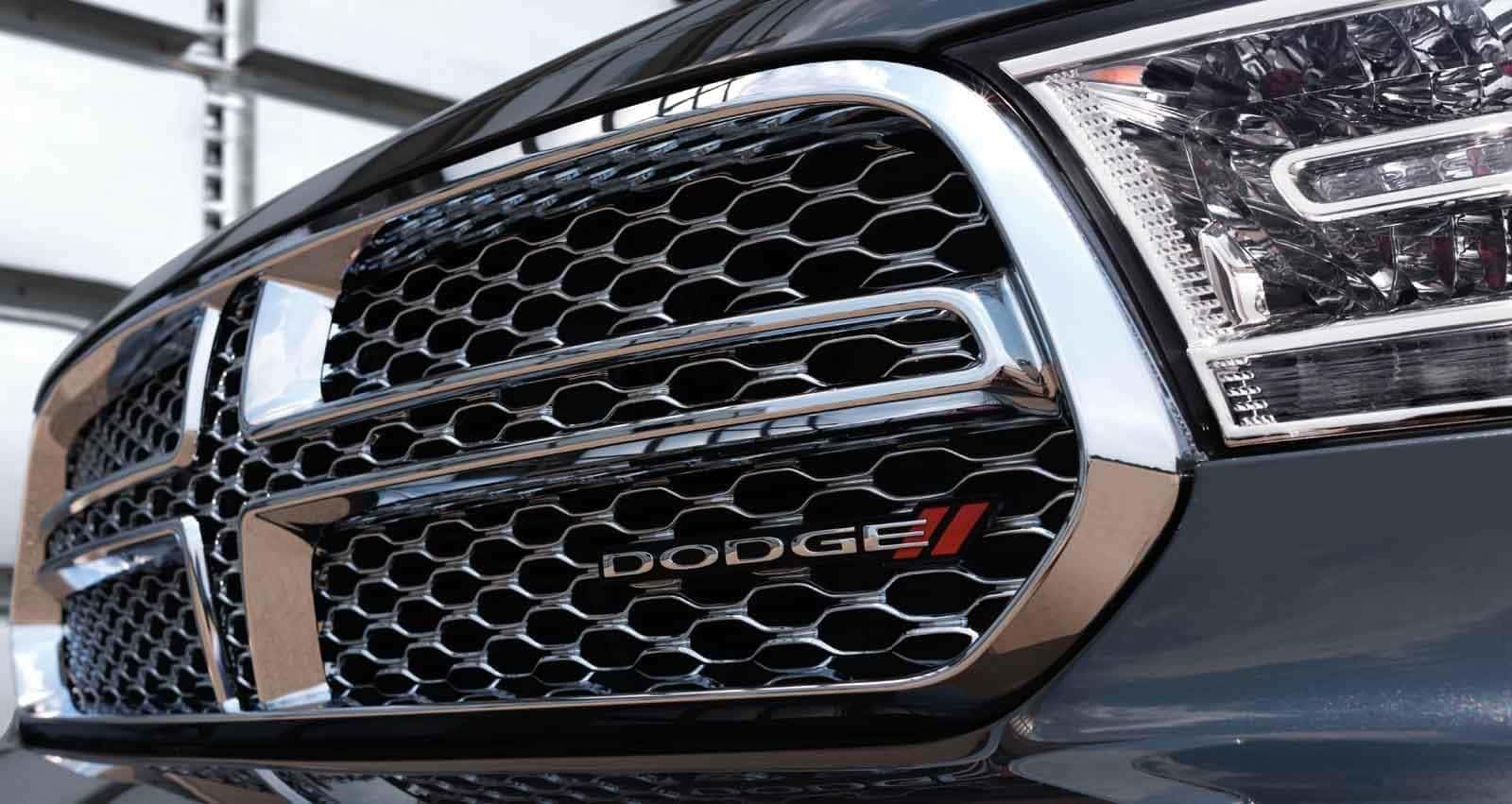 Drivers certainly aren't limited to one specific engine when it comes to the 2016 Dodge Durango. Each of the offerings, big and small, offer a whole lot of power and excellent efficiency.
The 3.6-liter Pentastar V6 engine provides incredible power, with the system pumping out 295 horsepower and 260 pounds-feet of torque. Thanks to technologies like Variable Valve Timing (as well as the incredible eight-speed automatic transmission), drivers can expect the rear-wheel-drive model to deliver a 27 highway mile per gallon fuel efficiency. Meanwhile, the all-wheel-drive model produces an equally impressive 25 mile per gallon highway efficiency. When equipped with this specific engine, drivers can expect their Durango to tow up to 6,200 pounds.
Meanwhile, the hulking 5.7-liter HEMI V8 engine produces several best-in-class specs, including 360 horsepower and 390 pounds-feet of torque. The Variable Valve Timing, the Fuel Saver Technology, and the eight-speed automatic transmission contribute to the best-in-class V8 fuel economy of 22 highway miles per gallon. With this HEMI engine, drivers can expect a practically unprecedented 7,400-pound towing capacity.
Of course, the vehicle's incredible performance can't solely be attributed to the engines. The Engine Stop-Start technology helps lower emissions while also improving efficiency and performance. The all-wheel-drive capabilities means the Durango can overcome any kind of conditions, while the 50/50 weight distribution will assure that your new ride will stay on its intended path.
9: Inches of Rear Screens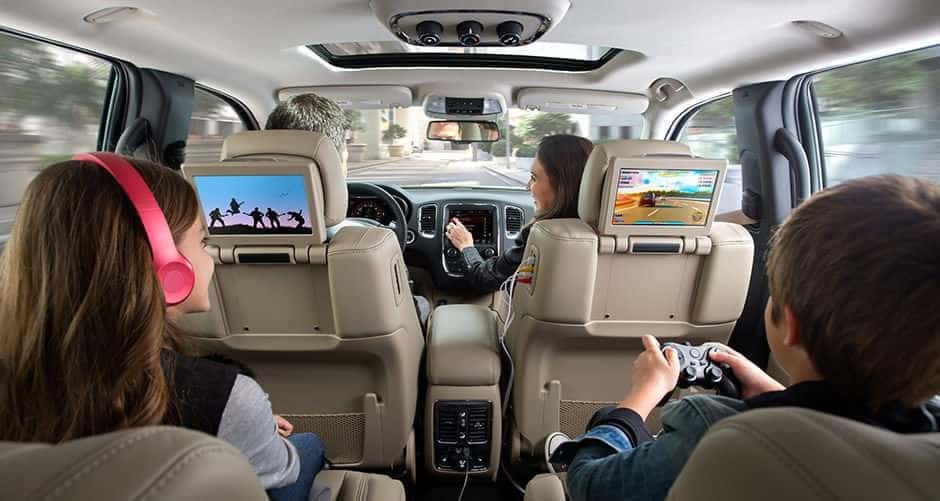 Do you ever find that it's hard to entertain your younger occupants? These passengers generally require some kind of distraction during a long road trip. Luckily, the Durango's pair of nine-inch rear screens will keep these passengers occupied for hours.
The Dual-Screen Blu-Ray and DVD Entertainment System allows these rear passengers to utilize whatever media they desire. Occupants can obviously watch Blu-Rays or DVDs, but the system also allows passengers to connect their favorite game system. When these occupants are finished, they can fold the screens, preventing scratches.
Of course, there are plenty of other ways for these passengers to be entertained. The Uconnect 8.4 NAV system provides passengers with access to SiriusXM Satellite Radio, so drivers can choose between more than 100 different channels. If you're going the music route, the available BeatsAudio Premium Sound System (which includes nine speakers, a subwoofer, and a 506-watt amp) will drown out any inquiries of "are we there yet?"
If these passengers prefer to use their favorite gadgets, they'll be able to stay connected to the internet thanks to the Durango's WiFi hotspot. They can even keep said gadgets charged thanks to the inclusion of the HDMI and USB ports found throughout the cabin.
11: Color Options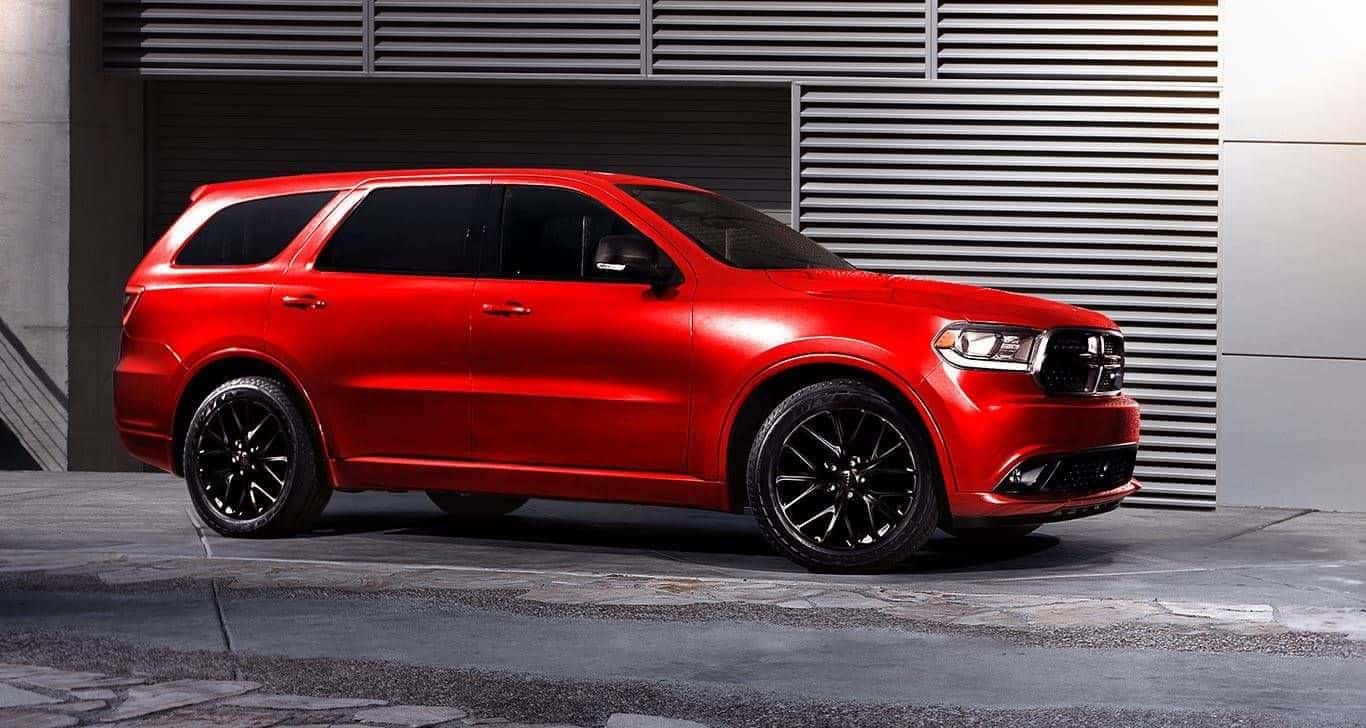 Sure, it may not be all that important to some, but if you want to impress your fellow drivers, the exterior color is more than important. After all, these paint colors helps convey the Durango's attitude.
Seeking a bright color? You're eyeing a 'summer-y,' athletic ride. Looking for a darker color? Perhaps you're looking for something a bit more intimidating.
Regardless, each of the Durango's 11 color options is striking and eye-catching, and the driver won't be making a poor choice no matter what color they opt for.
The color options include:
Bright White
True Blue Pearl
Maximum Steel Metallic
Redline Red 2-Coat Pearl
Billet Silver Metallic
Granite Crystal Metallic
Brilliant Black Crystal Pearl
Ivory Pearl Tri-Coat
Velvet Red Pearl
Light Brownstone Pearl
Luxury Brown Pearl

60: Security and Safety Features

When a vehicle can reasonably tout that they offer 60 safety and security features, it can be rather difficult to zero in on any specific function.

For starters, the Durango has been specifically designed with safety in mind. That means in the event of a collision, drivers can rely on the high-strength steel frame and the front/rear crumple zones to help dissipate the crash's energy. Meanwhile, the elaborate braking technology will ensure maximum stoppage power, which should prove valuable when an accident seems inevitable.

Several high-tech safety functions will also play an important role in avoiding collisions from the start. The Adaptive Cruise Control will allow the driver to take a brief break without compromising safety. The Durango will take over driving duties, and when it's time to decelerate or stop, drivers can trust that their SUV will apply the brakes. The Forward Collision Warning with Active Braking plays a similar role, as the Durango uses its exterior sensors to warn the driver of an imminent crash. The vehicle can even automatically apply the brakes, helping to avoid or lessen the impact of a crash.

84.5: Cubic Feet of Cargo Space

Sure, you expected plenty of cargo space from your new SUV. However, were you anticipating this kind of roominess?

The giant Dodge Durango provides 84.5-cubic-feet of maximum cargo space, enough room to fit any luggage or equipment you see fit. The Durango even provides maximum flexibility, so drivers can easily fit their cargo and passengers. The fold-flat front row, the 60/40 fold-and-tumble second-row seat, and the 50/50 split-folding third-row seat makes your SUV even more versatile.

Here's another number for you: $30,495. That's the MSRP of this incredible vehicle, meaning you don't have to break the bank for one of the most well-versed SUVs on the market. After seeing all the 2016 Dodge Durango has to offer, you probably recognize that this is the most impressive number of them all.