All-New 2020 Jeep Gladiator Ready To Roll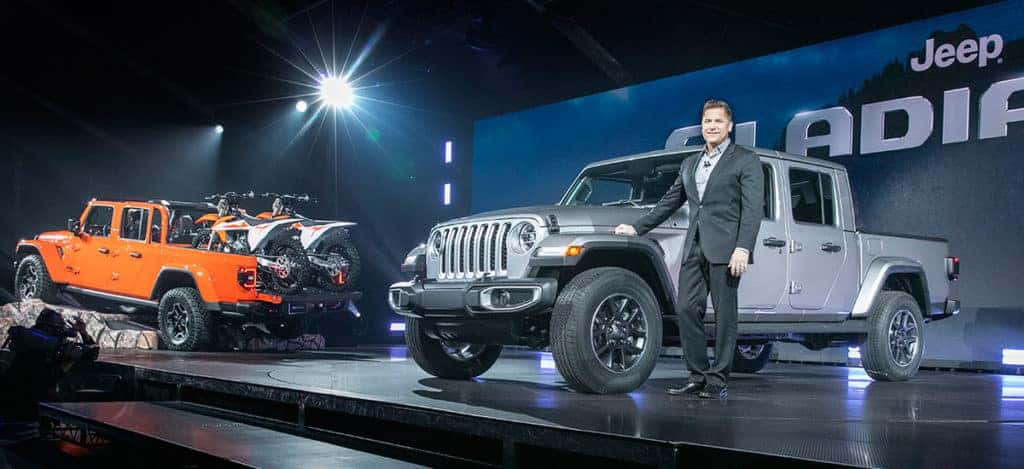 Photo credit: TransportTopics
The 2020 Jeep Gladiator is officially rolling out of the Toledo factory and into dealerships. From inception, there has been a large interest in the Jeep brand's new mid-size pickup truck. The very first edition Gladiator pickups will be arriving at dealerships around the country within a few weeks and we're excited to share all the details about why this all-new Jeep vehicle is exciting.
This is, after all, the very first Jeep pickup in nearly three decades, the 2020 Gladiator is extremely polished, sophisticated and ready to do everything a Jeep fanatic would expect. There is no 2WD available, this is a trail rated beast that demands to be taken off-road. For those that are serious about embracing all the Gladiator is capable of, they can opt for the Rubicon trim with its locking differentials and sway bar disconnect. What else will the Gladiator offer customers? Let us showcase some of the great things offered with the 2020 Jeep Gladiator.
The Strength of A Gladiator
Jeep wanted to make sure their all-new pickup would be powerful and sleek. They accomplished both of those goals. Underneath the hood, drivers will feel the power. The standard powertrain is the widely respected 3.6-Liter Pentastar engine that gets 285 horsepower and 260 lb-ft of torque. Owners will have the choice of automatic or manual transmission available, even the choice of a diesel engine. The EcoDiesel V6 engine provides a mild-hybrid system that produces better gas mileage and a stunning amount of torque. (The Diesel option will be available sometime next year, but produces 442 lb-ft of torque to go with 260 horsepower).
Just like the Jeep Wrangler, the option to "go naked" is provided with available soft-top and hard-top roof options, the ability to take off the doors and allow owners to embrace the views around them. A removable wireless speaker comes with the Gladiator as well, so owners can keep the music playing wherever they go. Jeep has had a lot of time to make sure this vehicle was ready to please fans. The original concept for the Jeep Gladiator reaches as far back as 2005 and Jeep has ensured this vehicle will be groundbreaking.
Need the Strength To Tow? The Gladiator Has That Covered
Perhaps one of the best things about this all-new Jeep pickup is the fact it can tow way more than most mid-size trucks. In fact, the 2020 Gladiator offers Best-in-class towing with 7,650 pounds of towing capacity and Best-in-class 1,600 pounds of maximum payload. This pickup possesses a lot of strength to haul whatever items are needed safely and secure. If any hauling is needed off-road, take pride in knowing the Gladiator brings 33-inch all-terrain tires and FOX shocks to all the pickup to be stable on roads less traveled.
"We absolutely wanted it to look different, bold and stand out from anything else, but give you everything that the truck buyer was looking for and everything that Wrangler has always been known for," said Tim Kuniskis, president of the Jeep Brand for Fiat Chrysler.
Avoid Waiting and Test-Drive New Jeep Vehicles Today
Rush to check out our wide lineup of new vehicles, including our latest Jeep vehicles. We're ready to go at Kendall Dodge Chrysler Jeep Ram. We're loyal and aim to always assist our customers with any buying, leasing or trade-in offers. Best of all, we are open seven days a week and can handle almost any servicing your vehicle should need. Trust us to help you get your vehicle up and running like new with an online service appointment and visit to our service center.
Didn't buy with us? We don't mind to still provide a helping hand. Our entire team will be happy to make sure you get what you are looking for. We hope you make us your home for all things automotive. See you soon at Kendall Dodge Chrysler Jeep Ram.