An Inside Look At The 2016 Jeep Grand Cherokee SRT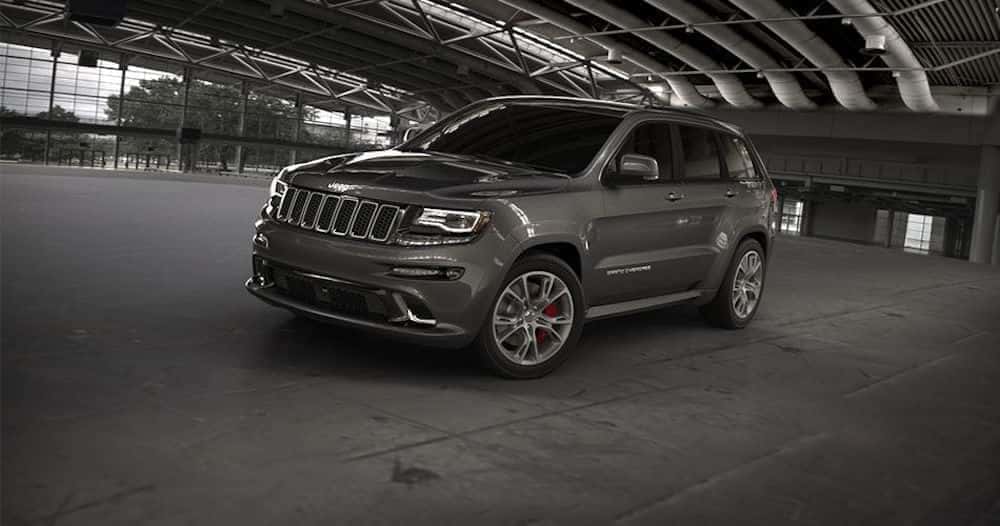 The Jeep Grand Cherokee has been a favorite on-road performer since its conception. Blending powerful engines with efficient fuel-economy, creating the perfect daily driver. So it's no surprise the 2016 Grand Cherokee is seeing another installment of the SRT model, and it's looking better than ever. This SRT prides itself in performance and luxury, not off-roading capability like its cousins. So, don't be surprised if you see a 2016 SRT Jeep Grand Cherokee in Miami cruising along the beach next to a Mercedes or Porsche. Yeah, it's that car. Luxury oriented and tuned for the street, this 2016 SRT model is a Jeep that was meant for drag-racing, not climbing rocks.
Tuned for On-Road Performance
Just one glance at this SRT tells you how luxurious and street-performing oriented this Jeep is. It's not as bulky looking as it's Jeep cousins, rather, it has a much more aggressive and athletic design that separates itself from the rest of the Jeep family. The design is athletic in both appearance and performance, and provides less drag for the Hemi while it careens this Jeep down the highway street. Not only is it aggressive and athletic, the SRT's design hints at the hidden luxurious interior. This Jeep looks like something straight out of a James Bond movie; refined and powerful, not rugged.
Luxurious Interior
The SRT has no interest in getting down and dirty, and once you see the interior you'll know why. The Jeep Grand Cherokee SRT is housing a world-class ultra premium interior underneath it's devilishly handsome design. The first thing you'll notice is the leather seats feel different than what you are used to sitting in; and that's because they are.
These Laguna leather seats are crafted from the finest leather from one of the world's best tanners in Sweden. This tanner chooses their hide exclusively from Scandanavia, where a ban on barbed wire fencing keeps the hides supple and intact. The processing is kept to a minimum as well, so the natural beauty and softness are not disrupted. It's so untouched, that the leather will actually form creases depending on how you sit in the seat.
If that isn't enough, the 19 speaker sound system from Harman Kardon with an 825-watt amp provides the ultimate and over-the-top listening experience. In order to hear that better, this Jeep also has active noise cancellation technology to help drown out the sounds of the Hemi. But, the steering wheel is the true centerpiece of luxury and street performance in the new SRT. It's wrapped in supple leather and flat bottomed, with paddle shifters for manual gear changing only inches away from your fingertips.
Yeah, it's that car; and it's not sorry.
it's Got a Hemi… A Big Hemi
The 6.4-liter Hemi V8 engine delivers an earth-shattering 475 horsepower (right up there with the 2016 Camaro, mind you) coupled with an eight-speed automatic transmission. You can shift the transmission manually with the paddle shifters, or let the eight-speed automatic work its magic. Whatever the case, it's going to deliver seat-pinning performance when you hit that throttle, and utilize the Launch Control button.
That's what it's actually called; a Launch Control Button. This bad boy engages a system that optimizes every possible setting for maximum acceleration, torque, and tire spin. Simply hit the button, hold the brake, punch the throttle and hold on tight. The fastest SUV in it's class is about to give you one wild ride.
How It's Set Apart
Need I really explain how this 2016 Jeep Grand Cherokee SRT sets itself apart from its kin? It has best in class performance rivaling that of a 2016 Camaro, looks like something out of a James Bond movie, and has a luxurious interior that would make the highest trimmed Porsche weep with envy. This luxury and performance expectedly comes at a high price; the 2016 SRT starts at an MSRP of $65,495. With that type of performance and luxury, it's not surprising the price rivals that of a Maserati.
The car market has never seen a Jeep like the street-tuned 2016 Grand Cherokee SRT before, and I'm not sure if the world is ready for it.