Available and Standard Off-Road Equipment on Jeep 4×4 Models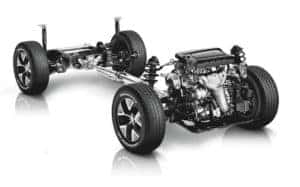 Considered the backbone of the Jeep brand, Jeep's range of 4×4 technology systems allow drivers to make their own path. With more than 75 years underneath their belt, there's no reason why drivers shouldn't trust the Jeep brand. However, for those who have doubt, here's a closer look at how amazing Jeep's 4×4 technology really is.
Off-Road Differentials
Off-Road differentials are used to transfer power to the wheels while off-roading for increased traction. Considered one of the most important components of 4×4 driving, Jeep vehicles include mechanical, electronic, or brake-assisted differentials.
Front Sway Bar Disconnect System
A sway bar is a suspension component that is designed to reduce the amount of vehicle roll in sharp turns. However, sway bars limit a vehicle's maximum articulation, which is something important when rock crawling, so Jeep created the the Front Sway Bar Disconnect System.The Front Sway Bar Disconnect System automatically disengages the front sway bar when driving under 18 mph in 4 Low mode.
Skid Plates and Rock Rails
When off-roading, it's pretty common to come across things, like rocks or tree branches, that can damage a vehicle, so Jeep equips many models with extra equipment like skid plates and rock rails to protect important vehicle components. The skid plates Jeep uses on their vehicles are high-strength steel plates, so they are strong enough to prevent sharp materials from breaking through the plate.
Body-On-Frame Design
Meant primarily for strength and durability, the Body-on-Frame Design, which is standard on the Wrangler and Wrangler Unlimited, is more resistant to impacts and twisting forces. For those serious off-roaders, this is especially useful when battling difficult rock challenges.
DANA 44 Heavy-Duty Solid Axles
According to Jeep, durability comes from heavy shafts, stiff housings, large pinion bearings and above-center pinion mounting for smoother, quieter operations. The DANA 44 heavy-duty axle is standard on the Rubicon and the DANA 30, which is standard on any other Jeep Model.
Interested in going on an off-roading adventure of your own? Come stop by Kendall Dodge Chrysler Jeep Ram located in Miami, FL to test drive one of our 2018 Jeep Models or visit our website for available 2018 inventory.
PhotoCred: Jeep.com