BHSF Spends a Day 'Caring for Our Community'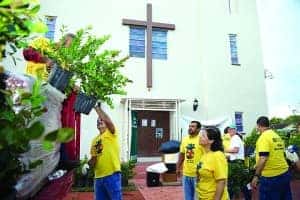 There are many things that make our community a great one. Our community consists of great people like you, who help make a difference in the lives of others, and better our community in the process. From helping someone who needs it with their groceries, to raising money for those less fortunate, to spending an evening wrapping presents for children on Christmas morning – it seems that there is an overflow of good people living here in South Florida. Just recently, the Baptist Health South Florida organization hopped into the Dodge Ram Trucks, and headed to different local communities to celebrate its "Caring for Our Community" campaign.
Employees of the organization and their families volunteered throughout South Florida communities, spending hours working on renovation projects at local community centers, elementary schools, and other deserving sites. Phillis Oeters is the corporate Vice President of Government and Community Relations for Baptist Health South Florida, and says that, "Baptist Health South Florida remains committed to giving back to our community. The Caring For Our Community campaign exemplifies our volunteers' dedication to make South Florida a better place to live, work, and play." The group spent time serving in Coconut Grove, Homestead, Coral Gables, and West Kendall. In West Kendall, the group helped construct interactive gardens that will be used to teach elementary school students in the district the importance of eating fresh vegetables every day, and the importance of good nutrition. The schools that the group helped in Kendall included, Oliver Hoover Elementary School, Gilbert Porter Elementary School, West Kendall Early Learning Center, and Christina M. Eve Elementary School.
Baptist Health South Florida is a non-profit healthcare organization, and is the largest of its kind that is faith-based in the region.