Burn Off Between the Dodge Viper, Charger Hellcat and Challenger Hellcat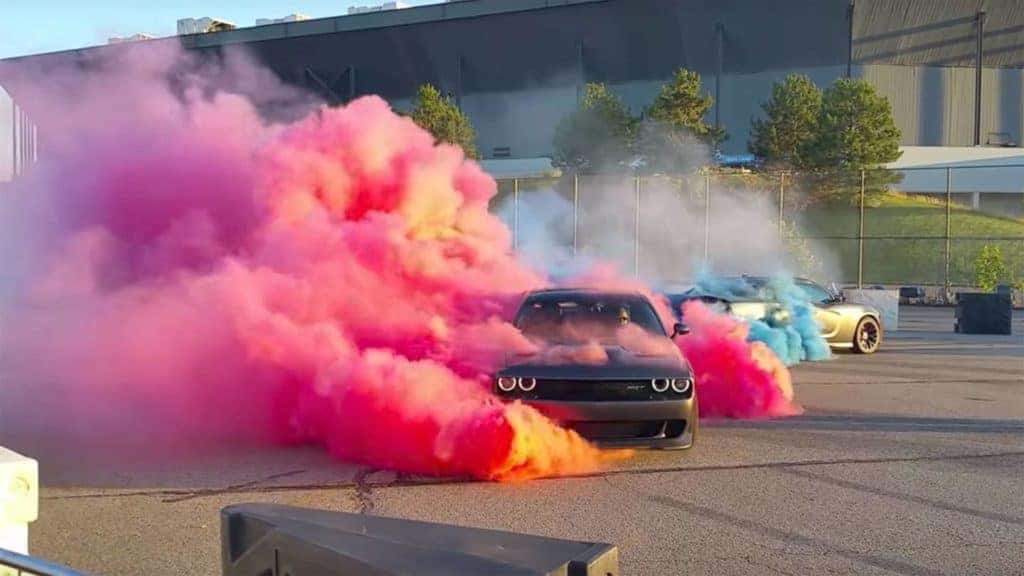 Dodge is well-known for their speedy performance cars, but have you ever seen them all together burning rubber? It's pretty awesome. The video below shows a "burn off" between these vehicles. The video is one of many in a series known as "Tug-of-War" on the popular auto series Roadkill Nights powered by Dodge.
The way you can tell which vehicle is which when they are covered in clouds is the color. By using different color tire compound you can see each vehicle produce different smoke. The Charger is the blue smoke, the Challenger is the red, smoke and the Viper is the purple smoke. According to The Drive it is usually easy to tell which car wins the tug-a-war, but with this one it is too close to tell. No matter which Dodge actually won, they are all pretty epic!
Wow! Cool, right? The Challenger and Charger Hellcat models have a 707 horsepower 6.2-liter V8 engine while the Viper has a 8.4-liter V10 engine that produces up to 645 horsepower and has incredibly large rear tires for drag racing. Regardless, all three of these vehicles are true monsters!
Interested in a Dodge muscle car? We have plenty to choose from at Kendall Dodge Chrysler Jeep Ram. Check out our Dodge inventory here.
Photo Source: The Drive