Celebrate 4×4 Day! Order Your 2020 Jeep Gladiator Launch Edition Today! (April 4, 2019)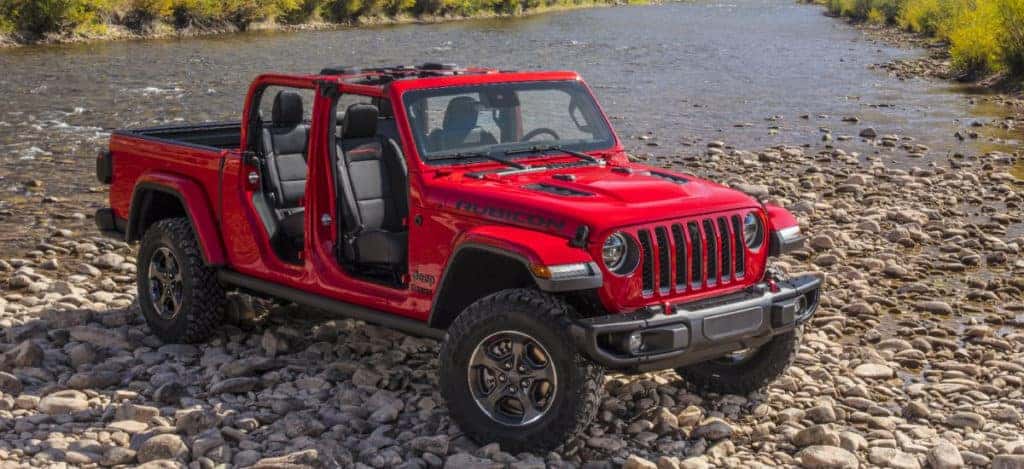 Photo credit: Jeep
For many Jeepers around the world, April 4th, 2019 is a day that has been long-awaited. 4×4 Day, aka the day when the 2020 Jeep Gladiator became an official option to purchase online. Not only will this be the first Gladiator pickups be available, but these 2020 Gladiator orders will be shipped out as a special Launch Edition version. The Launch Edition is the top-of-the-line Rubicon trim that provides special badging, a unique interior trim with gloss black wheels and 33-inch Falken all-terrain tires. Those who are lucky enough to get this amazing, first edition Jeep Gladiator will enjoy the 285 horsepower V6 engine. Want to know more about this prize mid-size pickup?
Why the Jeep Gladiator Is Worth Every Penny
The first Jeep pickup in nearly three decades was made to excel. Owners are in for a treat that handles adventure like its Wrangler cousin. Based off everything we have already seen, the 2020 Jeep Gladiator is going to excel for many reasons. Unlike the rival Ford F-150 Raptor, the power and off-road prowess of the 2020 Jeep Gladiator offers is far superior to its current competition. Drivers gain a pickup complete with a solid front axle to maximize articulation, a locking front differential that increases traction and the superior approach and departure angles that allow making the 2020 Jeep Gladiator capable of traveling off-road on nearly any trail or course. The Gladiator includes rock rails and protection underneath the vehicle to allow for rock crawling right from day one with the Rubicon trim. (We highly recommend this trim, but every Gladiator is beautiful and powerful without any enhancements required.)
Not Just A Super-Capable Off-Road Pickup, It's Fully Accessible
Want to take off the roof and doors? That accessibility is fantastic, as all Jeep Wrangler owners will tell you. Get to experience the outdoors like never before and enjoy a scenic view of everything along the way. The windshield can be removed as well! This is unlike any pickup truck on the market. Jeep owners have never had a vehicle that can handle off-roading quite like the Wrangler, but that same accessibility was the basis for the Gladiator to be made. It's 31 inches longer than the four-door 2019 Jeep Wrangler but can handle going on roads less traveled just as well as any Wrangler with the same unique accessibility to go "naked".
Best-in-class towing of 7,650 maximum towing and 1,650 maximum payload help make the 2020 Jeep Gladiator stand out in a crowded mid-size truck segment. The 60-inch steel bed is more than enough to help drivers get the most out of the Gladiator. Customers can get the entry level Gladiator Sport at $35,040 MSRP (plus destination fee). For those that want an upgraded tech package that includes nifty safety features like adaptive cruise control and blind-spot assist, opt for the $43,000 MSRP Sport package. Find out more by going to Kendall Dodge Chrysler Jeep Ram today!
Find Everything Jeep With Us!
Hurry to test-drive our large lineup of new vehicles, including our latest Jeep vehicles. We're ready to go at Kendall Dodge Chrysler Jeep Ram. Whether you're in Doral, Kendall, North Miami, Homestead, we're happy to help our South Florida and local Miami customers. We're loyal and aim to always assist our customers with any buying, leasing or trade-in offers.
We go the extra mile for our customers as we are open seven days a week and can handle almost any repairs your vehicle might need. We hope you trust us to help you get your vehicle up and running like new with a simple online service appointment and visit to our service center. We hope to see you soon for any of your automotive needs!