Check Out the New Dodge Garage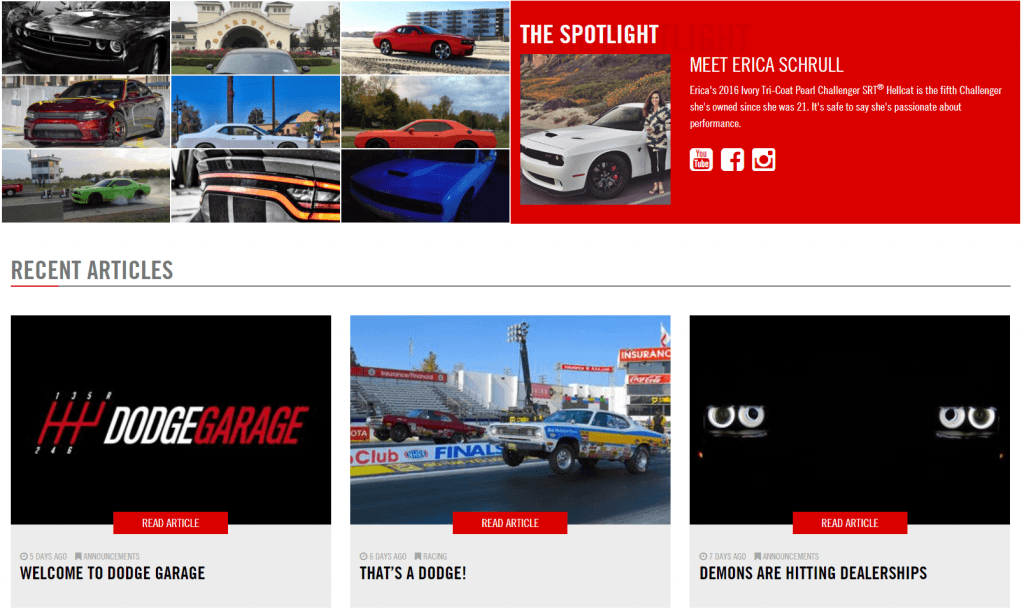 After all the love we give our favorite car brands, some consumers wish an automaker would do a little more than advertise on social media and put money in their pockets. Every brand has a consumer base, and turning that consumer base into a connected community goes far beyond anything a simple tweet can do. That's why Dodge decided to make the Dodge Garage, a digital content hub that connects muscle car and racing enthusiasts around the globe.
Recently having gone live, Dodge made a blog post on the Dodge Garage to describe what the site is and what consumers can expect from it. In short, it's a digital content hub that curates content from across the web, including Dodge social media channels, and puts it all together in one place. Consumers will be able to read up on the latest news about Dodge vehicles and events, learn about the next race if looking to test their metal on the track, get exclusive media content and downloads, shop for Dodge-brand merchandise, and even get a mention on their social media highlights reel. As of this post, Dodge enthusiast Erica Schrull is in the spotlight, having owned five Dodge Challenger vehicles since she was 21 years of age. Now that's passion!
Looking at the homepage for the Dodge Garage, dodgegarage.com, we ask ourselves why no other brand has done this sooner. It's a great way to keep fans and consumers involved and informed while also offering them a chance to share their love for the brand. It's a whole lot better than a social media page that simply talks about the latest deals and models. And if you've made an order for one of the 3000 units available for the Dodge Demon, there is a link on the Dodge Garage for tracking your delivery just like one would track a package in the mail. That's something to look forward to for sure.
Ready to join the Dodge community? Check out our inventory for your own Dodge Charger or Dodge Challenger muscle car and then head on over to the garage.
Photo Source/Copyright: Dodge Garage