Chrysler Models Recognized as Best Buys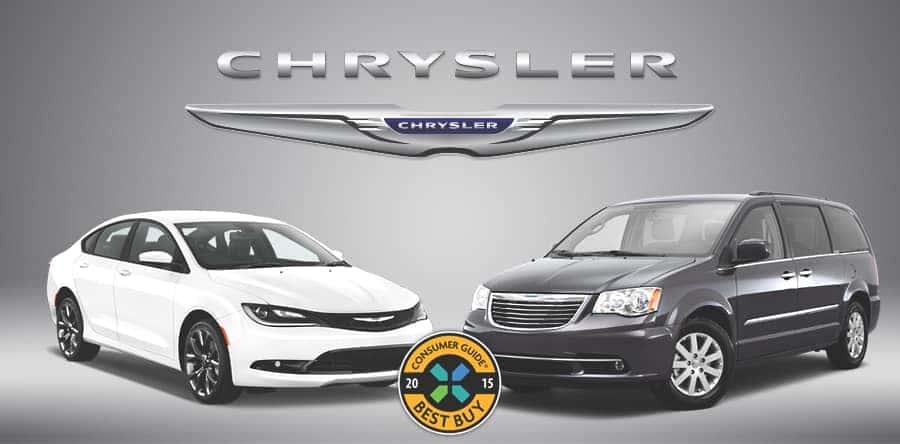 The 2015 Consumer Guide Best Buys list, which was released last week, names both the fresh-out-of-the-factory Chrysler 200 and the luxurious Town & Country as top picks.
Chrysler has long been a leader when it comes to the minivan market. And the publisher of Consumer Guide Automotive, Tom Appel, also noted "We're especially delighted to see Chrysler make its mark in the fiercely competitive midsize-car arena."
While many didn't think the 200 would be able to find a place, it is instead sweeping the industry and driving up sales at every Chrysler dealership across the country.
Consumers quickly picked up on its upscale features, superior build, and excellent value, pushing competitors to the wayside.
What makes the 200 and the Town & Country such smart buys? Here's a look at the top reasons why owners find them so satisfying.
Chrysler 200
First of all, this model is being produced in a state-of-the-art factory that was designed specifically for it. Chrysler employs some of the most innovative technology in the industry to make sure that the 200 has the strongest build possible.
In terms of looks, this sedan is sleek and fierce. It has a mesmerizing quality that makes people stare. The interior has a similar effect with refinement that is representative of the brand's high standards.
Packing 295 horsepower, the 200 is a pretty frisky ride. It offers an entertaining performance that will keep driving enthusiasts smiling.
But don't worry, it's not at the cost of efficiency. With an EPA rating of 36 miles per gallon, you can drive as far as you want without getting a pit in your stomach about filling the tank.
And you probably will do a lot of driving because honestly, why would you ever want to get out of the driver's seat?
Oh, and did we mention that the 200 starts at $21,700? Now you can see why it's a Best Buy.
Chrysler Town & Country
This iconic minivan stole the scene as soon as it arrived in the 1984. It's probably hard to remember a time when this family-friendly vehicle didn't exist.
Americans have come to rely on it as a go-to model for absolute functionality and convenience along with a polished look and feel.
Many companies followed suit after Chrysler and created practical family solutions in the form of minivans. However, none of them ever managed to do it with as much comfort and class as Chrysler.
The current Town & Country offers 143 cubic feet of cargo, leather seating, second-row bucket seats, and Stow 'n Go Seating in the rear for optimal versatility.
It's also equipped with top-of-the-line safety features including Rear Park Assist, Blind Spot Monitoring, and Rear Cross Path Detection.
Plus you won't be short on performance. The Town & Country's 3.6-liter V6 furnishes 283 horsepower and 260 lb-ft of torque. It's ready to handle sports team transportation, the family trip to Disney, and a whole lot more.
If you're looking for a vehicle that will enhance your active family lifestyle, this minivan has tons to offer. Starting at $29,995, it definitely lives up to its title as a Best Buy.