Chrysler Pacifica Hybrid is the Perfect College Car – Yes, Really!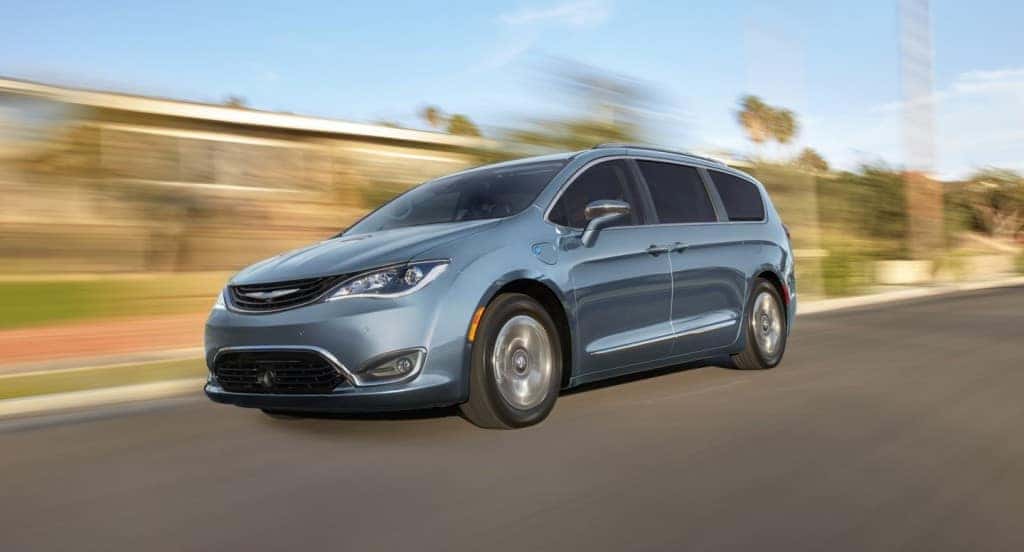 Looking for the perfect vehicle for your new college student? Look no further, the Chrysler Pacifica Hybrid is perfect for him or her. Yes, it is a minivan, but it's actually a pretty cool vehicle.  Sustainability, safety, space, and technology are just some of the many reasons the hybrid van is perfect for a college student.
Size
Size is actually a pretty important vehicle factor for college students. Not only is having room for friends important, but a big vehicle is super helpful during tailgate season and when it comes time to move. The Chrysler Pacifica and Chrysler Pacifica Hybrid have tons of room for cargo and it's available with seven or eight seats.
Additionally, the Pacifica has Chrysler's innovative Stow 'n Go seating storage, which makes it easy for users to fold the second- and third-row seats into built-in floor storage. When folded down,  to open up a large flat space that has up to 140.5 cubic feet of room for cargo. The Pacifica Hybrid also has Stow 'n Go seating but due to the vehicle's big battery has Stow 'n Go storage seating, but it is only in the vehicle's third row.
Sustainability and Performance
When car shopping, millennials seem to gravitate towards the same features and one of the big ones is sustainability and eco-friendliness. However, a vehicle that has 7 or 8 passenger-seating for friends that is also big enough moving usually isn't very fuel efficient, but that's not the case with the Chrysler Pacifica Hybrid.
The Pacifica Hybrid is a minivan has a 3.6-liter V6 engine paired to dual electric motors and a 16 kWh battery. Together, this combination gets a combined 566 mile range, a 33 miles pure electric range, and 84 MPGe (miles per gallon equivalent). Pretty impressive! In addition, just because the vehicle is a hybrid doesn't mean it lacks power.  The Chrysler Pacifica hybrid produces up to 260 horsepower and has plenty of power to tow a small trailer when it comes time to move from college and home for the summer.
Technology
Cars with modern technology is another feature that is high on the list of car wants for millennials and the Chrysler Pacifica is loaded with some of the most advanced car tech and it is available with a variety of upgrade options for those who want even more technology. The Pacifica comes standard with a six-speaker sound system, 5-inch touchscreen with UConnect 5.0 (FCA's infotainment system) and integrated voice command via Bluetooth. Of course it also has plenty of USB ports to hook your phone up to the vehicle as well as keep all of your devices charged.
Those who want even more tech can upgrade the minivan with UConnect 8.4 and a larger 8.4-inch screen, HD radio, SiriusXM Satellite radio, 13 Alpine speakers or 20 Harmon Kardon speakers and the UConnect theatre with dual screens.
Safety
The Chrysler Pacifica is the only minivan to be named a Top Safety Pick Plus by the IIHS. Impressive, right? Safety is important no matter who you are, but especially important when buying your college student a new vehicle. Check out the safety features of the Pacifica Hybrid below.
Standard safety:
Advanced multistage airbags.
ParkView backup camera.
Variable intermittent windshield wipers.
Sliding door alert alarm.
Additional safety:
Rear park assist with stop technology.
Parallel park assist.
Pedestrian warning.
Lane departure warning.
Full speed front collision warning.
Check out our Chrysler Pacifica inventory at Kendall Dodge Chrysler Jeep Ram here.
Photo source: Chrysler.com