Chrysler Pacifica Is Family Vehicle of the Year, Again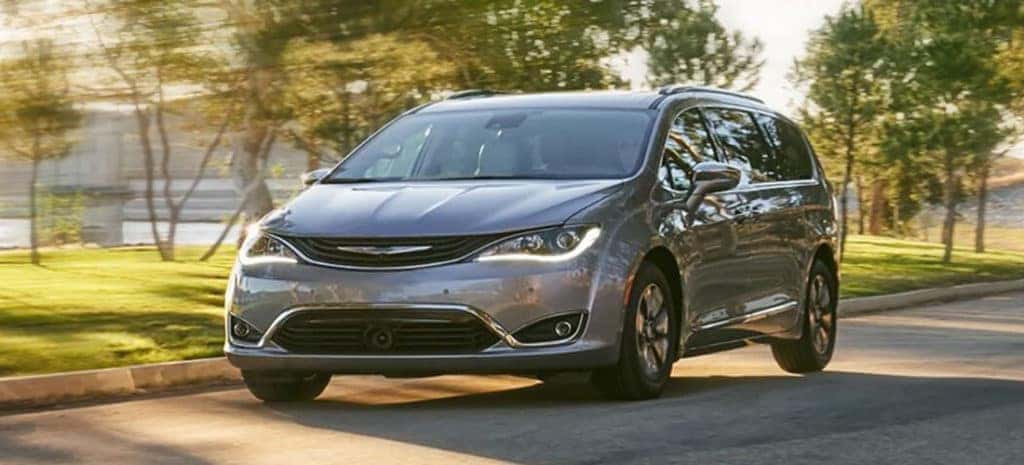 Photo credit: Chrysler
Fiat Chrysler Automobiles (FCA) has undergone changes since the former CEO Sergio Marchionne passed away and Mike Manley, former Head of Ram and Jeep, took over as FCA CEO. Manley inherited many brands under the umbrella of FCA with wildly successful vehicles, few more successful as of late than the world-class Chrysler Pacifica minivan. The Chrysler Pacifica and the Hybrid version became the face of Waymo's self-driving fleet, received recognition the world over and most recently won Cars.com's prized "Family Car of the Year" award, again.
Pacifica Enjoys True Success
Winning this accolade back-to-back speaks to the tremendous impact the redesigned of the minivan, formerly named Town and Country, since its debut in 2017. Modern technology in a vast, spacious ride add up to reasons why customers, Waymo and editors alike love the Pacifica. The Pacifica affords incredible space with the 32.3 cubic feet of cargo space behind the third-row seating, 87.5 cubic feet behind the second row and up to a large 140.5 cubic feet behind the first row with all seats folded into the floor. The easy Stow 'n Go system allows owners to fold second and third-row seats directly into the vehicle's underfloor to provide the maximum amount of space possible without having to remove the seats from the vehicle.
"All minivans are tailored for families, but the 2019 Chrysler Pacifica takes that concept further than any other, proving to be the most comfortable, entertaining and versatile of the class. For hauling furniture, Chrysler's Stow 'n Go fold-flat seats are matchless. The optional built-in entertainment system Uconnect Theater features apps and games to keep boredom and arrival-time requests at bay. It'll even help with clean up; when snack time gets out of control, put the optional Stow 'n Vac vacuum to work." Cars.com Editors statement.
More On the 2019 Chrysler Pacifica Hybrid
The 2019 Chrysler Pacifica Hybrid model is successful in its own right. The Hybrid model is a plug-in vehicle that was built to keep more money in the owner's pocket. Gain the freedom to travel anywhere for just the cost of electricity. With the ability to drive up to 33 miles without using any gasoline, some drivers could truly never have to spend money on gasoline again. The Chrysler Pacifica Hybrid has a combined range of 500 miles; not bad at all! Charging a Pacifica Hybrid is possible overnight with a standard outlet, but utilizing a 240-volt charger makes the process even faster with a full charge possible in about a couple of hours.
The 2019 Chrysler Pacifica Hybrid carries over 100 available safety and security features. In addition, there is the Uconnect Theater rear-seat entertainment system, available 4G Wi-Fi and dual 10.1-inch touchscreens and a DVD player. The Pacifica Hybrid model has earned the business of the Waymo, a self-driving vehicle service, that has purchased over 60,000 Chrysler Pacifica Hybrid vehicles for its services. The 2019 Chrysler Pacifica begins at $26,985 MSRP (plus destination fee) and the 2019 Chrysler Pacifica Hybrid starts at $39,995 MSRP (plus destination fee).
Enjoy the Chrysler Pacifica Today
For those looking for excellent customer experience, come to us at Kendall Dodge Chrysler Jeep Ram. Want to test drive the 2019 Chrysler Pacifica or a new 2019 Chrysler Pacifica Hybrid? We're ready to assist with any buying, selling or leasing needs. There's no better help than what you'll find with our amazing sales team. We also have a large collection of new vehicles you'll be sure to love.
Your current vehicle not running well? We can make sure you're back on the road quickly with our experienced service staff. With a simple service appointment, our experienced service team will help your vehicle problems be resolved in a timely fashion. See you soon!