Chrysler Pacifica v. Fastback Coupe on the Track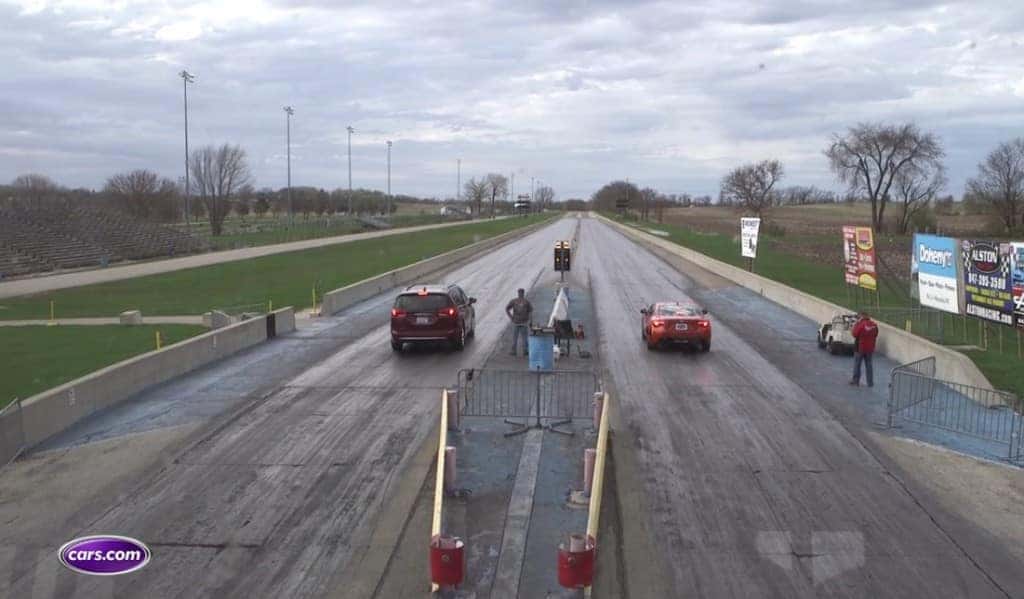 Each year, Cars.com names a vehicle as the year's Best Of and this year the Chrysler Pacifica was the Best of 2017 Award winner. But, when the editors test drove the Pacifica, they noticed something interesting – it accelerated similarly to the Best of 2013 Award winner,  the Scion FR-S, which is now known as the Toyota 86.. So with that curiosity, Cars.com took both vehicles to the track to test out if Chrysler's minivan could really accelerate as well as the Toyota FRS, and the results were surprising.
The Pacifica went head-to-head with the Toyota 86 and beat it going 0-60 mph and in a quarter-mile race. Yep, you heard that right. The Chrysler Pacifica accelerated from 0-60 mph in 8 seconds and the Toyota 86 accelerated from 0-60 mph in 8.5 seconds. When it came down to the quarter-mile race, the Pacifica finished in 15.9 seconds and the Toyota 86 finished in 16.3 seconds.

So how is it that a big minivan can beat a "speedy" coupe? The guys at Cars.com think the Pacifica's nine-speed transmission is the "secret ingredient" behind the Pacifica's speedy acceleration and quarter-mile time. The Toyota 86 is available with a 6-speed automatic or manual transmission. Aside from the transmission, the Pacifica also has a bigger engine as it is equipped the award-winning 3.6-liter Pentastar V6 engine, which produces 287 horsepower and 262 lb-ft of torque. The Toyota 86 has a 2.0-liter engine that produces 200 horsepower and 151 lb-ft of torque.
Nice work, Chrysler. Not only is the minivan ultra convenient, but it also has a "rep" on the track.
Interested in the Chrysler Pacifica? We have plenty to choose from at Kendall Dodge Chrysler Jeep Ram, check out our full inventory online here.
Photo source: Cars.com