Closer Look at the 2019 Ram 1500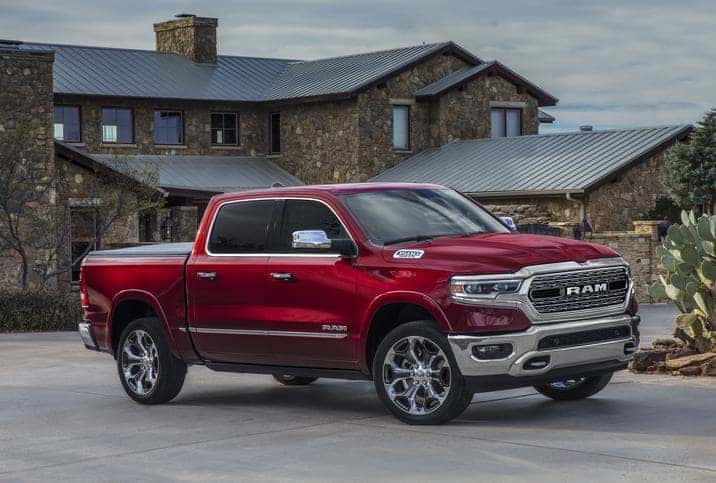 Improvements across the entire auto industry has given rise to advanced engineering and nowhere else in the industry is that more apparent than the nation's best-selling trucks. Ram recently redesigned the Ram 1500 and it's an impressive new truck. The new 2019 Ram 1500 has been retooled and the new model has a gorgeous exterior and interior and a number of new features that make it more fuel efficient and practical.
Ram pickup still remains the best-selling vehicle for the company and third overall among all vehicle sales in the U.S. But to place the Ram 1500 ahead of the competition, Ram had to adjust their best-seller and succeeded with the new 2019 Ram 1500 pickup.
Improved Exterior and Capabilities
So how does the new 2019 Ram 1500 look? Recently revealed this month at the Detroit Auto Show, the new Ram 1500 is larger, wider, weighs less and it has a higher payload and towing capacity, and all of those features are sure to attract buyers. The 2019 Ram 1500 is 225 pounds lighter and it's frame is made of 98 percent high-strength steel that has enough capability to tow up to 12,700 pounds.
Though there's no confirmation whether or not the Ram 1500 3.0-liter EcoDiesel engine will be produced, but a new eTorque mild-hybrid system has been announced for both the 3.6-liter V-6 engine and 5.7-liter V-8 engine. Both engines have increased torque along with a maximum payload capacity of 2,200 pounds. Also,2019-Ram-1500-new-design-Kendall-Ram engineers worked hard to even improve the amount of exterior noise that can be heard in the cabin. For example, with the V-8 model, engineers worked on reducing outside and engine noise in the cabin by 67 decibels, which is quieter than the sound of a dial tone of a telephone.
All That Leg Room
A great perk of any truck is not only the available space in the truck bed or towing capabilities, but having a spacious truck bed is also important. The 2019 Ram 1500 provides even more cubic space and leg room in both the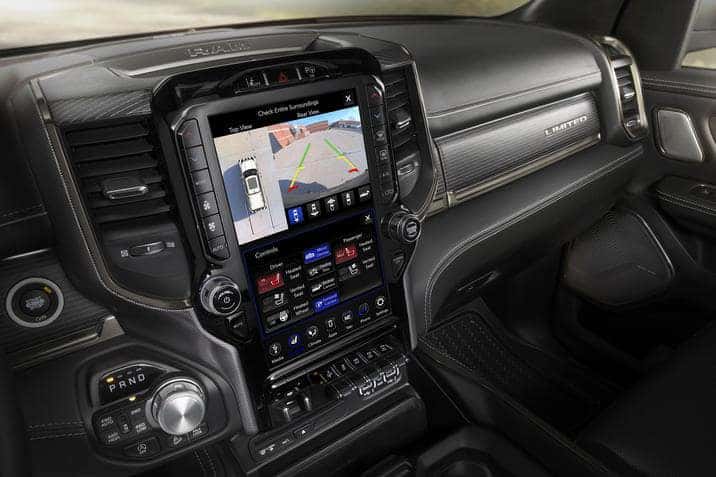 front seats and second row. Interior storage has never been as plentiful thanks to the re-configurable center console that provides up to 12 storage combinations.
Tech Upgrades For Days
Think Tesla is the only brand producing large navigation infotainment screens? Wrong. Not to be outmatched, the 2019 Ram 1500 has an available 12-inch touchscreen with split-screen feature and great navigation capabilities. A bird's-eye camera system and Sirius XM's new 360L service, which enables individual streaming for subscribers, round out some of the new features.
As the updates in the interior go, must noticeable changed are the speakers that now are re-positioned to improve overall sound quality. The new truck is also available with a powerful and crisp 19-speaker, 900-watt Harman Kardon audio system. Additionally, an optional RamBox Cargo Management System comes with a three-prong 115-volt plug.
The Bottom Line
Ram has been diversifying the number of options on the Ram 1500 lineup for several years, and the new Ram 1500 has features for every type of consumer or business. In addition to style and power, other features like automatic braking, adaptive cruise control and better fuel economy are the perks of bringing in a new 2019 Ram 1500 into your life or business. From luxury upgrades to modern tech to a durable cabin, the Ram 1500 is more than just a pickup truck.
Check with us at Miami Lakes Automall for when we can help you test-drive and pick up your very own 2019 Ram 1500.