Coughlin and his Dart are No. 1 qualifier in LA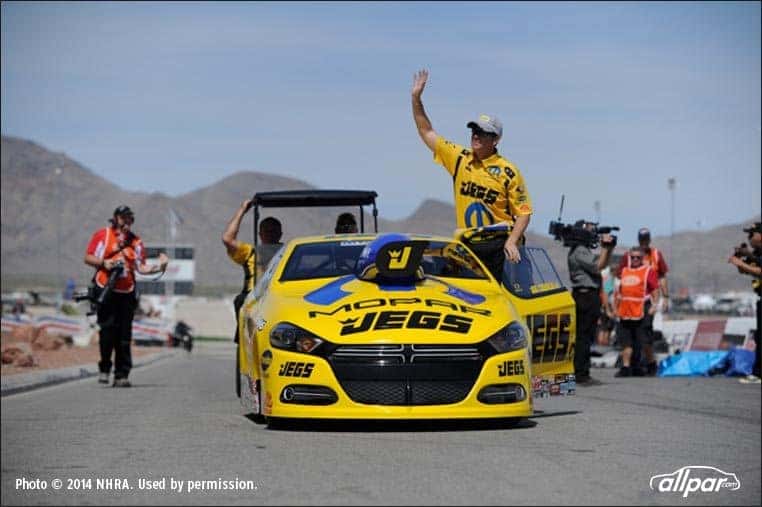 The Strip at the Las Vegas Motor Speedway saw no break on Saturday, as the SummitRacing.com NHRA Nationals took place. Amongst the competitors were a handful of Dodge drivers, including Jeg Coughlin Jr., Allen Johnson, and V. Gaines. It was the Pro Stock Qualifying day, and Jeg Coughlin Jr. took the No. 1 qualifying position. He did so riding in the new Jegs.com/Mopar Dodge Dart. We may be a Miami Dodge dealer, but we could still feel the excitement from over in Las Vegas.
Coughlin's 6.625-second ET was actually matched by Chris McGaha in the Harlow Sammons of Odessa Camaro, but the Dart was 0.71 miles per hour faster through the timing lights, which helped Coughlin clinch the top qualifying spot. "We're really proud to hold on to the No. 1 position because it really shows quite a bit about our team," said Coughlin who has five wins at the Las Vegas track and who was looking to post his first win of the season on Sunday.
"We've been hustling a lot the last month and a half, getting the new cars ready and starting the new season. We've had a great start to the new year with Allen (Johnson) winning two of the first three races and we had a great ride today. "We were really happy with the results and the performance of the car so we'll tuck that in our hat and get ready for tomorrow," added Coughlin who will have Mark Wolf as his opponent in the first round of eliminations. "We're really happy with the cars. Both Allen's and mine have run really well, and to be No. 1 is great."
Allen Johnson, who was driving the Team Mopar Dart, was just 0.007 seconds off Coughlin's time but that only got him to qualify sixth. V. Gaines took the No. 10 spot in the final qualifying order. Coughlin was also the only Dodge driver who survived the first round of the eliminations in the race-within-a-race K&N Horsepower. He was unfortunately eliminated by Erica Enders-Stevens, who later went on to win the challenge. Unfortunately in the Pro Stock quarterfinals, Coughlin was too slow off the line and Jimmy Alund picked up a hole-shot win, tripping the lights 0.0028 seconds, about 10 inches, before Coughlin.