Dodge and Mopar Debut New Hellcrate For Customers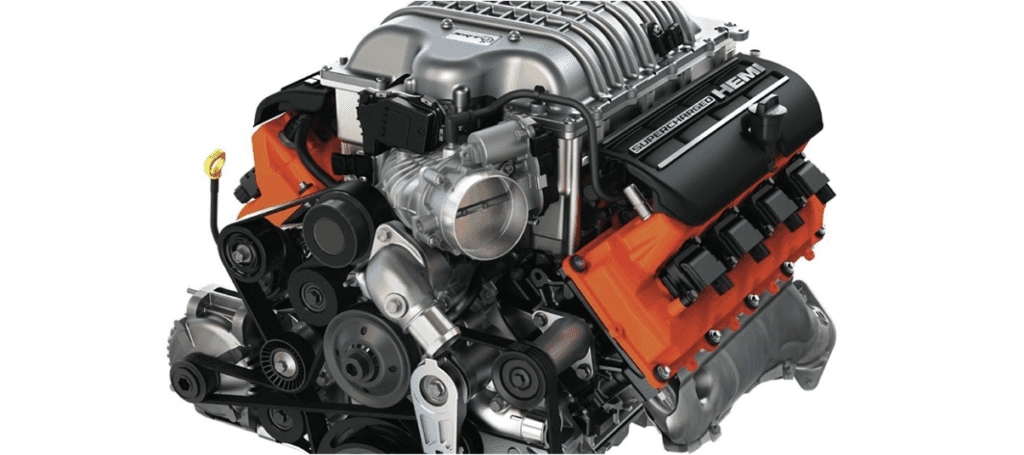 Photo Credit: Mopar
As the new year comes closer and closer, Dodge hasn't stopped producing surprises all year round. The newest engine option for owners of any Dodge vehicle is one that doesn't require a car purchase. That's because for the third year in a row, Dodge has teamed with Mopar, the parts and service distributor for Fiat Chrysler Automobiles (FCA) to release a new engine. The wildly fast and astonishingly strong production engine sold in the newest Dodge Challenger is now open for customer sales through a new Hellcrate package. The widely regarded Dodge Hellcat Redeye V8 powertrain is available through Mopar. Keep in mind, this is a powertrain that deserves admiration and respect, as the output that drivers will experience is 807-horsepower and the strength to move this muscle car ahead faster than just about any vehicle on the road today.
Breaking Down the Best of Dodge Engineering
The All-New 2021 Dodge Challenger SRT Super Stock first came out earlier in 2020 and earned its place atop the Challenger tier list thanks to its most impressive output in over two years of Dodge muscle cars. The SRT Super Stock is more impressive than last year's 2019 Dodge Challenger SRT Hellcat Redeye and holds a candle to the 2018 Dodge Challenger SRT Demon. This Hellcrate engine is the same engine used in the first-ever SRT Super Stock, despite the Hellcrate name. The SRT Super Stock combines parts of the Hellcat Redeye engine and received enhancements that first debuted with the famed SRT Demon and SRT Hellcat Redeye. Word about this crate from the upper management of Dodge, specifically the head of FCA's global head of passenger cars had this to say. 
"2021 marks the year that Dodge is distilled to a pure performance brand with 700-plus horsepower models available across the entire Dodge lineup. The new 807-horsepower Hellcrate Redeye crate engine gives any pre-1976 vehicle owner another opportunity to become a member of the Dodge brotherhood of muscle by tapping into the Dodge//SRT power that wasn't available then, but is now," said Tim Kuniskis, FCA's global head of passenger cars for Dodge in North America.
Speed and Power Found In the New Hellcrate
The price of the high-powered engine crate is cheap, as nothing that provides as much speed and sustained power would be. Owners that want to upgrade to the immense HEMI V8 power in a tremendously well-made engine can expect the listing cost to be $21,807 MSRP. This price is way lower than the cost of last year's Hellephante crate. That crate offered the 1,000 horsepower Hellephane 426 supercharged V8 powertrain, and it is available through Mopar (keep in mind, that engine costs just under $30,000 MSRP). This year's Hellcrate allows customers to experience strength with the most robust production-car engine that Mopar has created, and buyers will be more than willing to swap out their engine for this high-performance powertrain. 
Customers can also go with the 707 horsepower that has a starting cost of $20,215 MSRP. The bigger supercharger and stronger bottom end adds a forged alloy steel crankshaft, high-strength pistons, and powder-forged connecting rods are some of the highlights. For more information on any of the newest Dodge products, count on us at Kendall Dodge Chrysler Jeep Ram.
Drive New and Pre-Owned Dodge Vehicles From Kendall With Our Help 
At Kendall Dodge Chrysler Jeep Ram, we're here to allow our costumers a fantastic and rewarding experience for their next purchase. Avoid the issues of dealing with a vehicle that doesn't provide the exhilaration and strength that is delivered with a Dodge muscle car. While we await the arrival of the Dodge Challenger SRT Super Stock, we're ready to show off our entire line-up. We have a friendly and passionate sales team that will make your buying, leasing or selling needs easy for any of our new vehicle inventory including the new  2020 Dodge Challenger and find out about what it could be like to own one today!
Our professional service team handles repairs and regular maintenance daily. With a simple online appointment, we can get started to making you a happy customer. We look forward to seeing you soon at Kendall Dodge Chrysler Jeep Ram. We'll see you soon!