Dodge Dealer Miami
If you're looking for the perfect balance of convenience, precision, and power, then you should be looking for a Dodge. Your local Dodge dealer in Miami is where you'll find vehicles that meet the classic American brand's standard of toughness while simultaneously giving you the advantages of visionary design.
Dodge Dealers Sell Performance, Not Just Cars

With a deep-rooted American history of reliability, Dodge has long been known for designing vehicles that go the distance and meet the needs of consumers. Their models have the strength and stamina that American drivers expect.
At Dodge, development never stops. The constant focus is designing vehicles that lead the pack on every level, from state-of-the-art engine options to buzzworthy fuel economy to the most current technology. Your Dodge Dealer's ultimate goal is to offer you high-caliber models at a surprisingly low cost to make your life better, easier, and more pleasurable.
When You Buy from a Dodge Dealer, You're Buying Into Automotive History
Founded by the Dodge brothers in 1900, Dodge originally produced parts for automotive companies in Detroit. The brothers then began building their own vehicles in 1915. By 1920, their cars were in second place for American Sales. However, both brothers passed away later that year, and Dodge was purchased by Chrysler several years later.
During World War II, Dodge was commended for offering resilient military trucks and ambulances. The brand's reputation for durability and toughness began there. Commitment to keeping soldiers and citizens safe left a lasting impression on the American people.
In the 1960's and 70's, Dodge boldly tried something new and became a big competitor in the muscle car market. The especially popular Challenger sports coupe and convertible were offered with a variety of engine options. People just loved the look and feel of all that intensity under one hood.
But the oil crisis of the 1970's set the tone for a shift again. Chrysler recognized the need for more efficient models and expanded the lineup to include compact and midsize vehicles. The Omni, Aspen, and Diplomat all arose from the incentive to find a balance between power and efficiency.
Development of more passenger models soon led to the introduction of the Dodge Caravan, one of the company's most popular releases ever. The minivan debuted, and it opened up an entirely new market.
While the company has undergone some changes in leadership throughout the past couple decades, their dedication to quality has been unfailing. Dodge has seen outstanding success and growth over the last several years.
The company has been going back to its muscle car roots, revitalizing the Charger and Challenger. Other models have seen sophisticated design touches and incorporation of groundbreaking features. From the compact Dart to the Durango SUV model, it's clear that each Dodge dealership in Miami stands ready to meet the diverse lifestyles of American drivers.  
Introducing the Hellcat to Miami
With unprecedented power for the price, the Hellcat has drivers burning up with excitement. It maintains the smart, tough looks of Dodge's memorable muscle cars from the 70's, but it comes with a never-seen-before package.
6.2 liter V8 engine
707 hp and 650 lb-ft of torque
10.8-second quarter mile
Starting at $60,900
Configure your own at your Dodge dealer by selecting interior and exterior finishes, as well as add-ons such as leather seats or a sunroof. Indulge yourself, and get all of the extra options for under $70,000.
Listening to the Hellcat rev, you'd think it wants to get in a fight. But you'll be shouting over it with a smile on your face. The gravelly exhaust sound is a big part of what makes this muscle car so alluring.
With enough power to keep any driver on their toes, the Hellcat comes with two different fobs to keep you in control. When you're behind the wheel, use the red fob, and feel the spectacular, unlimited Hellcat force.
If you're handing off the keys, use the black fob to limit power at 500 hp. It's nothing personal… well okay, it is. It's just not cool for anyone but you to have too much fun in your Hellcat.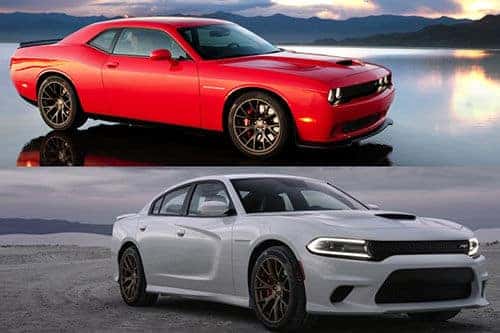 Exclusive Double-Up Leasing Offer at Dodge Dealerships
Having trouble deciding between a Challenger or a Charger? We don't blame you; they're both epic rides. But don't worry, because your local Dodge dealer in Miami has you covered with their unheard of Double-Up plan.
Lease a 2014 Challenger or Charger now, and after only 12 months, switch it up as you please. At the 1-year mark, you can choose from a few different options:
Lease a new 2015 Challenger or Charger for 36 months at the $329 guaranteed payment, and you don't have to make an additional down payment.
If you leased a Challenger the first time, you can go for a Charger for round two or vice versa. It's up to you.
Purchase a new 2015 Challenger or Charger and receive $1,000 lease-to-retail bonus cash.
Sound like a pretty sweet deal? That's because it is. You don't have to make a major commitment at the start, but you can still get behind the wheel of one of the most talked about models of 2014.
Usually, you'd be in the same leased vehicle for at least two years, but you can jump into something newer much faster. It only takes one down payment when you initiate the lease, and your 2015 monthly payment is guaranteed to be the same as your 2014 payment.
Dodge Miami – Vehicle Overviews

Dodge's lineup includes a wide range of striking models. Beyond enticing looks, each vehicle is designed for impeccable power, handling, and utility. Attention to detail makes each model available at dodge dealerships entertaining and satisfying to drive.
Avenger
The Avenger is a steal. It has the most competitive pricing in the industry, a robust, award-winning engine, and a refined interior with all the amenities. Any of the three trims are sure to get stares. You'd be surprised how much enjoyment you can get for your money.
And because 2014 is the last year you'll be able to purchase a new Avenger, Dodge dealers in South Florida are offering great incentives to buyers.
Starting at $20,595
Base MPG: 21 city / 30 highway
Engine options:
2.4L 16-valve four-cylinder / 173 hp
3.6L Pentastar V6 / 283 hp
Challenger
Get polished, old-school looks with the most cutting-edge performance available when you buy the Challenger. Revel in your choice of exterior finishes, an unrivaled interior layout that can seat five, and premium technology that will simplify your ride and keep it entertaining.
Starting at $26,495
Base MPG: 19 city / 30 highway
Engine options:
3.6L Pentastar V6 / 305 hp
5.7L HEMI V8 / 375 hp
Charger
The Charger combines the exhilarating feel of a sport build that's ready for the track with a comfortable, feature-packed interior. Choose from nine different models at your local Dodge dealer to get just the right look and feel. Then hit the road and expect to be hooked.
Starting at $26,995
Base MPG: 18 city / 27 highway
Engine options:
3.6L Pentastar V6 / 292 hp
5.7L HEMI V8 / 370 horsepower
Dart
The Dart presents a very sharp exterior, and you can't beat the super advanced technology setup it has to offer. Get it with a full-color, customizable digital gauge cluster display and Uconnect with an 8.4-inch touchscreen. Looking for smarts and style. Dodge says bring it on.
Starting at $16,495
Base MPG: 22 city / 36 highway
Engine options:
1.4L Mulitair Turbo / 160 hp
2.0L Tigershark / 160 hp
2.4L Tigershark Multiair II / 184 hp
Durango
The Durango's classy exterior, incredibly luxurious interior, and insightful technology offerings will revamp your lifestyle. And you get it all without sacrificing power or efficiency. Choose from two extremely capable engines and still get around 25 miles per gallon on the highway. Isn't it time for a little more comfort and convenience?
Starting at $29,995
Base MPG: 18 city / 25 highway
Engine options:
3.6L Pentastar V6 / 290 hp
5.7L HEMI V8 / 360 hp
Journey
This crowd-pleasing crossover with seating for seven is giving other midsize SUV's a challenge. Its intense popularity is no surprise. With endurance and power, impressive fuel efficiency, a safety-centered design, and advanced technology, the Journey is fully prepared to take you where you want to go.
Starting at $19,995
Base MPG: 19 city / 26 highway
Engine options:
2.4L 16-valve four-cylinder / 173 hp
3.6L Pentastar V6 / 283 hp
Grand Caravan
The Grand Caravan offers superior protection for your family, including Blind Spot Monitoring and Electronic Stability Control to keep you safely on the road. And on top of all the people and cargo you can pack in, the Grand Caravan can also tow an unbelievable 3,600 pounds!
Starting at $20,895
Base MPG: 17 city / 25 highway
3.6L Pentastar V6 engine
Getting excited about test-driving a new Dodge? Call or visit your local Dodge dealer to talk to a professional about what you're looking for. Get into a vehicle that makes you feel good and one that lasts. Get into a Dodge.