Dodge Durango SRT Hellcat Only Has So Many Vehicles Left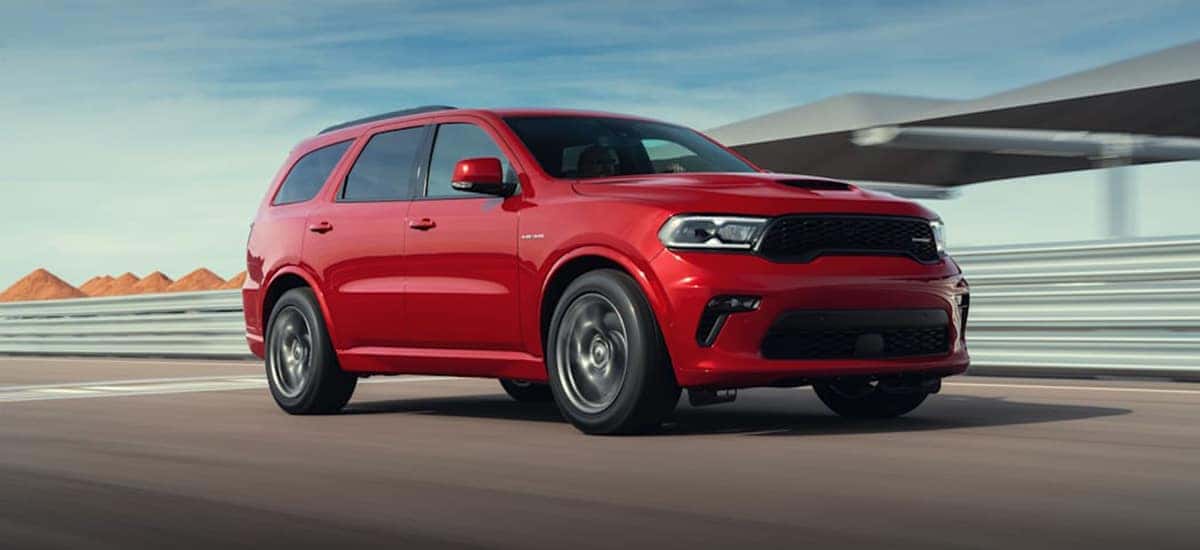 Photo credit: Dodge
There are few vehicles that can offer families the experience that a muscle car offers. Think once parents have children they no longer have the need for speed? Think again. The 2021 Dodge Durango SRT Hellcat is one of those vehicles. The effortless power that offers 710 horsepower can push this remarkable Dodge SUV from 0 to 60 mph in under 4 seconds. The important thing to keep in mind is the Dodge brand has only made this unique trim for the 2021 model year only. The three-row product is capable of bringing back customers to drive a vehicle that may have been undermined previously by buyers, but the SRT Hellcat trim has a way of earning new drivers.
The 2021 Dodge Durango SRT Hellcat Perks
What else might customers want to experience? How about the perks of having a large 10.1-inch color touchscreen display. The 2021 Dodge Durango SRT Hellcat includes 295/45-20 Pirelli Verde Zero tires that can handle the rigors of driving with ease. The Durango offers multiple performance modes for optimal performance, allowing drivers to push ahead over various trails with ease. From the eight-speed transmission providing a smooth transition when driving, to the effortless push a tap on the gas gives thanks to the 6.2-Liter V8 Hellcat engine, we are just as in love with the Durango SRT Hellcat as any owner would be. 
Get the SRT Hellcat While There's A Chance
The second-row LATCH system makes moving into the back seat easy. The third-row seating has plenty of space for even adults, plus room with cargo for those who embrace all the space allotted with an SUV. The towing range is as much as 8,700 pounds thanks to the optional $1,195 tow package. The limited production of the 2021 Dodge Durango SRT Hellcat means this is a hot seller, but it won't be around for long. There is only one year named for the Dodge Durango SRT Hellcat production. There is still going to be a 2022 Dodge Durango, but there will no longer be a Hellcat trim that is set to come out, at least in the near future. Although, we do hope that Dodge decides to reverse its decision to add more Durango SRT Hellcat vehicles. Enjoy the All-Wheel-Drive features and the massive speed for just $80,995 MSRP (Plus destination fee) for the 2021 Dodge Durango SRT Hellcat. 
Buy From Anywhere With Our Help! 
Want to see what we currently have in stock? It's easy online to show off our new vehicle inventory. We can even appraise a trade-in or vehicle you want to sell online. We're all about helping our customers enjoy their shopping experience. We have a friendly and passionate sales team that will meet your buying, leasing or selling needs.
We have a whole bunch for others to choose from. We can also help our customers out with any auto financing team they might need as well. Don't forget we have a trained service team that can help with an online service appointment to get started on all maintenance work and repairs. We know what it takes to provide a worthwhile experience. Allow us the pleasure to help you today!