Dodge and Motley Crue Celebrate Major Anniversaries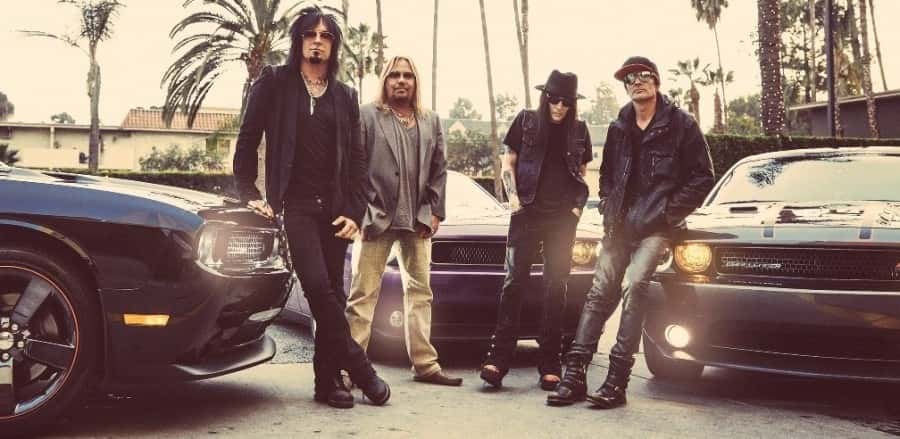 In a collaboration that no one would deem unlikely, Dodge and Motley Crue have been working together for the past two years to promote some old school rock n' roll alongside some old/new school muscle car mania.
And boy has it been a great trip. The Crue's hit, "Kickstart My Heart," is celebrating its 25th year and is very appropriately tied into Dodge's commercials for the Charger and Challenger.
The band even recreated their music video with action shots of the cars from your favorite Dodge dealer in it. It was released earlier this year, bringing everything together for fans of metal and speed.
At the beginning of the month, Dodge set Motley Crue up with an intimate show at the Gas Monkey Live concert club in Dallas.
The group got the opportunity to play for a much smaller crowd than usual, and it was quite the experience.
Bassist, Nikki Sixx said "We grew up playing in bars and clubs and in theaters, so this is not foreign to us. It's kind of like coming home."
The audience was comprised of Dodge owners who registered in advance for this once-in-a-lifetime show. The lot was packed with Chargers, Challengers, and Vipers, and the company brought models to display as well.
While Motley Crue is celebrating their hit's anniversary, it's currently Dodge's 100th year. And what a perfect time to celebrate.
The hugely successful revival of the brand's famous muscle cars has swept the country. Americans don't  have to just watch Fast and Furious and dream anymore. They can buy highly aggressive, performance beasts of their own.
Dodge's president and CEO, Tim Kuniskis said that the company's team-up with Motley Crue has been an absolutely perfect fit as the automotive producer moves toward becoming a "mainstream performance brand."
This is Motley Crue's final year of touring as a group which makes the Dodge-sponsored tour all the more special. And though the band is dissolving, its members have lots of their own exciting projects ahead.
As for Dodge, it seems obvious that we'll also get a lot more excitement from them in the near future.