Dodge Plans To Change This Feature About Their Muscle Cars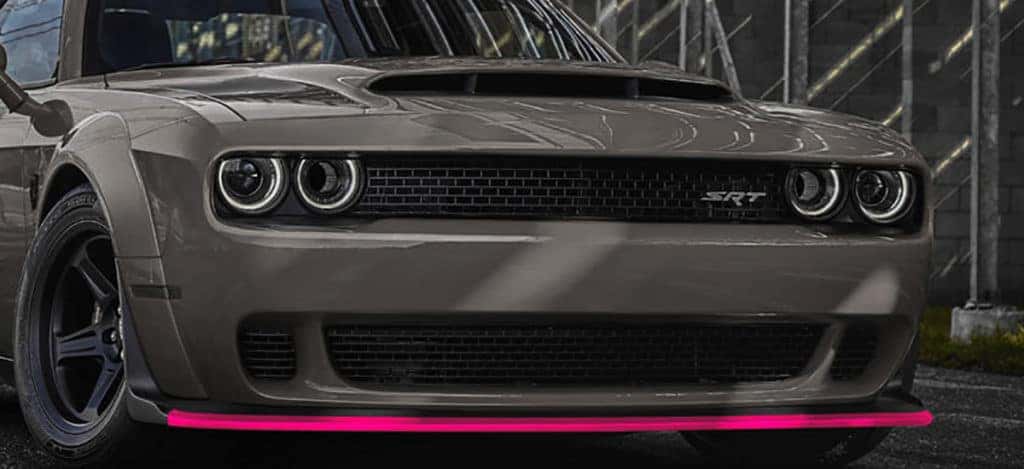 Photo credit: Dodge
Dodge and FCA have come up with an amazing plan to help keep their prized muscle car paint jobs safe. The past few years many owners have kept on the splitter guards on their vehicles, which if not removed and eventually damage the paint. Splitter guards are used as a protector for the splitter should anything come in contact with it during transportation or when being off-loaded and stored at a dealership. Fiat Chrysler Automobiles (FCA), the parent company of Dodge, has overseen the decision to use these plastic protectors, starting back in 2015 when they first started being installed. Over the past five years, a community has embraced and kept these plastic splitter guards on their Dodge muscle cars. This is somewhat of a polarizing topic as even a Facebook group of splitter guard fans has over 12,000 members, but FCA has made a choice to change the formerly yellow-colored guards to change to a new hot-pink color.
Get Ready For Some Hot Pink Flare
The neon, hot-pink glow is actually more attractive to some, including any Miami Heat Vice City fans, but the world at large might not embrace the change. Fortunately, there is a good reason these splitter guards were changed. They were originally intended to be removed by dealerships, but many have left the choice to the customer as to whether or not they were removed. Having a splitter guard on the vehicle is one way to ensure the vehicle looks brand new, but there are various other ways to check how new a vehicle is. The most important being the odometer. Since the odometer is less noticeable than a splitter guard, some first-time buyers are immediately attracted to the plastic splitter guard. 
Protect The Paint Job
There are quite a number of owners just like the way a splitter guard looks. However, the current head designer of the Dodge and SRT had some choice words for those owners and admittedly isn't a fan of the splitter guard. For a vehicle, one of the most important features is the paint of the vehicle. While paint fades over time, apparently the plastic can move slightly and create friction to wear down the paint faster. The addition of the splitter guard wasn't "part of the original design" for FCA and its muscle car segment. The trend that has been lingering, if not growing, since the addition of splitter guards 
Rush Over To Discover New Dodge Muscle With Us!
Drive over to Kendall Dodge Chrysler Jeep Ram to get your hands on the latest Dodge muscle cars. We are happy to offer both the 2020 Dodge Challenger and 2020 Dodge Charger. We want you to enjoy the customer experience every time you visit. We can't wait to help with your buying, leasing, selling or trade-in suggestions you have. Our friendly sales team is here every day to accommodate you with what your automotive needs are. 
We have a knowledgeable and accommodating service team that's highly trained and capable of handling nearly any job. Just a simple online service appointment with our service department is all it takes. Our trusted service techs will ensure your vehicle is worked on properly. Our service department is open every day as well. We hope to assist you soon!