Dodge Produces New Charger SRT Hellcat Octane Edition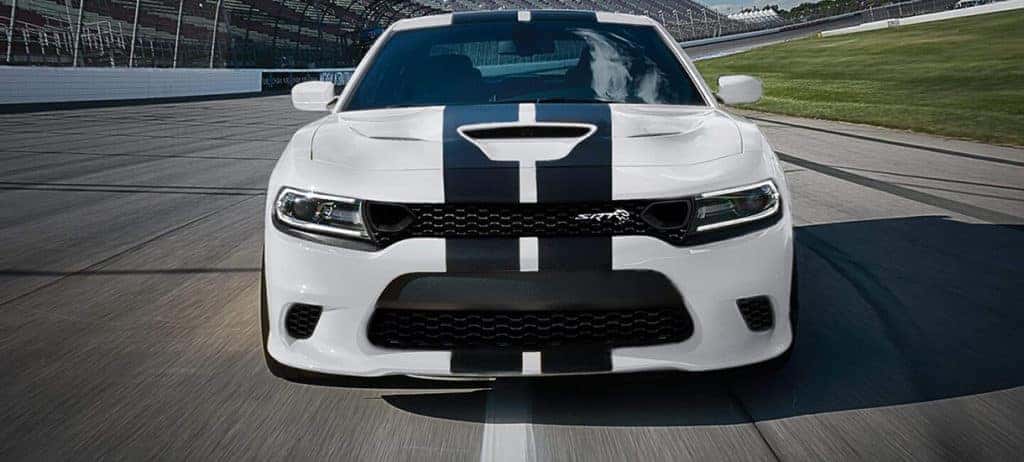 Photo credit: Dodge
At least once a year, Dodge and parent company, Fiat Chrysler Automobiles (FCA)  introduces a muscle car trim or a special edition package for their muscle cars. Recent entries in the past couple years include the lone-year of the 2018 Dodge Challenger SRT Demon and the 2019 Dodge Challenger SRT Hellcat Redeye. This year, the Charger will be the one gaining some further specialized treatment.  2019 has already seen one such example with the spring special edition package for both the Dodge Charger and Dodge Challenger, in the Stars & Stripes special edition package. Well, Dodge wasn't finished yet with the latest Dodge Charger special edition set to come out in 2019.
Latest Dodge Charger Special Trim Has Arrived
Dubbed the 2019 Dodge Charger SRT Hellcat Octane Edition, owners can opt for an absolutely unparalleled muscle car. Made with just two color options for this SRT Hellcat, "Pitch Black" and "White Knuckle" offer either a decked out dark look or a polished white matte appearance. The 2019 Dodge Charger SRT Hellcat Octane Edition will have solid colors with dual-stripes that reaches from the front of the bumper to the end of the trunk. Decked out with all the top SRT gear like Brembo brakes, red seatbelts, a black-on-black instrument panel and gloss-black and brushed-aluminum interir accents. This is a vehicle that provides a stunningly beautiful and bold look.
A sleek appearance continues inside, along with modern luxury. Expect to be happy with the large 8.4-inch touchscreen with Apple CarPlay and Android Auto capabilities. An available 19-speaker Harman/Kardon audio system is powerful and sounds clean. Feel secure with blind-spot monitoring and rear cross-traffic alerts with rear parking sensors added. Dodge has made their muscle line-up not only fierce, but well-rounded vehicles.
The Newest Hellcat In the Dodge Collection
Dodge has been hard at work expanding their fastest vehicle collection for customers. Many might be learning for the first time that before 2019, Dodge did not sell an SRT Hellcat Widebody for the Charger. Now, the Charger is gaining its very own special edition that is worthy of praise and admiration. The main star for the Octane Edition remains the ultra-powerful 6.2-Liter HEMI V8 engine that equips 707 horsepower and 650 lb-ft of torque. Owners that want a speedster vehicle, rejoice! This powertrain will supply owners with a 0-60 time of just 3.6 seconds. That's vicious speed for any driver to appreciate and Dodge wouldn't have it any other way. Want to see what the latest Dodge muscle cars are like?
Come Drive the Newest Dodge Muscle Cars
We are happy and excited to offer a great collection of new Dodge Charger and Dodge Challenger muscle cars. For an unmatched customer experience, come to Kendall Dodge Chrysler Jeep Raml. We put our customers first and hope to assist our customers with any buying, leasing, selling or trade-in suggestions they have. Our trusted sales team are professionals who show up every day and can't wait to help you out.
Allow our reliable service team will take care of any repairs that your current vehicle needs. Our service team is capable of working on nearly any job, with just an online appointment. We look forward to towards doing our part to help you get your vehicle back to normal and working great. And just like our sales team, our service department is open every day as well. We hope to see you at Kendall Dodge Chrysler Jeep Ram today!