Dodge SRT Demon Pricing Information Officially Released!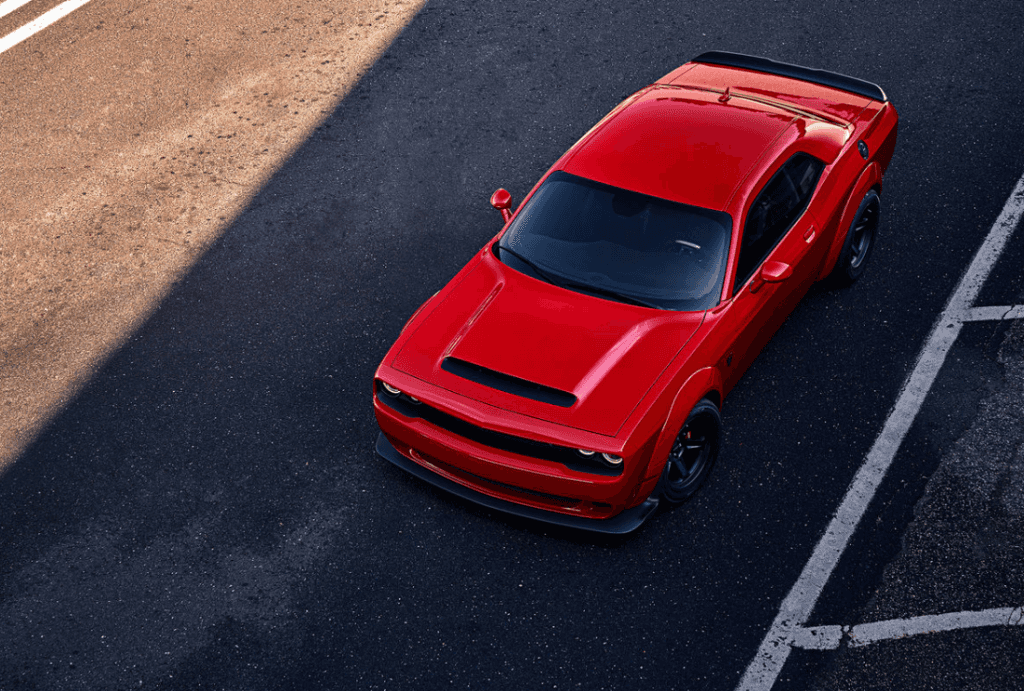 There have been rumors flying around for months now regarding the price of the Dodge Demon. However, we finally know the official MSRP from FCA. The Dodge Challenger SRT Demon will have an MSRP of $84,995 (including $1,700 gas guzzler tax, excluding $1,095 destination).
$84,995 is extremely reasonable for the Challenger SRT Demon,, especially considering the Challenger SRT Hellcat is priced at $64,195, but the Demon is much more powerful and it is track-ready, but also street legal. Here's a closer look of all of the equipment included with the Challenger SRT Demon's base price.
Standard Equipment
The Dodge Challenger SRT Demon is equipped with a supercharged 6.2-liter HEMI V8 engine that produces 808 horsepower. The engine is paired with a TorqueFlite 8HP90 eight-speed automatic transmission with a factory-production car exclusive TransBrake. The Demon is equipped with advanced cooling systems to ensure the vehicle will not overheat and can maximize engine performance when running at high speeds. These cooling systems include an after-Run Cooler, which allows the Challenger SRT Demon to run the cooling fan and the low-temperature circuit coolant pump after engine shutdown, as well as the SRT Power Chiller, which is another cooling system in addition to the cooling fan and coolant pump.
The Demon comes standard with one seat and a standard line lock that engages the front brakes to keep the Challenger SRT Demon stationary, all while allowing the the rear wheels to burnout so the driver can to heat up and clean the rear tires before launching. The Challenger SRT Demon comes standard with 315/40R18 street-legal drag radial tires and 18 in. x 11 in. lightweight aluminum wheels and standard Brembo lightweight high-performance brakes with two-piece rotors.
Available Equipment
Drivers that want their Dodge Demon to achieve its full potential of 840 horsepower and 770 lb-ft of torque, will want to opt for the Demon Crate, which is $1. The crate has the tools an owner needs to make tweaks to the vehicle that increase the vehicle's power when needed for racing. The items in the Demon Crate add up to about $6,140, but owners of the Dodge Demon can purchase it for just $1.
Demon Crate Features:
A foam case that fits into the Challenger SRT Demon trunk and  holds the front runner wheels as well as all the track tools.
Direct Connection Performance Parts include: two narrow, front-runner drag wheels, performance powertrain control module with high-octane engine calibration, a replacement instrument panel switch module with high-octane button, a personalized Demon ID badge, a conical performance air filter. two valve stems, and a passenger mirror block-off plate
Demon-branded track tools include: a hydraulic floor jack with a carrying bag, a cordless impact wrench with the charger, a torque wrench with a extension and socket, a tire pressure gauge, fender cover and tool bag.
In addition $1 features like red seat belts, cloth or leather rear seats, a front passenger cloth seat, and a Demon trunk carpet kit are available.
Amazing, right? That isn't even all! The Dodge Demon is also available with even more interior and exterior features. Check it out.
The Leather Front Seat Group is an option. The group includes Laguna leather and Alcantara suede covered seats with embossed Demon head logo, a front passenger seat, heated and ventilated leather front seats, a heated steering wheel, premium floor mats, a power tilt/telescoping column and bright pedals. $1,595 extra.
A Comfort Group is an optional as well. This is a great additional option for those who plan to drive their Demon everyday, not just on the drag strip. Features of this group include Laguna leather and Alcantara suede covered seats with embossed Demon head logo, a front passenger seat, heated and ventilated leather front seats, a heated steering wheel, premium floor mats, a power tilt/telescoping column, bright pedals, and a 18-speaker Harman Kardon Audio system with two subwoofers and a 900W amplifier. $2,495 extra.
A painted black satin hood graphics package with roof and decklid graphics is a style option that costs $3,495. Or, just get the black satin hood for $1,995.
Interested in a sunroof? $4,995.
If you want an aggressive and sporty style, for just $195, red seat belts are available.
Finally, the Comfort Audio Group which comes with an 18-speaker Harman Kardon audio system, two sub woofers, a 900W amplifier, premium floor mats and bright pedals is available for an additional $995.
Follow us at Kendall Dodge Chrysler Jeep Ram on Facebook and Twitter for more information regarding the Dodge Demon and its possible arrival at our dealership, as well as other Dodge related automotive news stories and tips. Feel free to check out our huge lineup of Dodge SRT vehicles as well here.
Photo source: Hot Rod