Famed Dodge SRT Demon For Sale? Find Out Why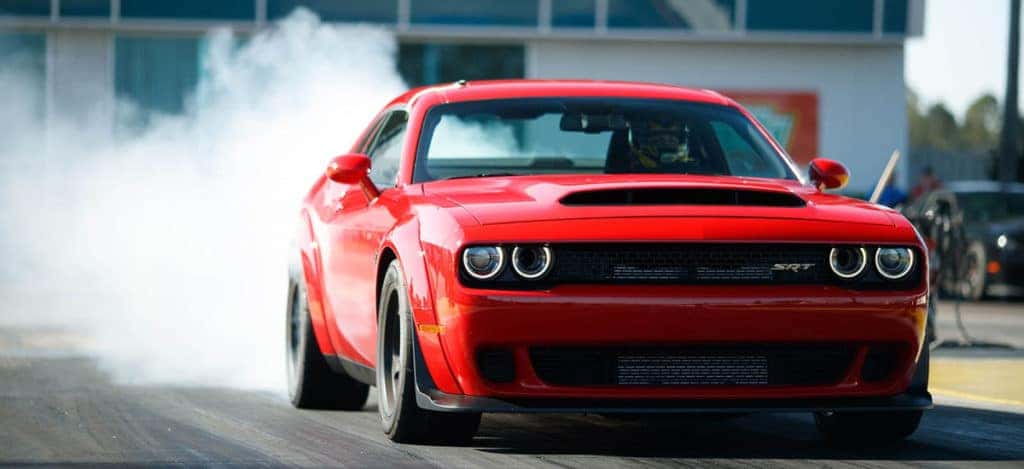 Photo credit: Dodge
Word on the street is Dodge is currently working on an 855-horsepower engine for the next Dodge Challenger. There's also rumor swirling that the Challenger will have a 1,000-horsepower supercharged 426-cubic inch HEMI powertrain instead. Maybe both could end up being true? There's no way to know without a time machine, however, we are happy to learn there will be a new Dodge Challenger vehicle that can compete with the most famed Challenger SRT ever made, the 2018 Dodge Challenger SRT Demon. Recall how the Challenger SRT Demon went from 0-60 mph in only 2.3 seconds? That's the one we're talking about here.
The Most Famous Demon Ever Built
Speaking of that famed devilish speedster Demon, one special 2018 Dodge SRT Demon is available for any enthusiast who wants to buy the vehicle from the current FCA design boss Ralph Gilles. Only 3,300 Dodge Challenger SRT Demon were made, few are as exclusive the SRT Demon owned by Gilles, listed as #0004 and only has 1,032 miles on the odometer. Once more, the reason why Gilles has put the vehicle up for sale is that he admitted to a new Dodge vehicle coming down the line. He referred to the next vehicle currently being an "equally devilish project". Could this project be the aforementioned 855 or 1,000 horsepower engine? 
More About the Dodge Challenger SRT Demon
The 2018 Dodge Challenger SRT Demon provides drivers with 840 horsepower and 717 lb-ft of torque. The Demon came stock with an incredible 9 second quarter-mile time. Not built to just look like a dangerously fast muscle car, but be the fastest muscle car, few vehicles will ever compare the legend of the Demon. However, that title may belong to a future Dodge Challenger coming up shortly in the next decade. 
The price tag is not for the faint of heart, but neither is anyone looking to drive the SRT Demon. The final listing goes for $139,995. From an original price two years ago of $88,000 MSRP, surely the price is much higher, but buyers have to adjust for inflation since its debut, keep in mind the excellent condition and low mileage, plus realize who owned the vehicle and is currently selling the vehicle. The closest thing to a Dodge Challenger SRT Demon today is found in the 2019 Dodge Challenger SRT Hellcat Redeye. Thinking of getting a new Dodge for the holidays? 
Drive the Latest Dodge Challenger With Our Help
Looking for the latest Dodge Challenger? We have the entire lineup of new Dodge Challengers ready to go. We even have the Dodge Challenger SRT Hellcat trim available! Our friendly staff can't wait to help you with any buying, selling, leasing or trade-in offers. We look forward to providing you complete service from start to finish at Kendall Dodge Chrysler Jeep Ram.
Allow our trained service team to help with an online service appointment to get started on all maintenance work and repairs going forward. At Kendall Dodge Chrysler Jeep Ram, we know what it takes to provide a worthwhile experience. Allow us the pleasure to help you soon!