FCA Adds Aurora Innovation To Improve Autonomous Driving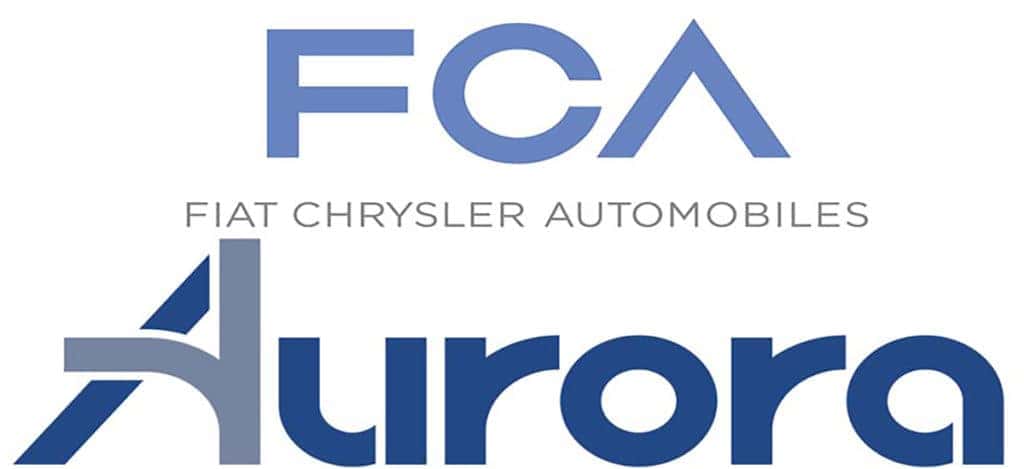 Photo credit: FCA
After Fiat Chrysler Automobiles (FCA) took their deal with Renault off the table, they have found a new partner to help them create self-driving vehicles. An agreement has been reached with Aurora Innovation, a California start-up made up of former executives from Tesla, Uber, and Google. FCA has been looking to add talent to further improve their autonomous self-driving vehicle technology and help them advance the technology FCA offers in their vehicles. While the goals are known, the future has not been set on any timetables about when to expect technology that would be described as self-driving vehicles.
The Plan For Autonomous Improvement
The goal for FCA is to continue improving hardware and software to allow vehicles of the future to drive themselves. Aurora Innovation will definitely be able to help continue that process. Aurora has produced test vehicles on the roads of San Francisco and Palo Alto, California as well as in Pittsburgh, Pennsylvania. FCA released a statement on their plans to add Aurora Innovation's "Aurora Driver" program in commercial vehicles like delivery vans to start.
"Aurora brings a unique skill set combined with advanced and purposeful technology that complements and enhances our approach to self-driving," said Mike Manley, FCA CEO in a newly recently statement.
The Agreement Between FCA and Aurora Innovation
No financial terms were not revealed, but FCA is hoping to continue their progress on making vehicles ready for the future with Aurora. The timing of this comes a year after Uber had caused a scandal when their test vehicle hit a pedestrian in 2018. Consumer fears are something that has shown up with this new technology that automakers have not advanced self-driving cars enough to place them on roads with human drivers. The goal FCA and Aurora Innovation have currently is to raise the bar on autonomous vehicles. Rival brand Ford stated it intended to produce driverless cars with no steering wheel or pedals in mass production by 2021, but that soon seems unlikely.
Who Is Aurora Innovation?
Aurora Innovation was originated by three scientists with a significant background in autonomous vehicles. Founders Chris Urmson, previously headed Google's self-driving car team ahead of it turning into Waymo; Sterling Anderson, a onetime chief designer of Tesla's Autopilot driver-assistance system; and Drew Bagnell, who had served on Uber's on self-driving technology will help FCA thanks in part to investments raised prior to this agreement. Aurora Innovation stated in February that it had amassed $530 million in funding from investors that included Amazon. By this summer, Aurora Innovation has raised that figure up to $600 million. They released a statement that added "(Aurora Innovation plans to) develop a meaningful business model for delivering the benefits of self-driving commercial vehicles,"
Find Your Next Vehicle With Us
Kendall Dodge Chrysler Jeep Ram has a stellar collection of both new vehicles and pre-owned vehicles that are in excellent condition. For those looking to drive off with a wonderful car, pickup or SUV, our dedicated sales team is ready to help with all buying, leasing or trade-in offers.
Still dealing with issues or any maintenance that needs to be done to your current ride? We can help get your back on the road quickly with a simple service appointment. Our trusted service team will help your vehicle problems be resolved in a timely fashion. We hope you visit us soon!