FCA Expands Chrysler Pacifica AV Fleet Service With AutoX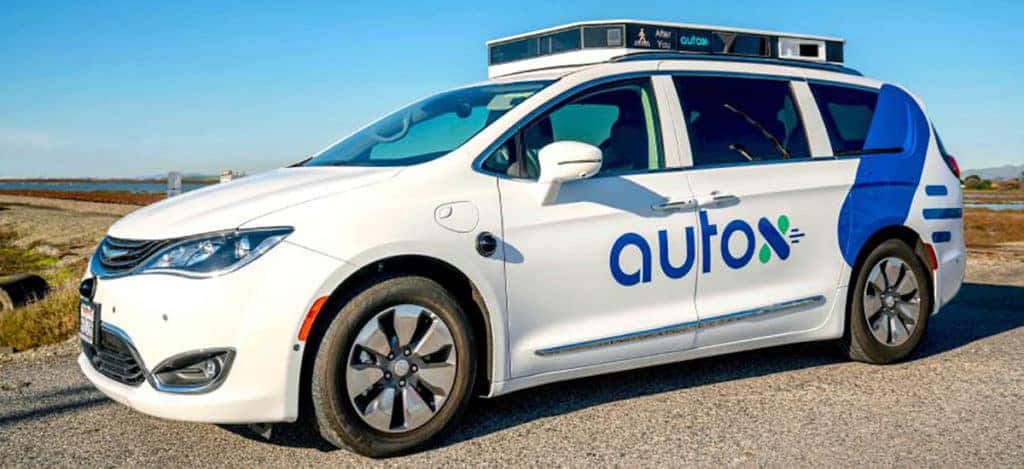 Photo credit: FCA
While Fiat Chrysler Automobiles (FCA) is working on supplying an impressive fleet of Chrysler Pacifica Hybrid vehicles to Waymo, a company that is working to supply a new alternative in the ride-sharing community. Self-driving Chrysler Pacifica Hybrid vehicles will help Waymo's plan to assist UPS with deliveries. Fiat Chrysler Automobiles has teamed up with a Chinese startup AutoX to expand autonomous Pacifica Hybrid vehicles as taxis in China. This new taxi program is expected to launch later in 2020. Both companies announced the move in a press release. 
More On AutoX
This plan is the most recent, in a string of moves, by FCA to continue expanding its autonomous reach. Other automotive brands have begun to add their own technology into autonomous vehicles, but FCA is working with AutoX to have their own plan come to fruition. AutoX, a company based out of Hong Kong, is looking to combine its self-driving hardware and software with a new fleet of new Chrysler Pacifica minivans. The companies have not said if the fleet will include the upcoming 2021 Chrysler Pacifica Hybrid models, or the current 2020 Chrysler Pacifica Hybrid vehicles. While FCA is still working with Waymo, the leader in self-driving technology, FCA is proud to add another company to expand its global portfolio. FCA and AutoX state they intend to begin its pilot robot taxi service in various Chinese cities, including Shenzhen and Shanghai, in the first half of 2020.
The People Behind AutoX
While other startup companies have built a more recognizable name, AutoX was founded in 2016 by former Princeton professor Jianxiong Xiao, a trained specialist in 3D learning, computer vision, and robotics. Xiao goes by the name "Professor X," after the famous Marvel X-Men character. AutoX has added a diverse group of high-profile investors, including China's Dongfeng Motor Group and e-commerce giant Alibaba. In the United States, AutoX applied to have its self-driving vehicles work without any human driver sitting in on drives. This application was for use in California only. Currently, only Waymo has received approval to allow humanless, autonomous driving vehicle testing. The deal is a new instance of FCA extending its relations with China, which has the largest auto market in the world. AutoX announced a joint venture with Foxconn, the maker of the iPhone, to build new electric vehicles for the Chinese market.
"Achieving completely driverless operation needs a very reliable vehicle platform with full redundancy of the vehicle's drive-by-wire system. This level of redundancy is still new and rare in the auto industry. The Chrysler Pacifica platform has proven trustworthy for driverless deployment," said AutoX CEO Jianxiong Xiao. 
FCA Is Growing EV and AV Technology Rapidly
FCA has been working tirelessly to increase their EV (electric vehicle) and AV (autonomous vehicle) reach. The company's freshly acquired merger with French automaker PSA Group has helped strengthen its resolve to expand both fronts. The rapidly changing automotive landscape is not just changing in the United States, but worldwide. FCA has been looking for ways to expand its reach without having to develop all these technologies alone. They have opted to grow with the help of other companies and working with them to help build a better, more productive future of traffic for their customers. 
FCA is a member of both BMW and Intel's self-driving supergroup as these companies are working to improve self-driving technology with commercial vehicles at a feverish pace. Change is coming around the world, but for drivers that want to embrace all the perks of owning a vehicle and driving, we know the place to visit for all things Chrysler! Start a new test-driving experience with our help at Kendall Dodge Chrysler Jeep Ram today.
Drive Chrysler With Us Today!
Kendall Dodge Chrysler Jeep Ram is here to offer a full-service customer experience. There's no risk in stopping by to see our brand new collection of Chrysler vehicles, including the 2020 Chrysler Pacifica. For those who want to buy, lease or sell their vehicles, let us help today!
Want to upgrade or enhance your current ride? Maybe there are some repairs you've put off doing? All you have to do is make a simple online appointment right here with us and we'll take care of the rest at our service center! Stop by Kendall Dodge Chrysler Jeep Ram today!