FCA Outsells Ford For the First Time in 11 Years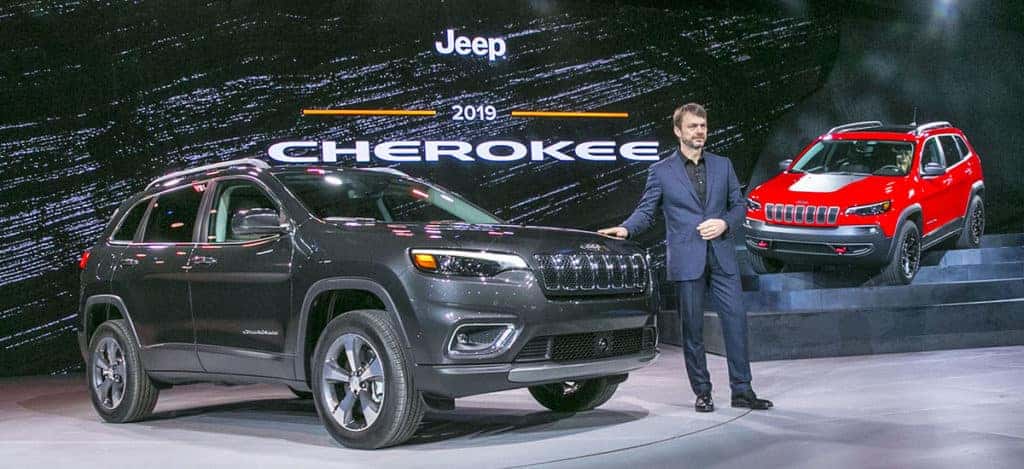 January 16, 2018 Ð Mike Manley, Head of Jeep¨ Brand Ð FCA Global, introduces the global debut of the new 2019 Jeep Cherokee at the 2018 North American International Auto Show in Detroit. Cherokee – the most capable mid-size sport-utility vehicle (SUV) – boasts a new, more premium and classic Jeep design, along with more fuel efficient powertrain options including the addition of a new, advanced 2.0-liter direct-injection turbocharged I-4 engine.
Fiat Chrysler Automobiles is proud to announce they are outselling Ford Motor Co. in September 2018, the first time since January 2007. Powered behind the Jeep and Ram brands, Fiat Chrysler Automobiles (FCA) posted a 15 percent increase in total U.S. sales last month with 199,819 unit deliveries, moving past Ford's 197,404 unit deliveries in September. FCA has surpassed Ford in retail sales five out of nine months this year. Is this a growing trend? We'd like to think so.
"We don't worry about being in a contest with FCA. There have been months when we beat General Motors and we didn't pound our chests … It was a function of timing." Ford's vice president of U.S. marketing, sales and service, Mark LaNeve , said.
A Closer Look Into the Numbers
While this is an exciting time for FCA and their continued growth, Ford downplayed the recent news on a conference call with analysts and media. General Motors Co. has witnessed their deliveries slide 11.1 percent during the third quarter of 2018. Every brand of GM posted decreases for the quarter. GM's sales as a whole are down 1.2 percent through the first nine months of the year.
Meanwhile, FCA's third quarter sales increased by about 10 percent compared to the same quarter last year, while the third quarter sales for Ford are down 3.5 percent compared to the same period last year. If we look into the sales of GM's Chevrolet Silverado pickup, we'll find another brand staggering a bit with sales at 14.3 percent lower in the third quarter along with the GMC Sierra down by 7.1 percent. The automaker is transitioning to redesigned 2019 models of both full-size pickups.
"We entered the quarter with very lean inventories of our 2018-model full-size pickups, so we focused on driving a very strong mix of SUVs, crossovers and mid-size pickups. We also transitioned to the 2019 model year far earlier than some key competitors, which allowed us to reduce incentives while others raised them sharply," Kurt McNeil, GM's U.S. vice president of sales operations, said in a statement.
LaNeve says Hurricane Florence created an interruption to its business on the East Coast, particularly in the Carolinas. Hurricane Harvey in Houston produced a wave in replacement demand during September 2017 — Ford's best sales month for that year. FCA remarked Hurricane Florence reshaped five of its markets in the area, cutting purchases by an assessed 900 vehicles. Ford's entire sales are slumping at 2.4 percent through the first nine months of the year, while FCA sales are 6 percent higher.
FCA Is Doing Just Fine
The FCA Jeep brand remains in front of the multiple brands FCA represents, posting a 14 percent rise in September sales. Both the Cherokee and Compass have helped make Jeep grow 20 percent for the year. The automaker's Ram brand recorded a nine percent gain in September compared to last year.
"Our Ram and Jeep brands propelled both our retail and total sales to their highest level in 18 years," Reid Bigland, FCA's head of U.S. sales, said in a statement.
FCA brands Chrysler and Fiat have not been as successful as Jeep or Ram, as Chrysler is down 7 percent in September and 12 percent for the year. The industry encountered a record-breaking September in 2017, a byproduct from Hurricane Harvey driving demand. Another factor contributing to the sales slowdown in 2018 is rising interest rates. Edmunds reported that the yearly percentage standard on new financed vehicles in September was 5.8 percent, up to a full percentage point from the same month last year. Interest rates on new cars have stayed above 5 percent for the last 8 months.
Evidence shows that car shoppers in 2018 are experiencing some tighter credit conditions. Edmunds reported the median down payment on new vehicles grew to $4,198 from $3,817 in September 2017, and average loan levels sank to 68.7 months from 69.4 months last year. And according to Cox Automotive, average transaction prices have elevated 2 percent to $35,742 in September. For those who are looking to have their next vehicle purchase financed, allow our finance team to help look over everything.
Find FCA at Kendall Dodge Chrysler Jeep Ram
Fiat Chrysler Automobiles is growing and we want to help our customers experience all that FCA has to offer at Kendall Dodge Chrysler Jeep Ram. Come in to check out our wide selections of new vehicles.
If you're looking for any future maintenance or repairs, trust our knowledgeable service team and we'll get your vehicle back to you quickly. We hope to see you at Kendall Dodge Chrysler Jeep Ram for all your automotive needs!