FCA Renault Merger Called Off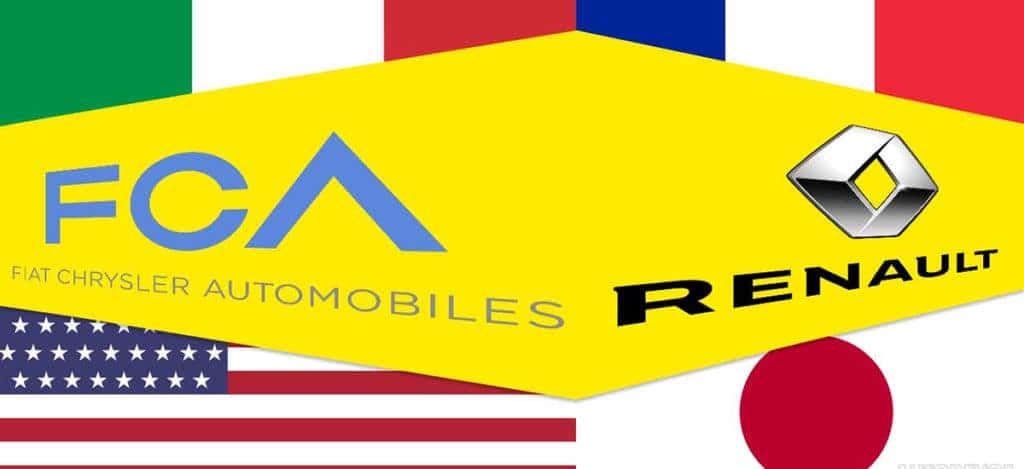 Photo credit: FCA
Fiat Chrysler Automobiles (FCA) has changed their decision to unite with Renault, a French automaker that is partly controlled by the government of France. A merger between the two companies was valued at $35 billion and would have made the world's third-largest automaker is now on hold, indefinitely. Renault directors declined to reach any decision at their May 27th board meeting, as Renault mentioned in a statement. The board discussed how their hesitation to come away with an agreement early led to FCA choosing to step away.  Let's go over the list of events as they happened and why these two automotive giants won't be joining together their respective companies any time soon.
How the Merger Was First Made
For some time, FCA was hoping to add a company that was capable and ready to grow their brand with a merger. FCA serves successful brands like Jeep, Ram, and Dodge. FCA had viewed several large companies as potential merger partners before choosing France's Renault. France has 15% of ownership in the Renault brand. Renault has a powerful European presence, which was very attractive to FCA. In 2018, former CEO Sergio Marchionne passed away, but he had talked about the possibilities of FCA growing globally. They had already been in talks to make a move internally with a collaboration with another company.  Today, Fiat Chrysler uniting with Renault was regarded as more attractive due to the experience Renault has with electrification and hybrid vehicles. Notwithstanding, the opening to add brands like Jeep, Renault's board was attractive, but not enough to opt into the agreement during their first meeting.
"(We were) unable to take a decision due to the request expressed by the representatives of the French state to postpone the vote to a later meeting," Renault wrote in a statement.
Renault Considers Backing Out
While Renault continued their talks, FCA had always known the French government, were not ready to sign off on any merger without a long and painstaking comb through of the entire proposal FCA offered. FCA was still expecting to satisfy Renault and the French government with their merger plan being made very impartial and profitable for both companies moving ahead.
"It has become clear that the political conditions in France do not currently exist for such a combination to proceed successfully," FCA added in a statement.
France Agrees To Terms
Board members gathered in Paris, including Renault Chairman Jean-Dominique Senard joined with FCA Chairman John Elkann and delegates of the French government directed by finance minister Bruno Le Maire. The talk was all parties would agree to the deal. They seemed to have answered all of their concerns, but the French government labored for increased influence over the merged company going forward. Fiat Chrysler's controlling shareholder, however, tried to keep the assessment that had been produced to every side. FCA saw the inherent earnings on their behalf, but an issue occurred when Nissan, a new partner with Renault of less than a year, was against the deal. Suddenly, this once done deal was now done in another way. Representatives said they would not sign off on the deal. The French government negotiators strived to persuade Nissan to support the deal. This would prove to be the final straw for FCA.
Understanding of the Inherent Problems
FCA identified their choice of Renault could have problems, due to their recent merger with Nissan. When Nissan did not offer their support, despite everyone involved with Renault agreeing on the merger, the French government also jumped ship.  The only problem at that point? The French government was not on board. FCA wanted to have Renault join them to take their company to new heights, but that possibility is put on hold.
"(FCA is) firmly convinced of the compelling, transformational rationale of a proposal that has been widely appreciated since it was submitted, the structure and terms of which were carefully balanced to deliver substantial benefits to all parties."
Last Thoughts on the Unsigned Deal
Though Renault was near to allowing the merge to happen, they didn't. Le Maire spoke with the delegates in mind and submitted a statement after the agreement was removed by FCA. The French state coveted more authority over operations if the deal had gone through. They also aimed to have magnified terms for Renault shareholders as a consequence of agreeing to the proceeding FCA had proposed. Both companies would have seen their operating costs go down and see a growth of 5 billion euros, they weren't able to make it happen, for now.
"This project remains, in my head, absolutely remarkable and exceptional," Senard said. "Frankly, I am saddened."
Lastly, FCA vowed to "continue to deliver on its commitments through the implementation of its independent strategy." The future will tell if this deal will happen at a later date and time, but for now, we will have to wait.
Drive With Kendall Dodge Chrysler Jeep Ram Today
Stop by for a test drive and experience what we have to offer! Our friendly staff can't wait to help you with any buying, selling, leasing or trade-in offers. We look forward to providing you complete service from start to finish here at Kendall Dodge Chrysler Jeep Ram.
Keep in mind, even if you haven't made a purchase with us, our professional full servicing team is ready to help you maintain your current vehicle. See you today!