FCA's Big-Finish Event Enlists A-List Celebrity Talent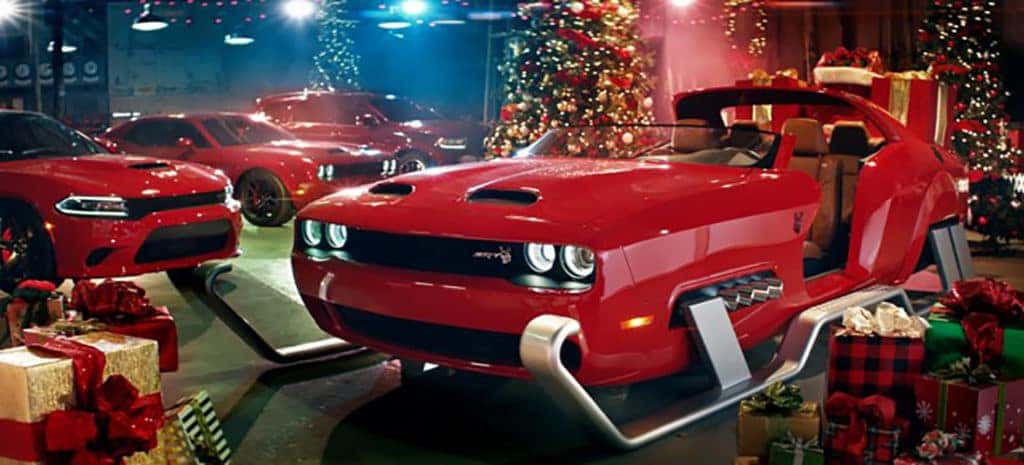 Photo credit: Dodge
Fiat Chrysler Automobiles (FCA) is enlisting some holiday-cheer help from familiar faces to help showcase all their new 2019 vehicles for a massive collaborative campaign effort entitled "Big Finish". Former talents like actress Kathryn Hahn and musicians of OneRepublic join FCA newcomers like singer/actress Gwen Stefani to help FCA spread holiday cheer. This holiday season will see new holiday-themed campaigns sure to put a smile on audiences faces. We list all the details below and hope to spread some holiday cheer ourselves!
All the New FCA Creative Cheer Being Spread In This Holiday Season
Actress Kathryn Hahn, who has starred in a collection of viral videos promoting the Chrysler Pacifica, is back in her trusted minivan with a re-imaging of "Jingle Bells" reshaped as "Lit Christmas". Hahn has been front and center to fantastic short ads including the Pacifica and this one is no different.
Dodge will have a new 30-second spot entitled "Upgrade" that showcases Santa Claus in a bright red HEMI Sleigh, with Rudolph the Rednosed Reindeer being replaced with a new 2019 Dodge Challenger SRT Redeye. The role of Santa Claus is none other than the former WWE Universal Champion Bill "Goldberg". The ad includes the heavy-metal infused record "Santa Claus is Back in Town" and customers can purchase a Hellcat Redeye T-shirt via Dodge.com.
An upcoming video series on the official Dodge YouTube channel will include Santa's elves creative process of overhauling Santa's sleigh. OneRepublic's new "White Christmas" cover will be included in the Jeep brand's spot, their second annual Jeep ad entitled "Colorful Christmas".
Last, but certainly first, the incredible Gwen Stefani has released a new song called "You Make It Feel Like Christmas". The song is featured in the latest 30-second Ram truck ad labeled "Ginger Builders". A brand new festival track from Ms. Stefani is a great way to bring in the holiday cheer as FCA is aimed at staying creative and fresh for their new holiday "Big Finish" marketing campaign.
"We set out to accomplish three objectives with our Big Finish campaign – it must be unique to each brand personality, it must be impactful to help sell cars during the automotive industry's biggest selling season, and it must be relevant. Our challenge during the holidays – when we are oversaturated with holiday music and bells ringing — is how do you get more than your fair share of attention if you use the same device as everyone else, and at the same time remain true to the identity of our brands? The answer, as always, is the creative twist. From a rap reimagination of 'Jingle Bells,' to the heavy metal track 'Santa Claus is Back in Town,' to enlisting artists such as OneRepublic and Gwen Stefani to put their own spin on holiday music, it gives us the opportunity to hear a story that speaks to the moment and stands out at the same time." said Olivier Francois, Chief Marketing Officer, FCA.
Bring In The Holidays At One Place
For those looking to have a festive holiday season, we hope you visit Kendall Dodge Chrysler Jeep Ram for your automotive needs. Let us provide a great customer experience from the moment you visit. From buying, selling or leasing, there's no better help than what you'll find with our amazing sales team. We have a large collection of new vehicles you'll be sure to love.
Having any vehicle issues with your current vehicle lately? We can make sure you're back on the road quickly with our experienced service staff. With a simple service appointment, our experienced service team will help your vehicle problems be resolved in a timely fashion. We hope you visit us today!