Five Things We Absolutely Love About the Dodge Challenger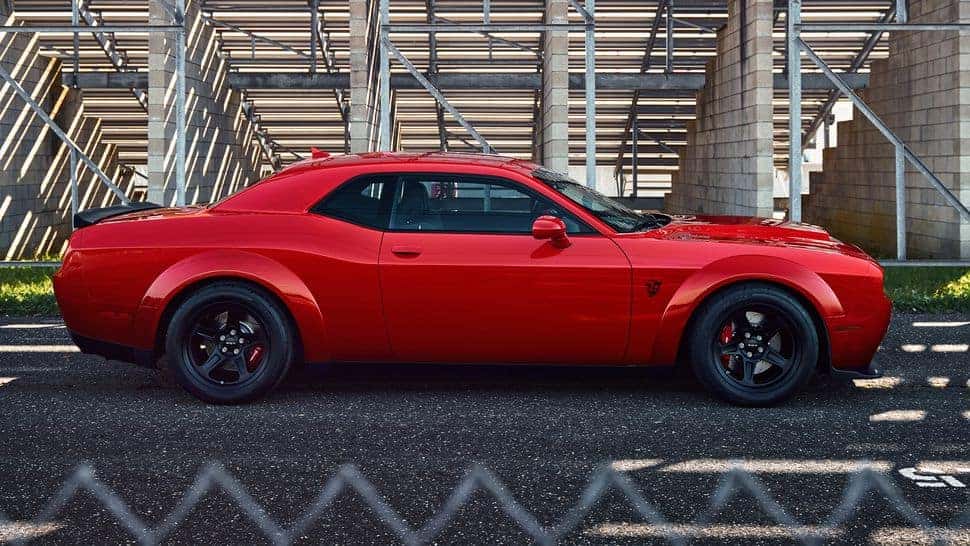 This month is all about love and we thought we would want to share a little love to some of our favorite things about America's best muscle car, the Dodge Challenger.
Rich History
The Dodge Challenger's history dates back as far as the 1950's with the limited edition Dodge Silver Challenger, produced out of Detroit, Michigan. The first original Challenger came with extra features at no extra cost including white wall tires, full wheel covers and electric windshield wipers. In 1969, the first original generation Challenger was born and with its beginnings came a rich history of a record-breaking American-made muscle car.
16 Trims

There's not many cars that have a lineup as specialized or unique as the Dodge Challenger. For the 2018 model year the Dodge Challenger is available in 16 unique trims, but then again not many brands are as refined and focused on performance as Dodge. The variety of trims make it easy for consumers to find a Challenger model that meets their needs and their budget.  With a starting MSRP of $26,995, the base trim, the  2018 Challenger SXT offers great fuel economy with 19 mpg in city and 30 mpg on the highway and a powerful base engine that produces 305 horsepower.
High Performance Machine
Each 2018 Dodge Challenger comes packed with nearly double the horsepower in comparison to most standard sedans and coupes on the road. The various engines provide he Dodge Challenger with 305 to 840 horsepower, and with that comes incredible track times. The Dodge Challenger SRT accelerates from 0-60 mph in the low four-second range, the Dodge Challenger SRT Hellcat goes from 0-60 in 3.6 seconds and the all-new 2018 Dodge Challenger SRT Demon goes from 0-30 mph in one second and from 0-60 mph in 2.3 seconds!
All-New 2018 Dodge Challenger SRT Demon
The 2018 Dodge Challenger SRT Demon is a marvel to look at and a marvel in terms of innovation. The Challenger SRT Demon holds the title of a number of factory production firsts including the first ever factory production car designed to run on 100+ high-octane unleaded fuel or 91 octane on demand, the TransBrake for more powerful launches and its Torque Reserve, which delivers increased levels of power at launch.
Just imagine being one of the 3,000 owners of this wicked, wild and spectacularly fast vehicle. The Demon has break neck speed and high-octane performance capable of being so quick, the Dodge Challenger SRT Demon was banned as a drag racing vehicle by the NHRA (National Hot Rod Association). Even if you're not on a drag strip, this vehicle is not sold without the owner signing a waiver to allow for the owner to fully purchase this menacing demon of a vehicle.
With all the upgrades on par with the best features offered for the Challenger, this SRT vehicle has a uniquely bold red tailor made experience from start to finish, inside and out. Drivers of this will fall in love instantly with an ultra powerful supercharged 6.2-liter HEMI Demon V8 capable of producing up to 840 horsepower. Purring more like an angel than demon, the Challenger SRT Demon has a beautiful cabin complete with signature Demon logo placed throughout the vehicle, entire leather interior and a performance steering wheel. The Challenger SRT Demon also features the unique SRT Power Chiller, which keeps the engine cool even after racing at high speeds and after the engine is shut off.
Learning how to handle the 2018 Dodge Challenger SRT Demon is something that might cross an owners mind.
Free SRT Classes by the Bob Bondurant Racing School
Who doesn't like free stuff? Well, with the purchase of an SRT Dodge vehicle buyers receive a free one-day class at the Bob Bondurant Racing School. The class is offered to help new owners of SRT vehicles become comfortable driving such a powerful vehicle. After taking these specialized classes offered by the Bob Bondurant School of High Performance Driving, owners will know how to handle a car that is skidding, how to handle tight turns and really push their vehicle to the limit with many runs on a drag strip. Since 1968 Bob Bondurant has hosted students of all ages and backgrounds and made them better drivers.
If you need any more reasons to fall for the 2018 Dodge Challenger like we have, reach out to us or stop by Kendall Dodge Chrysler Jeep Ram today to find out how we can find the right Dodge Challenger for you!