Google Maps Just Got Better With Apple CarPlay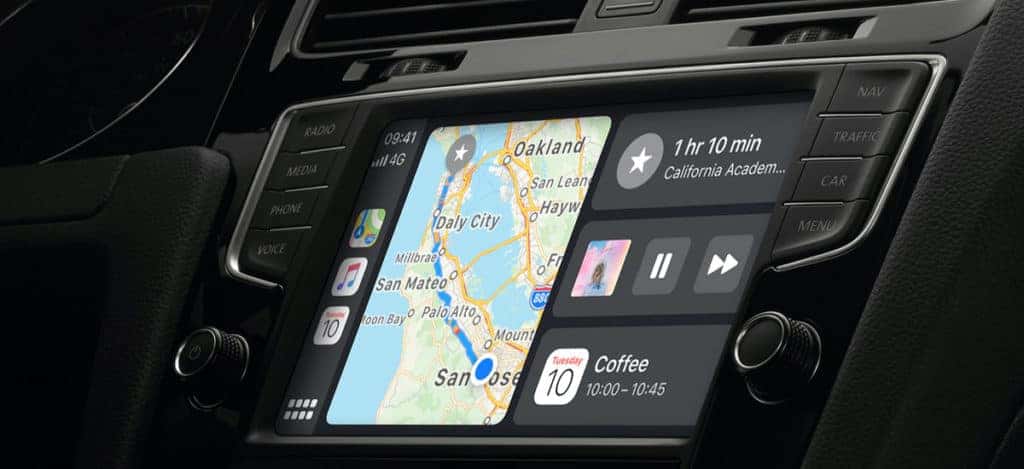 Photo credit: Dodge
Good news for lovers of Apple CarPlay, Google has announced this week they will be improving the functionality of Google Maps via Apple CarPlay. The new Google Maps will update the Maps on the CarPlay Dashboard to include a new primary home screen window. This will allow drivers to see more than just the Google Maps and allow calendar appointments, the music that is being played, and access to make calls. Apple CarPlay allows users to pull data directly from their iPhones and charge their smartphones at the same time. The vehicle's infotainment system has a seamless experience using this technology and it just got better. 
More On Apple CarPlay
The latest Apple CarPlay is currently found in a wide host of vehicles that include many of the vehicles we sell. Owners of Dodge, Jeep, Ram, and more will know about the platform. All iPhones that use iOS 7 (or are charged using a Lighting cable) will be compatible with the latest update. Clearing up space on the touchscreen to allow for more options is not only a brilliant move but necessary to help protect drivers. Apple added wireless support for Apple CarPlay back in 2015, but this is just another step taken to help promote an easier experience for drivers while on the go. The National Highway Traffic Safety Administration reported that 2,871 lives were taken in 2018 alone from distracted driving. They define distracted driving as anything that diverts attention away from driving. This update will help to curb those numbers.
Apple CarPlay Allows Drivers To Remain Alert
With this refresh and update, all drivers have an easier and faster way to respond or look up what they need instead of having Apple CarPlay take up the whole screen with just one function. We're impressed with the way Apple technology has integrated with vehicles and the use of Siri has helped drivers remain focused on driving. To get started on figuring out the perks of hands-free driving with systems like Apple CarPlay, please reach out to us. Our helpful staff can walk a customer through this technology in person or over the phone. We're more than happy to make anyone interested become comfortable using Google Maps or other navigation services. Check with us today at Kendall Dodge Chrysler Jeep Ram!
Find the Latest Dodge Vehicle You Want Today
Come to us at Kendall Dodge Chrysler Jeep Ram. If you're wondering if you should buy or lease, let us help you make the best decision. We honor trade-ins and selling, and we're ready to provide a solution for our customers. Take a look at our new vehicle inventory. Considering a used vehicle? We have a whole bunch for others to choose from. We can also assist our customers out with our supportive auto financing team, for any help they might need as well when purchasing a vehicle.
Our professional service team handles repairs and regular maintenance daily. With a simple online appointment, we can get started to making you a happy customer. We look forward to seeing you soon at Kendall Dodge Chrysler Jeep Ram. We'll see you soon!