How the Grand Cherokee's Safety Features Can Save a Life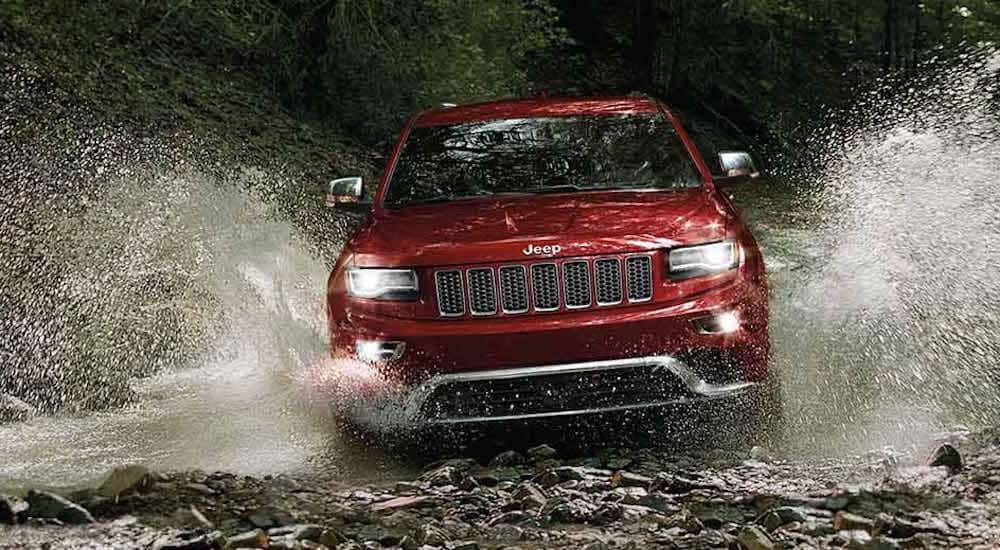 The 2016 Grand Cherokee is one of the most versatile SUV's in the class. The award-winning vehicle offers an abundance of cargo room, a powerful engine (that helps assist with off-roading), and plenty of interior technology. Understandably, the SUV has become a top choice for those with large families. Therefore, it's important to note what is perhaps the Grand Cherokee's greatest attribute: it's safety capabilities.
Where do we start? The Grand Cherokee received excellent marks from the National Highway Traffic Safety Administration, including a four-star overall rating. Other grades included:
Frontal Barrier Crash Rating (Five Stars Overall, Five Stars Driver, Five Stars Passenger)
Side Crash Rating (Five Stars Overall)
Side Barrier Rating (Five Stars Overall, Five Stars Driver, Five Stars Passenger, Five Stars Side Pole Rating)
Combined Side Barrier and Pole Ratings (Front Seat Rating, Rear Seat Rating)
The vehicle also received 'Good' ratings (the highest possible mark) across the board from the Insurance Institute of Highway Safety, including the Side Impact Test, Roof Strength Test and Rear Crash Protection/Head Restraint test.
These are certainly encouraging grades, and there's no doubt that the Grand Cherokee could help prevent injury or even save a life. In fact, one famous actor claimed his SUV did actually save his life (which we'll get to in a bit). Before you go shopping for a Jeep Grand Cherokee in Miami, see why the SUV is regarded as one of the safest vehicles on the market…
Safe and Dependable Design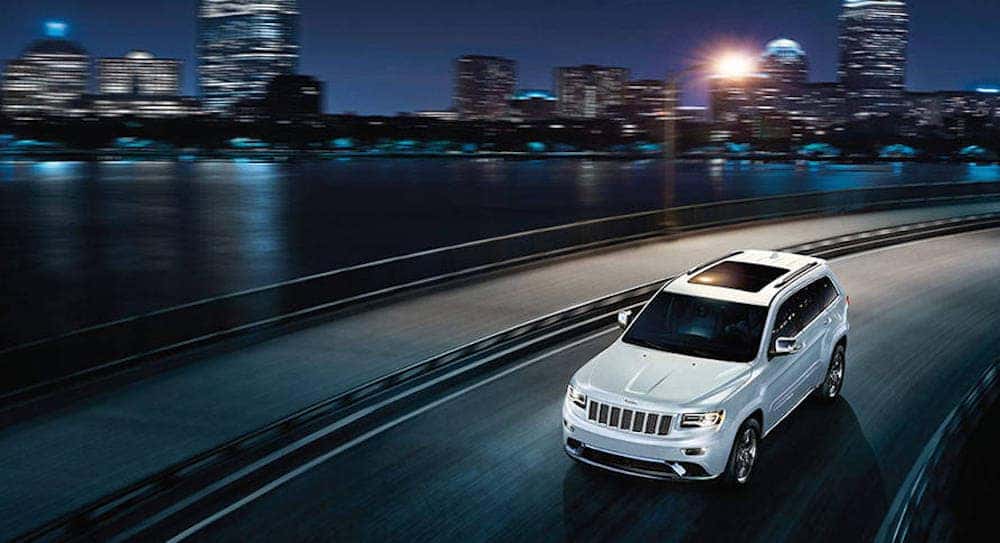 The Grand Cherokee's design has actually been attributed to helping save a life. In December, actor James Woods tried avoiding a pileup on an icy Colorado road, but he ended up spinning out of control and hitting a wall. Luckily, his "old tank" left the actor with only a "little concussion."
"I was in my 4WD Jeep Grand Cherokee," Woods tweeted. "That Jeep saved my life. An old tank."
As you can see, it's not only about the various technological safety features. Drivers and passengers will ultimately feel more secure when they're driving in a vehicle composed of high-strength metals. That's the case for the 2016 Grand Cherokee. The SUV also includes crush zones up front and side guard door beams, helping absorb the brunt of the impact in the case of a collision.
Of course, the Grand Cherokee also features "advanced, multistage driver and front-passenger airbags," as well as side-curtain airbags. The vehicle's design is enough to keep the occupants protected, as the body will absorb any energy and the airbags will provide some padding.
When driving, you'll notice improved handling and comfort from the Grand Cherokee. This can be attributed to the independent front and rear suspension (with the accompanying front and rear suspension cradles), which assist in improving the driving experience while also helping maintain the Jeep's off-roading capabilities. Meanwhile, the revamped rear suspension leaves some extra room in the rear, meaning you can actually store a spare tire in the vehicle, not outside.
If you opt for the SRT version, you'll be able to access a variety of driving modes. As the vehicle's press release explains (via WK2Jeeps.com), each of these options helps manipulate the "all-wheel drive system, transmission, paddle shifters, stability control, suspension and steering." The options include Custom (allows driver to personalize experience), Auto, Sport (increases performance capabilities), Track (increases performance capabilities on dry surfaces), Snow (improves performance in bad weather), Tow (improves vehicle's towing capabilities), and Eco (monitors Grand Cherokee's fuel economy).
The engineers didn't stop there, however, as they added more than 70 safety and security features. Let's take a look at some of the highlights.
A Plethora of Preventative Safety Technology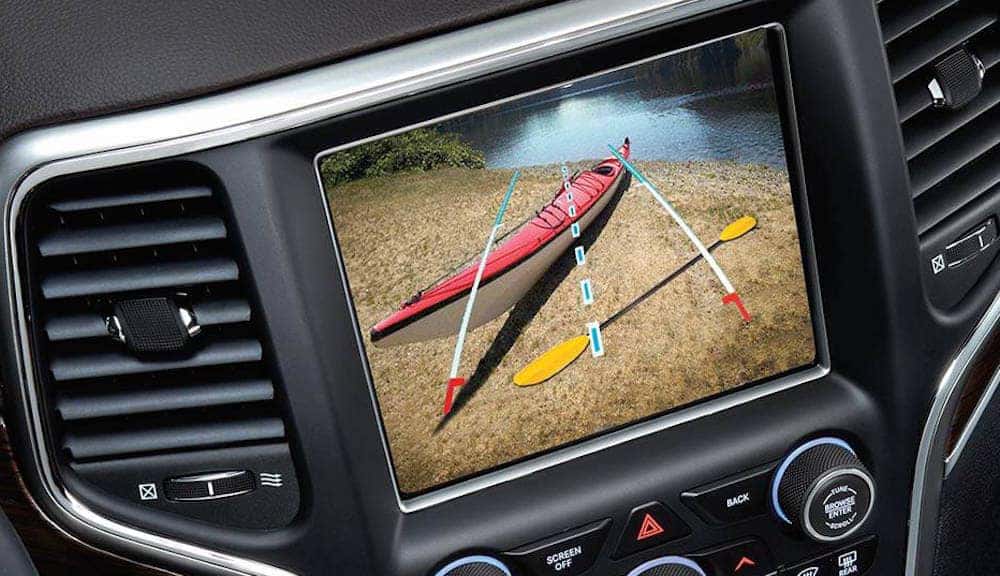 There are several technologies that will not only protect in the case of an accident, but they may prevent collisions altogether. We'll start with the preventative features, including the impressive Blind Spot Monitoring system. Using dual radar sensors, the technology will constantly be monitoring for any fellow drivers who may have snuck up beside you. Drivers will be alerted via visual and audible cues when another car has gotten too close, letting the driver know it's not safe to switch lanes. While we'd never suggest letting this technology supplement your ability to check your blind spots, the feature has proved to be dependable. A report by the IIHS notes that most drivers reported the system had never failed to alert them of another car.
The PartView Rear Back-Up Camera will also help the driver recognize all of the obstacles surrounding their vehicle. Worried that you might run into another car or a curb when you're attempting to back out of a tight parking space? That's no an issue with the technology, as the camera (and the accompanying Park Sense Front and Rear Park Assist System) will allow you to see everything behind your vehicle. Furthermore, they'll provide grid lines to assist in any difficult parking situation.
Finally, the Forward Collision Warning (with included Crash Mitigation) will alert the driver when they're approaching a stationary object too quickly. If the cues are caught too late, the vehicle will automatically apply the brakes, preventing a potential crash. According to that IIHS report, a previous study claimed that the technology "could prevent up to 20 percent of all police-reported crashes annually," which is quite the significant number. The technology also plays a role in the Adaptive Cruise Control, which will adjust your cruising speed and keep a safe distance from another driver.
Other Safety Technologies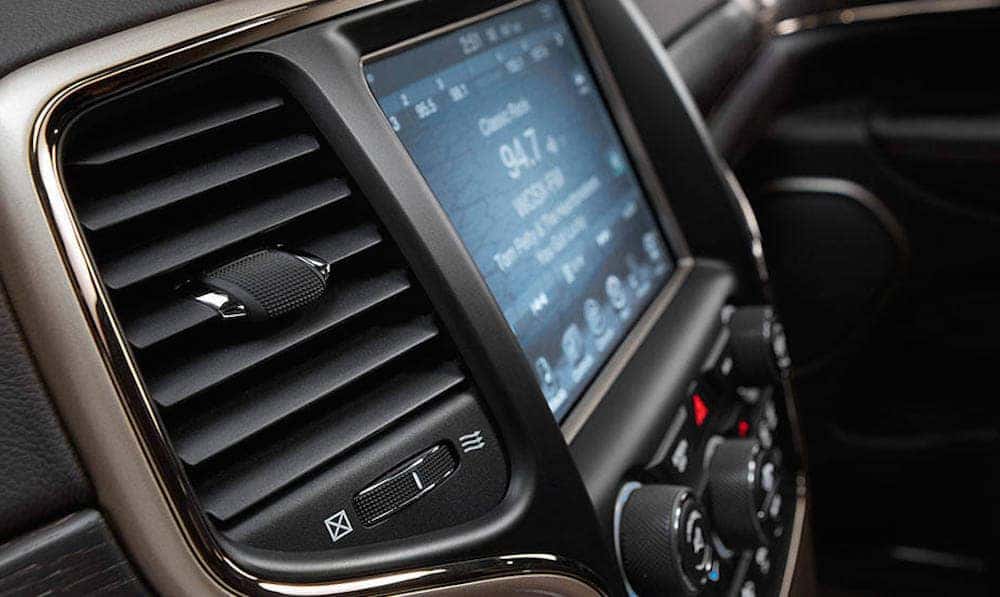 Predictably, the Grand Cherokee hosts plenty of other innovative safety technologies. New for 2016, engineers have added a Valet mode to their Grand Cherokee SRT, a mode that can be accessed by the driver via a four-digit code. The system limits your vehicle's capabilities, meaning you'll be restricted to these pre-set specs. This is especially important when you're driving on snowy or icy roads, as the driver will never be able to test their SUV's capabilities… as the vehicle's abilities will be reduced, thus keeping you safe. This is also an important feature if the Grand Cherokee is going to be piloted by a young driver. A parent can access the Valet mode, assuring that their children aren't speeding or driving recklessly. Finally, if you're one to use a valet service at a restaurant, you won't have to stress that the attendants will be taking your vehicle out on a joy ride.
Among the main features of the technology include:
A remapped engine with reduced horsepower and torque
A locked transmission that prevents access to first gears/upshifts earlier
Manual shifter position will be treated same way as driver shifter position
The SUV is set to Street mode, thus limiting the traction, steering, and suspension
The steering-wheel paddle shifter/Drive Mode/Launch Control technology is disabled
The Electronic Stability Control is enabled
If you have a large family, you can be confident that they're safe and secure while riding in the 2016 Grand Cherokee. The vehicle has a variety of safety features that accompany the already dependable design (consisting of high-strength steel). If you ever find yourself in a collision (which is unlikely considering all of the preventative features), you can be confident that the SUV will keep you protected.