How Does Dodge Fair In Drag Races? We Have Results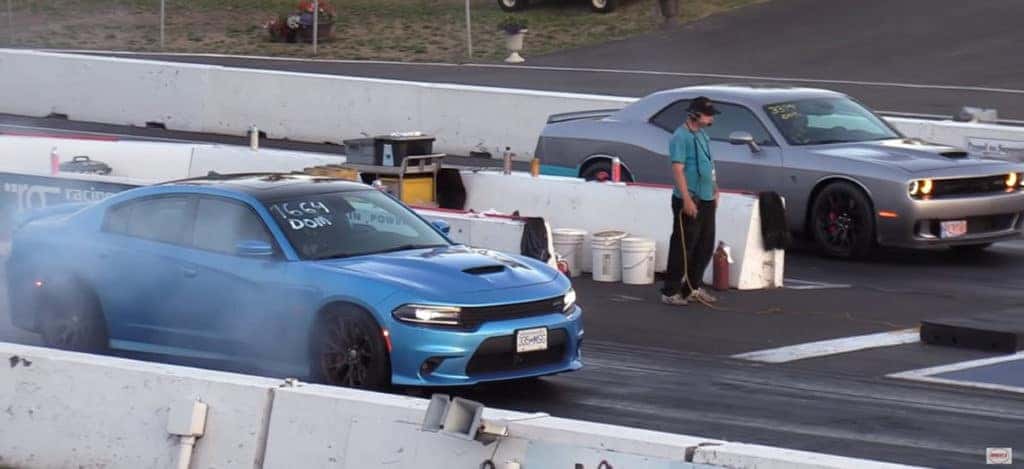 Photo credit: Dodge
Dodge is known for creating some of the fastest production vehicles for customers to enjoy and race. These muscle cars have a strong following and for good reason. Of course, for those who do not know the power and high-performance pedigree, we have companies that have dedicated the time and money to race some of these incredible Dodge muscle cars. The most recent examples came earlier this month when a modified Dodge Charger Hellcat and a vintage air-cooled Volkswagen Beetle. Another drag race that also recently took place was a Dodge Challenger SRT Hellcat versus a Dodge Charger 392, both of which are high-tier trims on their respective Dodge muscle car model ladders.
Let the Racing Begin
So, who won between these Dodge races? Of course between the brand new 2020 Dodge Charger Hellcat that was recently created wound up winning over the Volkswagen Beetle. This Hellcat is the first Charger Hellcat trim ever, joining its coupe cousin the Dodge Challenger in offering this amazing trim option. Motor1.com reported the results behind this race and timed the Hellcat at hitting a quarter-mile time at an incredible 10.7 seconds. The 2020 Dodge Charger Hellcat hit an amazing 128 mph along the way. During the race, the lighter weight Beetle never had a chance. The Beetle wasn't exactly slow, hitting a solid 12.07-second quarter-mile time, but it does not hold a candle to the remarkable horsepower and acceleration offered with the Dodge. The max speed for the Beetle was just 108 mph. The Bettle had the advantage of holding its weight centered over the drive axle, yet that didn't matter thanks to the impressive engineering offered by the Dodge muscle car.
Dodge Charger vs Dodge Challenger
Another race took place to see if the Charger SRT 392 Scat Pack could hang with the Dodge Challenger SRT Hellcat. Keep in mind, these are two of the fastest muscle cars in the world squaring off against each other. Putting the Hellcat's 6.2-Liter V8 engine against a naturally aspirated HEMI V8 is like seeing who could win between a battle between a lion against a tiger. Wheels, a YouTube channel, put the race together at Mission Park Raceway in Mission, British Columbia.
The results have some mixed reactions among anyone who has driven both cars. The race was won by the Charger, but while its 6.4-Liter HEMI V8 engine that cranks out 485 horsepower and 476 lb-ft of torque is incredible, the Challenger SRT Hellcat holds an impressive 707 horsepower and 650 lb-ft of torque. The latest Challenger line-up will always grab our attention. The driver in the Challenger must have not been paying attention when to launch as the Charger held a massive lead and never let up. Curious what driving and drag racing would feel like? We have a wide collection of Dodge muscle cars to make any owner excited. See what's new at Kendall Dodge Chrysler Jeep Ram.
Find the Dodge Muscle of Your Dreams With Us!
When you visit Kendall Dodge Chrysler Jeep Ram, expect to find our full lineup of our newest Dodge Challenger and the new 2019 Dodge Charger. Interested in driving a new 2019 Dodge Challenger SRT Hellcat? We have it. We honor trade-ins and selling, and we're ready to provide a solution for our customers for all their buying or leasing needs. We want to provide a remarkable experience and it all starts with our friendly and professional sales team.
Not sure if your current vehicle is running properly? We can offer repairs and regular maintenance on your ride with a simple service appointment. Let us get started on making you a happy customer today! See you soon.