How Much Money Can You Save With a Hybrid?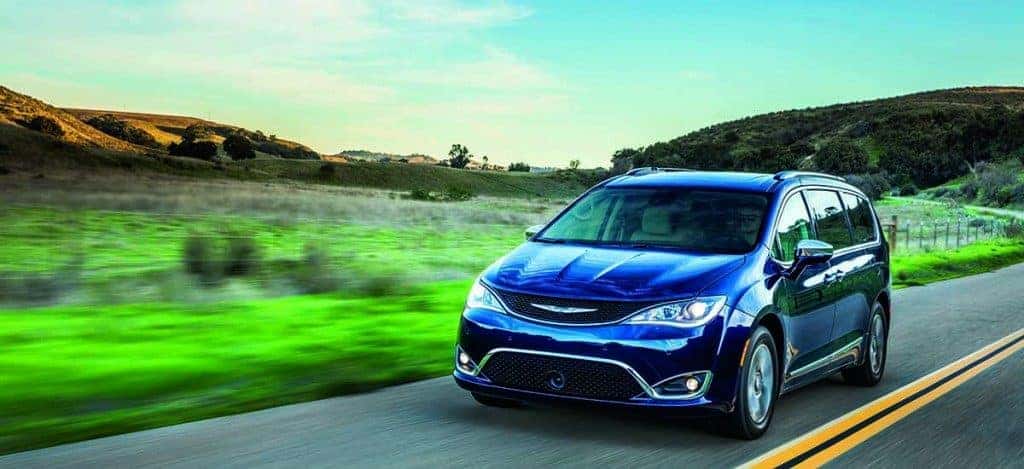 Photo credit: Chrysler
Have you thought about how much money you could save throughout the life of your vehicle? So did we. An ideal length to own a vehicle is usually around 10 years. Let's keep that in mind as we figure out how much you'll be able to save in the long haul with a hybrid. If you're thinking about choosing a new vehicle, there's a good chance there's a comparable hybrid model for most regular gas vehicles. Even if you're thinking about a minivan, there's a Chrysler Pacifica Hybrid (first hybrid minivan) that saves consumers a lot more over the course of a decade, which we'll discuss below. We'll also look at the latest vehicles offered with the new mild-hybrid eTorque available as an option on various powertrains in the 2019 Ram 1500, 2018 Jeep Wrangler and 2019 Jeep Cherokee.
What Are You In the Market For?
There's many choices offered for consumers today. If you're raising a growing family, chances are you're looking for many ways to save money. One way to do so is to take a look at owning the latest 2018 Chrysler Pacifica Hybrid. There's a very good reason the Pacifica Hybrid is the right choice versus what you'll get with a comparable minivan. Let's compare the popular Toyota Sienna minivan, which averages 22 combined city and highway MPG with the Chrysler Pacifica Hybrid, with an estimated EPA of 32 combined city and highway MPG with just gasoline alone. When using electric and gasoline that EPA rises to 84 MPGe. MPGe is combined electricity and gas.
Over ten years? If you drove the estimated annual average for vehicles, 13,500 miles, over ten years, drivers will save $9,240 with the Chrysler Pacifica Hybrid. That's with only using 33% of the miles on electric driving. If you planned to only use your vehicle for short round trips of under 33 miles and charged it afterwards to only use the electric battery, the total savings hits more than $12,650. That's not calculating inflation that's bound to happen for gasoline, whereas it's unlikely that the cost of electricity will go up more than 13 cents per kilowatt to charge your vehicle. That's less than $2 to charge the entire battey up.
What About a Pickup or SUV?
Fiat Chrysler Automobiles (FCA) has produced the Chrysler Pacifica Hybrid and has the all-new 2019 Ram 1500 coming out with an available eTorque system that will also be found in the 2018 Jeep Wrangler JL and 2019 Jeep Cherokee. So what does the fuel savings look like over a decade with the 2019 Jeep Cherokee versus the BMW X5? When comparing both the Jeep Cherokee at 19 city and 27 highway MPG with it's 3.2-Liter 6-cylinder engine against the 2018 BMW X5 with it's 3.0-Liter 6 cylinder engine getting 18 city and 25 highway MPG, it's a surprising difference of $2,500 over the course of 10 years.
That difference grows to $6,070 if you opt for the Jeep Cherokee containing the 2.4-Liter 4 cylinder engine. Not to mention, the cost to own a 2018 BMW X5 is almost double that of a new 2019 Jeep Cherokee. Spending double to lose out on over $6,000 more in gas mileage? That's a call you'll have to make. (We know which vehicle we would gladly choose.)
Ram Gets Better MPG Than Ever Before
Even three years ago, Ram trucks would average 15 combined MPG. Now, Rams will reach over 18 combined MPG with the latest 2019 Ram 1500 set to push the boundaries even further. This is all thanks to the eTorque system delivering a "10% improvement" in fuel economy figures over last years Ram 1500, according to Head of Ram Brand, Mike Manley. With the upcoming EcoDiesel set up for Ram to continue driving success for the pickup brand, there's no doubt fans will love the ability to save money on a vehicle they wanted.
Own The Right Vehicle For Your Needs
Deciding on a vehicle can be a tough decision. But making your pick a vehicle that saves on gas is beneficial for many reasons. You're reducing your carbon footprint, you'll have more money in your wallet after each trip to the gas station and you'll enjoy more time on the road and less time having to fill up in the first place. All things considered, whether you need a minivan, pickup or SUV, there's choices for you at Kendall Dodge Chrysler Jeep Ram.
If you're looking for the right servicing, that's where we can come in handy as well. Our service team is professional and will provide sound repairs, even if you didn't shop with us.