Inside Look at Project Trail Force: Supercharged Jeep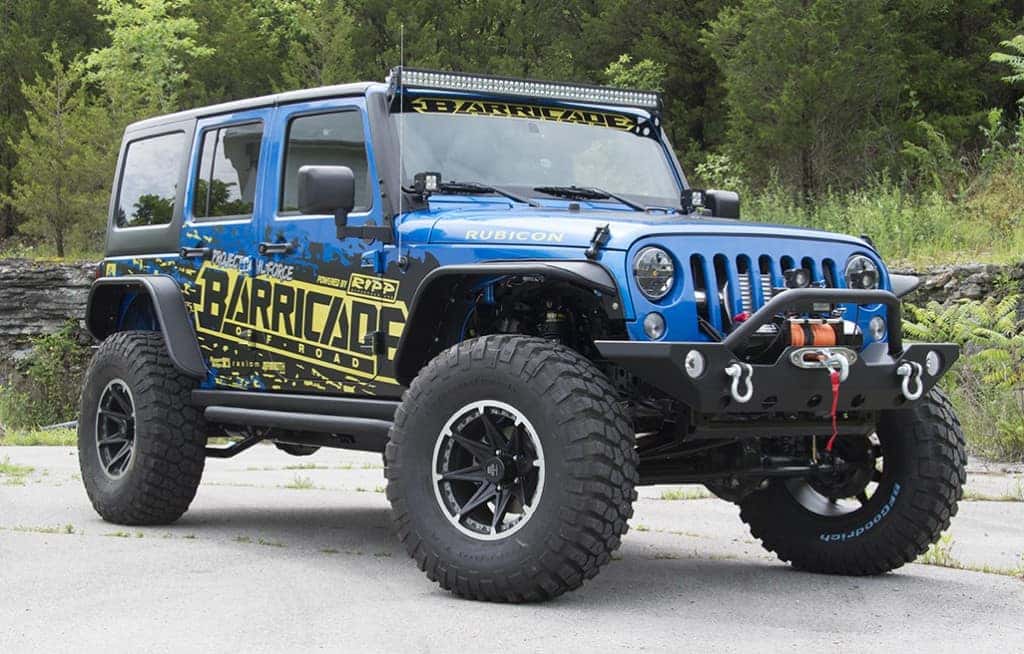 This summer Extreme Terrain has joined forces with Barricade to beef up a 2015 JK Rubicon Jeep Wrangler and created the Supercharged Jeep for Project Trail Force.  Not yet being offered at your local Jeep Wrangler Dealers, instead this Supercharged Rubicon will be raffled off in November of 2015 to a winner who will be flown out to Vegas to pick it up.  Entrance into the contest is available on Extreme Terrain's website.
If you're wondering about whether a Supercharged Jeep Wrangler Rubicon would be a fun vehicle to win, just keep reading and you will know the answer is indefinitely, 'yes'.
Project Trail Force
Even just the name, Project Trail Force, isn't just a name; it's the title of an adventure.  That's what this Jeep is.  Both Extreme Terrain and Barricade, whose companies provide the best toys for Jeeps, have upgraded this Rubicon with a lift kit, wheels and tires, bumpers, winch, interior accessories, armor and back up camera.  Completed and put together, Project Trail Force is a force to be reckoned with.
Coming in a Hydro Blue Pearl Paint, with its namesake printed on the side so everyone knows this is not your normal Jeep, is both hot and exciting.  It's anxiously sitting on 37" of outside diameter tires that provide no weight difference from its regular Jeep tires so no power is lost.
The tires are BF Goodrich Mid Terrain perfect for off roading with huge spacing to increase traction helping you sort through the mud and rocks along the way.  A Barricade Full Shade Top provides a barrier between you and debris but still allows air flow and breezes to filter through.
Performance
Barricade provided the Trail Force with all the body armor necessary for serious off roading.   Including HD Trail Force bumper with an upper light mounted bar and heavy duty D rings.  An HD rear bumper with tire carrier that is able to hold the mounted and massive 37" tires.  The rear bumper is not as large as factory made Jeep bumper which enlarges wheel openings allowing more room for wheels to maneuver and roll off giant boulders.
To provide the best for on and off roading, Rock Krawler 3.5" X Factor Coil Over Long Arm System with Shocks gives the best stability no matter your terrain.  A Barricade 950lb winch with synthetic nylon rope will inevitably prove its worth when pulling you out of a tight jam.
Supercharged
Ripp Supercharged Kitt Stage 2 Intercooled provides the power you were looking for with 330 horsepower and 290 lbs of torque.  This gives V8 power to a V6 Jeep.
If looking at this Supercharged Jeep doesn't have you all worked up and ready to go get dirty in the mud, then you've been reading this way too long.  If all you needed to read was Project Trail Force then chances are you've already entered the drawing to win.  Good Luck and I hope to see you out there!